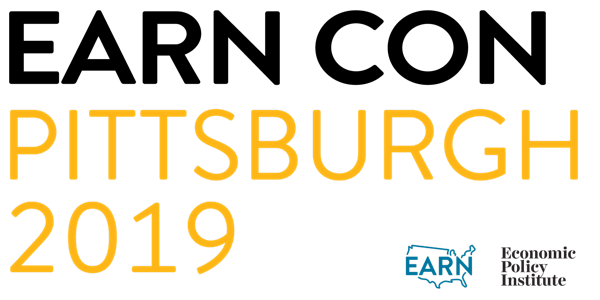 2019 EARN Annual Conference
When and where
Location
Omni William Penn Hotel 530 William Penn Place Pittsburgh, PA 15219
Refund Policy
Contact the organizer to request a refund.
Description
The 2019 EARN Conference will be held in downtown Pittsburgh, Pennsylvania – a great setting to discuss many of the country's most pressing questions around economic development and racial equity. This year's EARNCON is being organized in collaboration with the Economic Policy Institute's Program on Race, Ethnicity, and the Economy (PREE) to ensure that race and racial justice are front and center in the conference's discussions of state and local policy.
Pittsburgh is frequently celebrated as a model of progressive change, and often appears in lists of the most "livable" and "greenest" cities in the United States. Historically a locus of heavy manufacturing, "Steel City" underwent a dramatic transformation after the deindustrialization of the North and collapse of the steel industry in the 1980s. Pittsburgh successfully leveraged its strong educational and healthcare institutions to build one of the country's most vibrant regional economies, one centered on education, technology, and healthcare. In fact, Pittsburg's healthcare sector today is a larger share of the regional economy than the steel industry was in its heyday. And just as workers joined together in unions to ensure jobs in the steel mills were good, safe jobs, health care workers in Pittsburgh are organizing now for fair pay and benefits.
Yet, Pittsburgh is also a place of stark racial divides. The gap in household income between black and white families in the Pittsburgh area is wider than the national average. People of color in the region have disproportionately low rates of employment and homeownership, and significantly higher rates of poverty. Pittsburgh's neighborhoods are some of the most segregated in the country. And as technology and financial services companies have come in, community leaders have had to combat gentrification and involuntary displacement of long-term residents, particularly in historically black neighborhoods.
EARNCON is a three-day gathering that brings together EARN's nearly 60 groups from 44 states—along with thought leaders on issues related to socioeconomic and racial inequality—to share stories, present research, discuss strategies, sharpen skills, and make plans to advance pro-worker and racial justice policies in the 2020 legislative session, and help shape the debate around economic policy in advance of the 2020 state and national elections.
The 2019 EARN Conference will continue EARN's tradition of bringing together leading economic thinkers, policy experts, labor activists, community organizers, faith leaders, and academic researchers to learn from each other and develop strategies and policies that improve job quality and economic security for all workers while addressing long-standing racial disparities in economic outcomes. Building power in states and cities is more important than ever and EARN is an essential foundation for progressive action across the country.
View the agenda: https://www.epi.org/earn/earncon-2019/