2019 Drs. Fred and Penny Frese Lecture
Description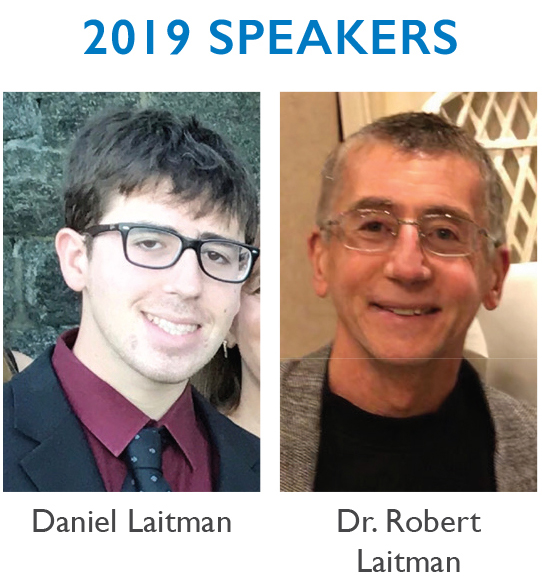 Robert S. Laitman, M.D., and Daniel Laitman will present the 2019 Drs. Fred and Penny Frese Lecture, "Hope and Help: Meaningful Recovery from Schizophrenia and Serious Mental Illness with Clozapine."
Daniel Laitman was diagnosed with schizophrenia just before his 16th birthday. His parents, Drs. Robert and Ann Mandel Laitman, used love, determination and science to find the best treatments available to help him live successfully with schizophrenia.
Today Daniel Laitman is showing the world what is possible – just by being himself. When he is not performing as a stand-up comedian in New York clubs, he is advocating for mental health through his favorite charities: Team Daniel, Schizophrenia and Related Disorders Alliance of America, Brain & Behavior Research Foundation and Mental Health America.
Dr. Robert Laitman, a self-described "optimistic nephrologist," will speak about discovering a passion for helping patients with serious mental illness, and developing a regimen for the treatment of psychosis based on the optimal use of clozapine, a valuable, but frequently underutilized, medication, to assist people with schizophrenia and other serious mental illnesses find hope and help.
Please contact bestcenter@neomed.edu about any special needs. A video recording will be available following the lecture at youtube.com/NortheastOhioMED.
The Drs. Fred and Penny Frese Lecture series honors the late Fred Frese, Ph.D., and Penny Frese, Ph.D., by sharing stories of individuals living successfully with schizophrenia and other serious mental illnesses and the ways in which their loved ones support their recovery.