Description
Since its inception in 2012, the Devoncroft Executive Summit Series has grown to become recognized as one of the most important events for media technology thought leaders.
SEE MORE INFORMATION AND FULL AGENDA ON DEVONCROFT.COM
The unique format of the Devoncroft Summit brings together industry thought leaders to provide delegates with a 360-degree view of the most important commercial issues facing the industry, by exploring challenges and opportunities through the lens of decision-makers in each part of the media technology ecosystem – including broadcasters, media companies, media service providers, telcos, technology suppliers, cloud providers, and IT companies.
The Summit focuses on the commercial issues affecting the business models of all participants in the media technology ecosystem. It is one event where senior decision makers come together to discuss, debate, and explain their strategic plan success in an environment where industry economics and business drivers are changing in real-time.
The Summit will feature a fantastic line-up of thought-leading speakers and panelists from across the media technology sector, including those shown below: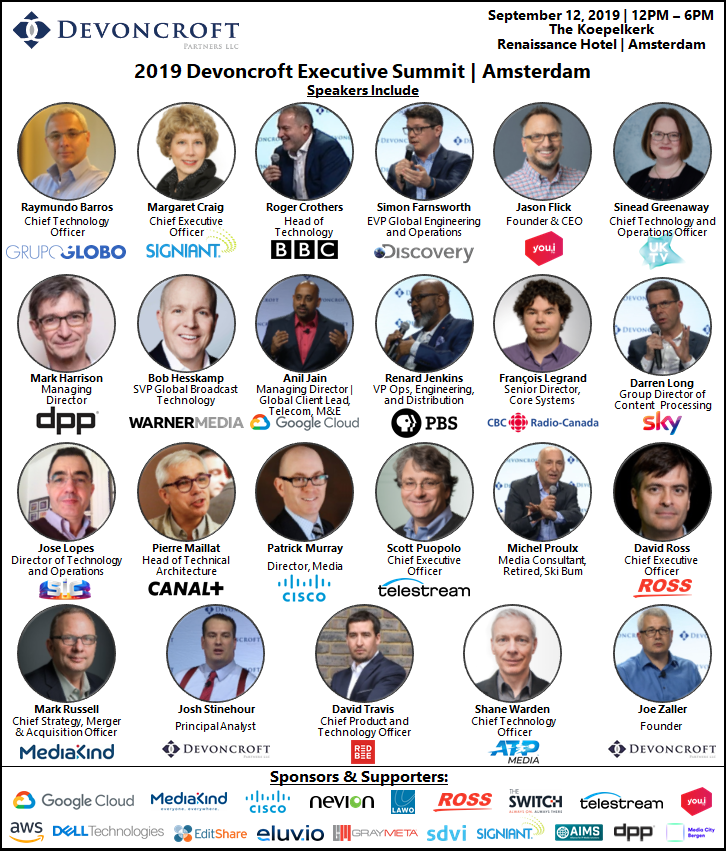 The Summit is scheduled for Thursday September 12, 2019, from 12PM to 6PM at the Koepelkerk at the Renaissance Amsterdam Hotel.
This event is intended for senior executives from media technology buyers, end-users, and technology suppliers. There will be ample time for networking during the event, and during the cocktail hour that starts at 5PM.
Register now for this must-attend event.
---


DEVONCROFT PARTNERS
2019 AMSTERDAM DEVONCROFT EXECUTIVE SUMMIT
THURSDAY | SEPTEMBER 12, 2019 | 12PM – 6PM


The Koepelkerk I Renaissance Hotel I Amsterdam
AGENDA:*
---
12PM – 12:40PM: Registration, Coffee, and Networking
---
12:40PM – Welcome and Opening Remarks
---
12:45PM – 1:40PM – Strategic Industry Analysis: Identifying Value in Today's Market
Speakers:
Josh Stinehour: Principal Analyst at Devoncroft Partners
Joe Zaller: Founder, Devoncroft Partners
---
1:40PM – 2:00PM: New Operational Paradigms – A Challenge to the Industry
Speakers:
David Travis: Chief Product & Technology Officer at Red Bee Media
Shane Warden: Chief Technology Officer at ATP Media
Moderator:
Michel Proulx: Retired, Media Consultant, and Aspiring Ski Bum
---
2:00PM – 2:40PM – Technology Supplier C-Suite: Strategies for an Evolving Market
Speakers:
Margaret Craig: Chief Executive Officer at Signiant
Jason Flick: Founder & CEO at You.i TV
Scott Puopolo: Chief Executive Officer at Telestream
David Ross: Chief Executive Officer at Ross Video
Moderator:
Joe Zaller: Founder, Devoncroft Partners
---
2:40PM – 2:50PM: Executive 1:1 Briefing | The Business Case for Cloud Adoption in M&E

Speakers:
Anil Jain: Managing Director | Global Client Lead, Telecom, M&E
Mark Harrison: Managing Director at Digital Production Partnership (DPP)
---
2:50PM – 3:05PM: Coffee and Networking Break

Sponsored by Nevion
---
3:10PM – 3:30PM: CTO Keynote 1:1| Simon Farnsworth, EVP Global Technology & Operations at Discovery Inc.
Speakers:
Simon Farnsworth: EVP Global Technology and Operations at Discovery Inc.
Joe Zaller: Founder, Devoncroft Partners
---
3:30PM – 4:20PM: Economics of Next Gen Media Architectures | Driving New Levels of Efficiency through Cloud, Supply Chain Management, AI and ML
Speakers:
Raymundo Barros: Chief Technology Officer at TV Globo Group
Sinead Greenaway: Chief Technology & Operations Officer at UKTV
Renard Jenkins: VP Operations, Engineering, and Distribution at PBS
Darren Long: Group Director of Content Processing at Sky
Moderator:
Mark Harrison: Managing Director at Digital Production Partnership (DPP)
---
4:20PM – 4:35PM: Executive 1:1 Briefing | The Business Case for Microservices, Containers, and Kubernetes

Speakers:
Mark Russell: Chief Strategy & Corporate Development Officer at MediaKind
Joe Zaller: Founder, Devoncroft Partners
---
4:35PM – 5:30PM: Navigating the Transition to IP | Best Practice and Lessons Learned
Speakers:
Bob Hesskamp: SVP Global Broadcast Technology at WarnerMedia
François Legrand: Senior Director, Core Systems | Media Technology & Infrastructure Services at CBC-Radio Canada
Jose Lopes: Director of Technologuy & Operations at SIC Portugal
Pierre Maillat: Head of Technical Architecture at Canal+
Moderator:
Michel Proulx: Retired, Media Consultant, and Aspiring Ski Bum
---
5:30PM – 6:30PM: Networking and Drinks Hour

Sponsored by Nevion
---
6:30PM: End of Program
---
2019 Devoncroft Executive Summit | Amsterdam
Sponsors & Supporters: