Description
Tickets for Monday are no longer available! Tickets will NOT be available on-site. Please contact Kylie at khall@delawareestuary.org with any questions.
The 2019 Delaware Estuary Science & Environmental Summit will take place from January 27 through January 30 in Cape May, New Jersey and will explore the theme "Estuary 2029: Saving Our System Through Collaboration." The summit will feature over 100 presentations on the latest science, education, and policy topics. Join fellow scientists, educators, and others for stimulating presentations on issues that matter to the Delaware River and Bay.
Format:
The summit will offer a keynote presentation, featured speakers, regular sessions, special topic sessions, hands-on workshops, and discussions. The summit will consist of 26 sessions, some concurrent, containing 15-minute oral presentations, with time allotted for Q&A when possible. Poster presentations will be aligned with session topics, and moderators will facilitate discussions among all presenters and the audience of each session.
Click here for a draft agenda.
Registration:
Registration is required for every attendee, including speakers, exhibitors, and sponsors. Registration includes admission to all sessions, continental breakfast and lunch each day of the conference, as well as dinner on January 28.
Please note the below registration schedule, including the dates that registration costs will increase:
"Early Bird" registration rates are available until December 3, 2018
(3-Day - $340, Student 3-Day - $115, 1-Day - $175)

"Regular" registration rates are available from December 4, 2018 through January 3, 2019
(3-Day - $390, Student 3-Day - $140, 1-Day - $205)

"Late" registration rates are available from January 4, 2019 through January 10, 2019
(3-Day - $475, Student 3-Day - $185, 1-Day - $250)
Registration will remain open while supplies last. However, we reserve the right to close registration early if all of the tickets are sold out.
Venue & Lodging:
Overnight accommodations are not included in your registration. A block of rooms is reserved at the Grand Hotel, Cape May at a special discounted rate of $85 per night (plus sales and occupancy taxes). Book your room(s) directly with the hotel by calling 1-800-257-8550. Hotel information is also available at www.GrandHotelCapeMay.com. The cut-off date for the discounted room rate is December 21, 2018. There are a limited amount of rooms available, so be sure to book early!
Special Thanks to Our Sponsors!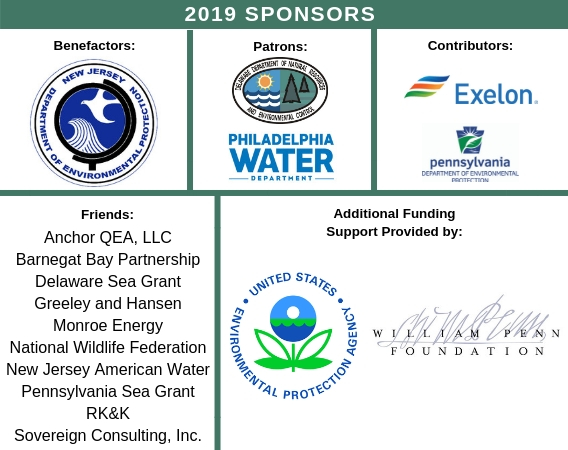 Have questions about the summit? Please call Kylie at (302) 655-4990 or email khall@DelawareEstuary.org.