About this Event
5 Speakers will explore the applications of DADOS in their work. Attendees will have the opportunity to meet with current and prospective users in order to share experiences and learn more about what DADOS has to offer.
It will also give us a chance to collect feedback to help us prioritize future DADOS features.
Agenda:
Breakfast
Christian Veillette, M.D., MSc., FRCSC - Welcome and Overview of DADOS
Tran Truong, Manager, Health Informatics Research - Unveiling of new and exciting DADOS features
User Presentations
Christian Veillette, M.D., MSc., FRCSC - DADOS Connect: enabling collection of patient reported outcomes across Canada
Istvan Mucsi, MD PhD, FRCPC, FASN - DADOS Integration of CAT-based PROMIS tools for transplant recipients and patients
Hannah Quirt, Clinical Research Assistant, TRI - DADOS Integration of Microsoft Power BI for real-time data visualization
Kala Sundararajan, Research Analyst, Orthopaedic Surgery TWH - How DADOS leverages Microsoft Azure Analytics to predict post-surgery patient performance
Kelly Lane, Project Director, TECHNA - Incorporation of outcomes in a value-based care system with the Ministry's Bundled Care program.
Opportunities for improvement, future priorities and audience suggestions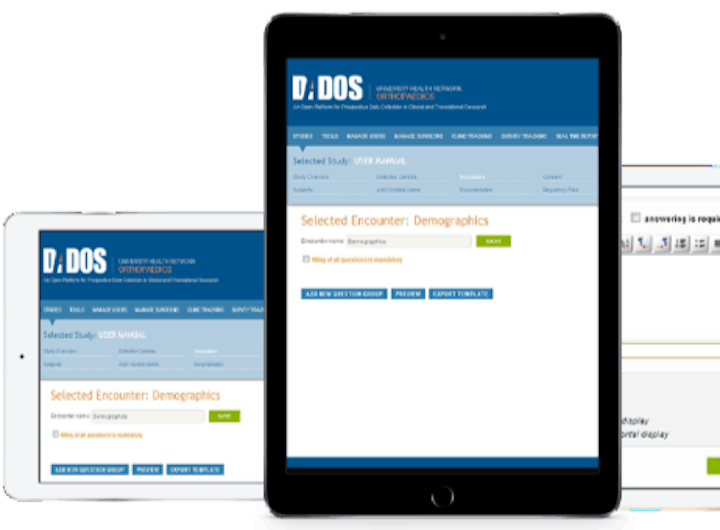 DADOS is a web platform for electronic data collection and management in clinical and translational research, designed to bridge the gap between research and clinical care.
Visit us at www.dadosproject.com