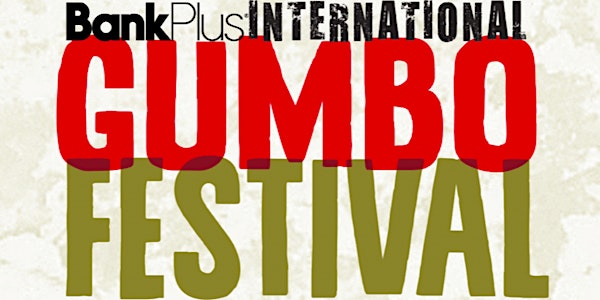 2019 Cooking Team Registration - BankPlus International Gumbo Festival
Please read through the information below and then click the green "Tickets" button on your right to start the registration process.
When and where
Location
Smith Park 302 Amite Street Jackson, MS 39201
About this event
Please note:
8 team members max.
10 gallons of gumbo required.
Teams are welcome to provide their own tents.
Each team recieves 8 armbands.
Extra armbands are $10 each.
All entry fees are non-refundable donations to Harold T. & Hal White Memorial Scholarship Fund.
Timeline:
Teams will be allowed to set up from 7:00 AM to 9:00 AM on Saturday morning. All vehicles must be out by 9:00 AM. Festival gates open at 11:00 AM.
Offical samples for blind judging will be requested by committee at pre-determined times based on the number of entries. Sampling and blind judging will be completed by 4:00 PM. Awards and prizes will be presented at 5:00 PM on the main stage.
Rules / Requirements:
1. Gates open at 7:00 AM for cooking teams.
2. All teams must be in place and all support vehicles out by 9:00 AM on Saturday.
3. Festival gates open at 11:00 AM Saturday morning.
4. Teams must provide all cooking supplies. No electricity provided.
5. All fresh ingredients must be prepared on sight.
6. Roux can be prepared in advance. Pre-cooked seafood/meats are ok.
7. Teams must provide water. Pre-packaged bottled water only. No hydrant.
8. No glass containers allowed. Metal, plastic, and paper only.
9. Teams must have fire extinguisher.
10. Teams responsible for trash removal and area cleanup.
11. Teams must be prepared to serve samples. Serving cups and spoons will be provided by festival.
12. Blind judging decisions are final.
13. Special categories will be determined based on number of entries.
14. Prizes and awards will be presented on the main stage at 5:00 PM.
Online Registration Payment will end on October 26, 2019 at midnight.
Benefiting the Harold T. & Hal White Memorial Scholarship Fund.