2019 Convención Anual | Academia de Médicos de Familia de Puerto Rico
Description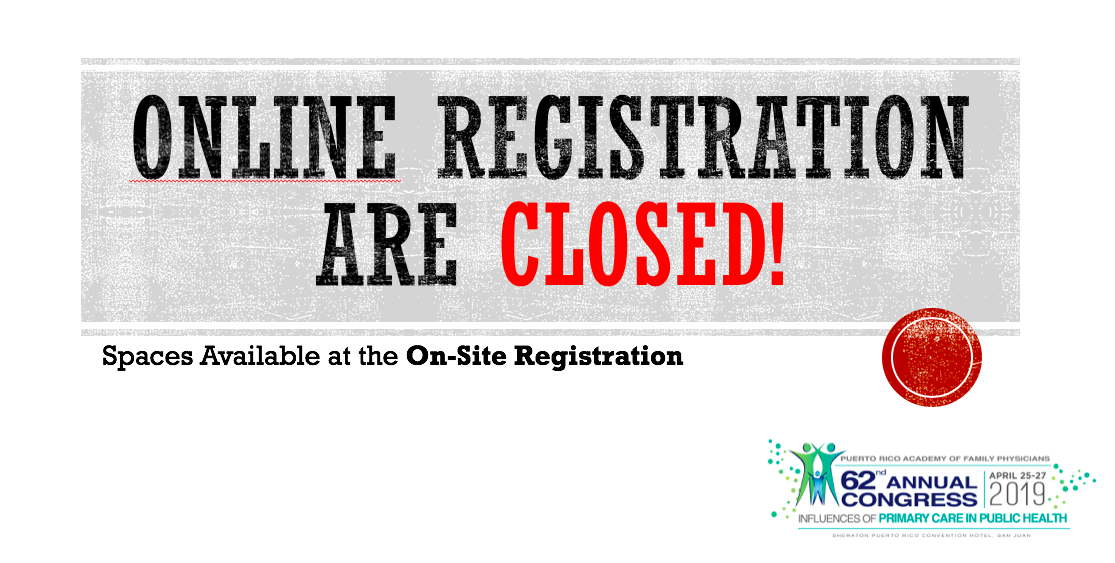 SCHEDULE AT A GLANCE
The 2019 Annual Convention schedule-at-a-glance provides a quick glimpse of what occurs each day at our Convention. *Schedule is subject to change.
THURSDAY, APRIL 25
8:00 a.m. - 7:00 p.m. Registration and Exhibitions
Pre- Convention Workshops | *Separate fee and registration required.
Compulsory Credits Workshops
8:30am - 12:00pm Antibiotic Use
1:00pm - 5:00pm Bioethics and Professionalism
9:00am - 3:00pm. Autism Course | *Requirement Only for Pediatricians
Extra-CME Workshops
8:00am - 12:00pm Basic Life Support (CPR / BLS)
1:00pm - 5:00pm Aesthetic Procedures Workshops (COURSE ARE CANCELED)
THURSDAY, APRIL 27
5:00 p.m. - 8:00 p.m. Dr. Aníbal Marín Memorial Lecture | CME
8:00 p.m. – 10:00 p.m. Awards and Dinners
"Aberlardo Díaz Alfaro" Humanities in Medicine & Labor – Community Awards
FRIDAY, APRIL 26
7:00 a.m. - 4:30 p.m. Registration & Exhibitions
8:00 a.m. - 5:30 p.m. CME
9:00 a.m. – 12:00 p.m. Poster Boards On-Site Judging
*Hours and Poster Judging are subject to change.
12:30 p.m. – 1:30 p.m. Dr. DeWitt Recognition Award
5:30 p.m – 9:00 p.m. Opening Welcome Reception & Poster Recognition Awards
SATURDAY, APRIL 27
7:00 a.m. - 11:30 a.m. Registration
8:00 a.m. - 5:30 p.m. CME
12:00 p.m. – 2:00 p.m. Puerto Rico Academy of Family Physician Annual Assembly |
*Only for PR- AFP Members | Lunch will be provided during Annual Assembly
7:00 p.m – 12:00 a.m Presidential Gala Dinner & Family Medicine of the Year Recognition Award
HOW TO REGISTER AND PAYMENT METHOD
Recommended Registration is trough Online Registration System, by credit card payment.
VISA, MasterCard, AMEX and Discover are accepted. An additional processing fee will apply to any payment processed with a credit card (paper and/or online).
Online registration will close on APRIL 16, 2019. On-site Registration available after this date.
YOU MAY ALSO REGISTER using one of the following options:
- Download and Complete the Registration Form and send it
*Fax completed Registration Form to: 787-294-6129

*Mail completed Registration Form with payment included to:
SDMS Group | Attn. AMFPR 2019 Convention Registration
PMB 290, 35 JUAN C BORBON STE 67, GUAYNABO, PR 00969
Check or Money Orders* are accepted too.
There is a $25.00 fee on all returned checks. Please refer to Registration Terms and Conditions for more details.
Make Check or Money Order Payable to: Academia de Médicos de Familia de PR
---
REGISTRATION ASSISTANCE
Call to SDMS Group at 787-731-3325 or 787-294-6119. (Office Hours: Monday to Friday from 9:00am to 5:00pm)
---
REMEMBER...
ARE YOU PR - ACADEMY OF FAMILY PHYSICIAN MEMBER?
A PROMO-CODE are required for PR-AFM Members for save $100 on the Convention Registration Fee. *Pre- Convention Workshops are charged separately. Also, you need the AAFP ID Member for complete the Registration.
---
WHAT'S INCLUDED IN THE CONVENTION REGISTRATION FEE?
Full Convention Registration Fee Includes (For All Registered Attendees); Access to Scientific Program Conferences, Continental Breakfast, Coffee Breaks, Lunch and one (1) Gala Dinner Ticket valid one person. (reservation required, must be received before April 15, 2019)
OR Visit SDMS Office at: Ave. Lopategui #9, Edificio Nildet - Segundo Nivel, Guaynabo PR
---
REGISTRATION TERMS AND CONDITIONS
Pre- Conference Workshops (Thursday Only) are sold separately, from Scientific Conference and are subject to change.
Registration by mail must be post marked by the closing date of the early bird time period (by March 15, 2019) for the discounted price to apply.
Regular Fee will apply to all mail-in registration forms post marked after March 16, 2019. This also applies to all emailed, faxed or online registrations.
An additional processing fee will apply to all payment processed with a credit card (paper and/or online). VISA, MasterCard, AMEX and Discover credit cards are accepted.
Checks and money orders will be accepted by mail or in person at SDMS Group Office.
A $25.00 fee will be charged on all returned checks. In the event that a check has been returned, the issuer will be notified and informed that he/she has 10 days to make restitution, including any related fees to prevent any collection activity and a hold will be placed on the CME Certificate. Restitution must be made in the form of cash, certified/cashier's check, or money order. Personal check will not be accepted as repayment.
Family Medicine Residents, Residents of Other Specialties and Medical Students - Residency Program Certification (for all Residents) or Proof of Enrollment (for medical students) is required and must be received by fax or email with the completed Registration Form (above).
PR- AFP Annual Assembly scheduled for Saturday, April 27th, 2019 is available ONLY for Family Medicine Active Members and Resident members of the American Academy of Family Physicians (AAFP). Lunch will be served during activity.
Poster Boards Presenters - Author(s) of accepted abstract must be registered by April 16, 2019. If registration is not processed by this date, abstract will not be included in the convention program.
NEW! Convention Registration Fee includes one (1) Gala Dinner Ticket valid one person. Additional tickets for the Gala Dinner are available, for an extra fee. Reservation is required. Please RSVP before April 16, 2019.
---
PARTICIPANTS WITH SPECIALS NEEDS
Participants with special needs, particular allergies or who require a special diet, please contact us via phone or email AFTER you have registered to coordinate special accommodations, alternative menu options, etc.
---
CANCELLATION AND REFUND POLICY
All completed transactions will be final. Registration Fees are NON-Transferable.
Refunds will be made ONLY with written notice of cancellation and must be received prior to April 16, 2019 and, are subject to Board of Directors approval. Request for Full Cancellation will be refunded less a $50 administrative fee. After April 16th, 2019, NO REFUNDS WILL BE ISSUED. No-shows are not eligible for a refund. Approved refunds will be processed after completion of the convention, paid for check and mailed to the postal address provided on the registration form.
---
CME CREDIT DESIGNATION
This educational activity has been submitted for accreditation to the American Academy of Family Physicians (AFFP) and the Ponce School of Medicine for a maximum of 20 Prescribed credits with the American Academy of Family Physicians or 20 CME AMA PRA Category 1 credits.
---
OPT-OUT OPTIONS
You can opt out of receiving promotional mailings from exhibitors and sponsors of promotional lectures. You can choose to not include your email address in your contact information shared with exhibitors you visit. Please, select the option in the registration process.
---
PHOTOGRAPHY AND RECORDING
The PR- AFP may take photographs and/or record audio and video at this event. By registering, you consent to the use of photographs and videos taken during the Convention in its promotional form.
---
FAQ'S
What are my transportation/parking options for getting to and from the event?
Parking Flat Fee Rate is $12.00 plus tax per day, for participant Registered in our Convention.
---
Please visit our website, www.amfpr.org for Updates on our Events.