Description
Grab Your Paddles and Help Us Light Up the River During WaterFire Providence's Clear Currents Community Paddling Event.
What is Clear Currents?
Clear Currents is a community paddling event that celebrates improved water quality in RI. Clear Currents features close to 80 illuminated Japanese koi (fish) temporarily mounted on canoes and kayaks that registered participants will paddle up and down the river after sunset. The brightly colored fish will beautifully compliment the 80 wood burning braziers installed on the river! Clear Currents celebrates the cleaner water that the opening of the Narragansett Bay Commission's Combined Sewer Overflow; an initiative that has greatly improved water quality throughout the entire bay area.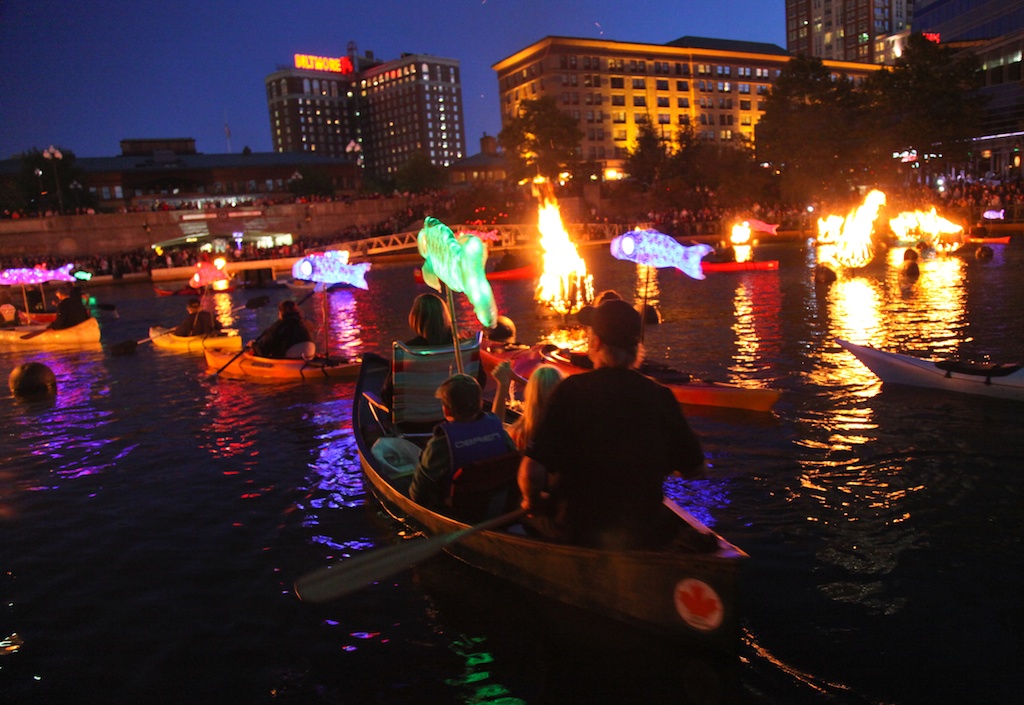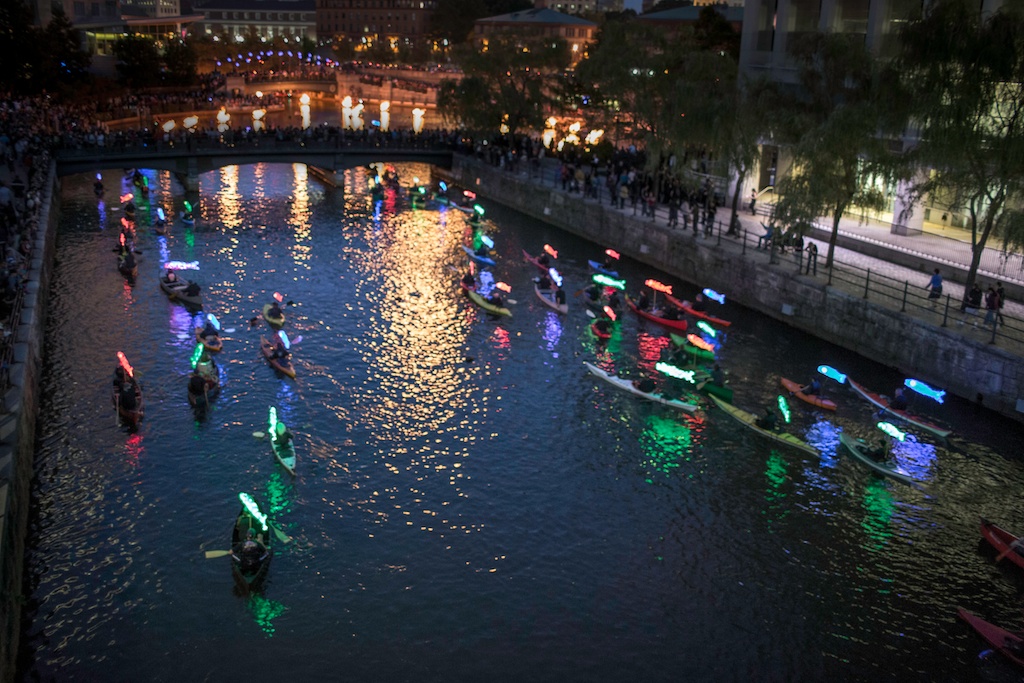 How Can You Participate?
WaterFire Providence is looking for experienced paddlers, who own a canoe or kayak, to sign up and join us as participants in this unique on-the-water event. Here's your chance to play an active role in this truly unique work of art! Don't miss this opportunity to experience WaterFire up close and personal from right on the river!
There is a participation fee to help cover the cost of materials for this exciting event. The fee includes a Clear Currents commemorative T-Shirt for registered participants. Participants registering after 4:00 p.m. on July 22 may not get their first choice of t-shirt size. Please register early to guarantee your selection.

$45 for a one-person Kayak (solo kayaks only please*)

$60 for a two-person Canoe (canoes must have 2 paddlers)

$15 for a co-paddler (someone who will share your canoe/kayak)
All participants must be 14+ years old, paddlers under 14 must be accompanied board by an experienced paddler who is over the age of 18.

RESTRICTIONS:
All participants in the Clear Currents event are expected to be experienced paddlers, participation in this event requires long periods of sustained paddling.

Stand-up Paddle Boards (SUPs) are not permitted.

Sit-on-top kayaks are not permitted.

Inflatable kayaks are not permitted.

Solo kayaks only please.* Due to safety considerations outrigger or inflatable vessels are not allowed

Due to safety and spacial awareness requirements on the river, no vessel may exceed 14′ in length.
* Tandem kayaks will be considered on a case by case basis. Tandem Kayaks that are approved will need to purchase the Two-Person Canoe Ticket. Due to safety and spacial awareness requirements on the river, no vessel may exceed 14′ in length.

If you have any questions please email them to WaterFire Providence at clearcurrents@waterfire.org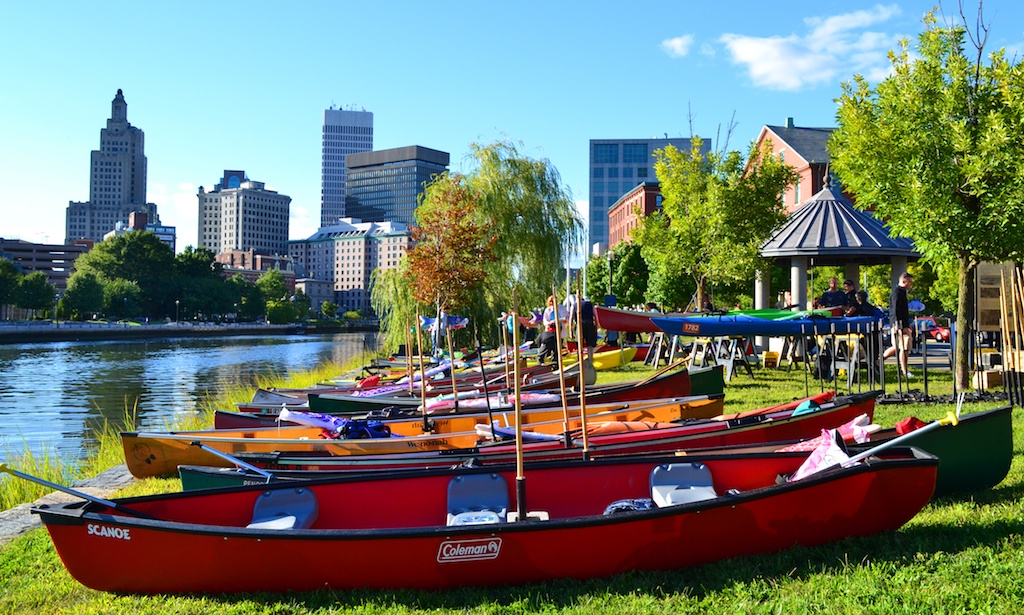 LOGISTICS:
On the day of the event, participant check-in will take place from 4:15 – 5:45 pm at the Providence River Park public canoe/kayak launch ramp located at 205 South Water Street.

From 5:45 – 6:45 pm participants will receive a final on-river orientation covering important event information.

There will be a pre-event break for paddlers from 6:45 – 7:15 pm

Paddlers will be on the river from 7:30 -11:30 pm

Tentative Timeline

Paddlers will meet at the release point at 8:00 pm.

Paddlers/fish will be organized into "schools" and then released into the installation after the lighting at approximately 8:20 pm.

Schools will finish swimming at 11 pm and paddlers will be off of the water by 11:30 pm.

Maps, parking info, and a more detailed timeline will be sent to all participants the week before the event.
NOTES:
Participants must provide their own canoe/kayak, paddle(s) and personal flotation device(s).

WaterFire Providence will provide the illuminated fish and all appropriate mounting devices. The illuminated fish will be installed in/on your canoe or kayak in a temporary, non-destructive fashion.

No physical alterations will be made to your boat!

All participants will receive an email with detailed logistical information during the week prior to the day of the event.

All participants are required to complete a WaterFire Release and Waiver of Liability Form prior to launching their boat on the river.
REFUND POLICY:
WaterFire Providence will offer full refunds until the close of ticket sales on July 26, 2019. After the close of ticket sales, there will be a cancellation fee of $15 for all canceled registrations.

Refunds must be requested in writing by emailing clearcurrents@waterfire.org.

The WaterFire lighting and all associated events are considered to be "rain-or-shine" events. We will make every effort to ensure the safety and comfort of all of our participants and visitors. A forecast of rain/rain showers will not cancel the event.

Should the WaterFire lighting or the Clear Currents event be canceled for any reason WaterFire Providence will issue a full refund to all registered participants.