About this Event
The Center for Civic Innovation is a community of people who love Atlanta and are fighting for better policies, stronger civic engagement, and an Atlanta that is built for everyone. We started the Civic Impact Awards in 2015 to shed light on the leaders who are doin' the work and to remind people that amazing things are happening in our city every day.
We are accepting nominations for the 2019 Civic Impact Awards in the following categories:
Investing in Impact: this award is for a foundation, corporation, or philanthropic organization that invested dollars into a project or program that moved the needle forward on advancing a new or more effective approach to solving a systems-level challenge in Atlanta.
Government Innovation Award: This award is for a government or quasi-government agency that executed a new or more effective program and/or policy to increase public participation or advance a new approach to solving a systems-level challenge in Atlanta.
Community Engagement Award: This award is for an organization, formal or informal, that executed a program or service to increase how people are informed and/or engaged in local decision-making
Please note that all three of these award categories are organizational, and not intended for individual nominations.
Then join us on Thursday, December 12 for the fourth annual Civic Impact Awards to celebrate all the finalists who are on the ground every day, working to tackle inequality by empowering and fighting for people and communities. Wear your creative black tie best, and meet with movers and shakers of Atlanta!
We are also looking for some stellar volunteers to help us make sure the night goes smoothly! Get signed up as a volunteer for our Civic Impact Awards here.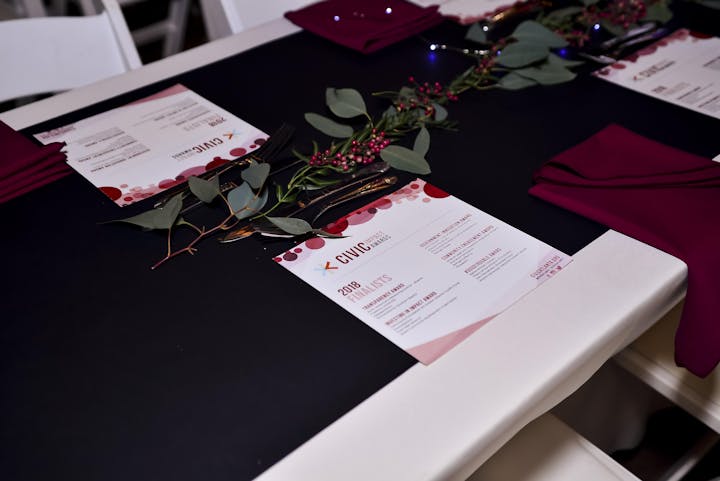 Interested in becoming a sponsor of the 2019 Civic Impact Awards? Check out our sponsorship options or get in touch with us at andrea@civicatlanta.org.