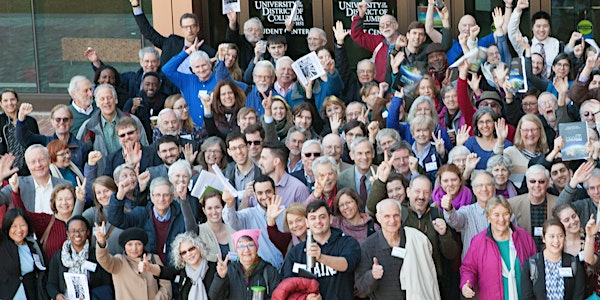 2019 Citizens' Climate Lobby Mid-Atlantic Conference
When and where
Location
The Claridge - a Radisson Hotel 123 South Indiana Avenue Atlantic City, NJ 08401
Refund Policy
Refunds up to 30 days before event
Description
Welcome to the Citizens' Climate Lobby
2019 Mid-Atlantic
Regional Conference
Friday, January 25, 3pm - Sunday, January 27, 12:00pm
We are sorry, online ticket sales have closed. We will be accepting payment at the door starting on January 25. Prices will be $120 and we cannot accept cash at the door. Please bring a credit card or check. See you there!
You are invited to the annual Citizens' Climate Lobby (CCL) Mid-Atlantic Regional Conference! CCL builds the political will for our elected representatives to take action on climate change.
Gambling with climate risk: Bipartisan challenges and opportunities. We have been gambling with climate risk and have begun to see the challenges of the risk we have taken. Come and learn about opportunities as well – opportunities to work together to heal our communities and our climate.
Our Regional Conference is an opportunity for newcomers and experienced CCL members to gather to learn, network, practice skills, inspire each other, and strategize in moving our country toward climate solutions.
Rising temperatures, prolonged wildfire seasons, drought, flooding, and insect infestations are already impacting our communities, agriculture and outdoor recreation industries. The harm of inaction and the benefit of action have never been higher.
For more information, contact Sabrina Fu: sabrina.fu@citizensclimatelobby.org
++++++++++++++++++++++++++++++++++++++++++++++++++++++++++++++
What you need to know about the 2019 Mid-Atlantic Regional Conference:
Who:
Everyone is welcome, whether it's your first CCL experience or you're an experienced volunteer. . The Mid-Atlantic Region includes Pennsylvania, New Jersey, Delaware, Maryland and Washington DC, but everyone is welcome no matter what state you are from.
When:
Friday, January 25th, 3pm - Sunday, January 27th, 12:00pm
Where:
The Claridge Hotel, 123 S Indiana Ave., Atlantic City, NJ 08401
Tickets:
Early Bird tickets through December 30th
All three days: $95

Friday only (includes reception at Claridge): $10

Saturday only (includes breakfast and lunch): $80

Sunday only (includes breakfast): $25
Regular tickets (December 31 - January 20):
All three days: $110

Friday only (includes reception at Claridge): $15

Saturday only (includes breakfast and lunch): $90

Sunday only (includes breakfast): $30
All students get a 50% discount by using the code STUDENT during registration.
Deadline to register is Sunday, January 20th, 2019.
Full registration comes with two breakfasts and one boxed lunch.
To accommodate various dietary needs, please choose one of the options below. A colored ticket will be given to you to match your request.
Option 1: Cranberry chicken salad with lettuce and tomato on a multigrain roll, chips, and Chef's Choice Dessert.
Option 2: Honey roasted turkey, boursin, bacon, lettuce and tomato on a baguette, chips, and Chef's Choice Dessert.
Option 3: (This choice is both vegan and gluten free) Roasted vegetables, avocado and romaine on a sundried tomato wrap.
Gluten Free dessert=Coconut Macaroons
Vegan dessert=Extra Piece of Fruit.
---
AGENDA
Friday
3:00 p.m. Registration opens
4:30 – 6:15 pm: Movie "The Human Element" followed by discussions
6:15 – 7:15 pm: Reception at The VÜE --top of the Claridge hotel
7:15 – 8:00 pm: Quiet Riot: "The Excitement of the Clean Energy Revolution!"
Saturday
7:30 - 8:30 a.m. Registration opens with continental breakfast
8:30 – 8:50 a.m. Welcome to MARC-2019, Carly Griffiths, CCL volunteer, Kaleem Shabazz, Atlantic City Councilman, and Mark Reynolds, CCL Executive Director
8:50-9:35 a.m. Keynote speaker Tammie Souza, Chief Meteorologist of NBC-10: Communicating climate risks through media
10:00 a.m. - 12:30 p.m. Climate Advocate Training Workshop (for new volunteers)
10:00 - 11:00 a.m. Leadership Skills with Mark Reynolds
11:15 - 12:30 p.m. Update from Dr. Daniel Richter followed by state strategy breakouts
12:30 - 1:30 Lunch
1:30 - 1:50 p.m. -- Welcome back with Mark Reynolds, Sabrina Fu, and Jon Clark
2:00 - 3:15 p.m. Breakouts into climate impacts on: Infrastructure, coastal ecosystems, human health, agricultural and fisheries, and tourism.
3:30 – 4:45 p.m. Breakouts on bipartisan challenges and opportunities include: Deep dive into Energy Innovation and Carbon Dividend Act, local innovations and resiliency, Surging Seas tool and engagement, letter writing, Higher Education, and state carbon pricing.
5:00 – 6:00 p.m. Telling Better Climate Stories with Peterson Toscano
Dinner on your own
Sunday
7:30 – 8:30 a.m. Opens with registration and breakfast
8:30-9:30 a.m. Bringing Bipartisanship and Transformation to Citizen Activism with Sam Daley-Harris
9:30-10:30 a.m. Getting a bill through Congress with Mark Reynolds
10:45-11:30 a.m. Breakouts to discuss how to help Mark get a bill through Congress
11:35-11:50 a.m. Sharing with Mark
11:50-noon: Mark wraps up
---
Homestay:
A volunteer led homestay program is being organized! If you would like to take locals up on free bed/sofa for your stay in Atlantic City, please contact Carly at cgriffiths770@gmail.com
Looking to share a room:
There is a forum on Community here where attendees looking to room share at the conference can post information.
Electric cars:
If you have a 100% electric car, you can bring your cables to connect to standard wall outlets in the Claridge hotel parking lot. ChargePoint chargers are available on the first floor of the "Wave" parking garage across from Angelo's Restaurant (& near the Outlets) in Atlantic City. You would need a ChargePoint account/card to use them—and if you charge there, your parking is free. Tesla has a bank of "superchargers" at the back of the Joe Canal/Bonefish (small shopping center) on Fire Rd., right off the Parkway south & west of Atlantic City.
---
Minors (under 18) Registration: If you are under the age of 18, or are registering for someone under 18, a signed permission slip must be completed to attend the conference. Please email sabrina.fu@citizensclimatelobby.org.for a permission slip. Minors must be accompanied by a parent/guardian or chaperone (who must also be registered for the conference).
Questions? Please email Sabrina Fu (sabrina.fu@citizensclimatelobby.org).
By registering for this event, you are giving Citizens' Climate Lobby and Citizens' Climate Education permission to send you email including information about CCL/CCE and how you can volunteer and support our work. You can unsubscribe at any time by emailing unsubscribe@citizensclimatelobby.org.