Description
**Registration closes May 27,2019, 11:59PM(CDT)**
The Annual MathComp/MathFun event and Parenting Seminar are the flagship events of the CIE/USA-DFW youth program. They attract the participation of nearly 1000 students, parents, educators, and volunteers each year. This grand math fair is composed of three events: (1) a math competition, (2) a math fun fair, and (3) a parenting seminar. The main goal is to stimulate young students' interest in Science, Technology, Engineering, and Math (STEM) subjects.
MathComp (Math Competition) provides young students the opportunity to demonstrate their math problem solving skills. The early registration fee is $15 before May 16th, then $20 before May 27th.
While the students compete, all parents are invited to attend the Parenting Seminar and Panel Discussion, which is free to parents of MathComp participants.
*All students Grades 1-8 are welcome!*
You may find sample problems for the math competion here.
FREE TO PARENTS!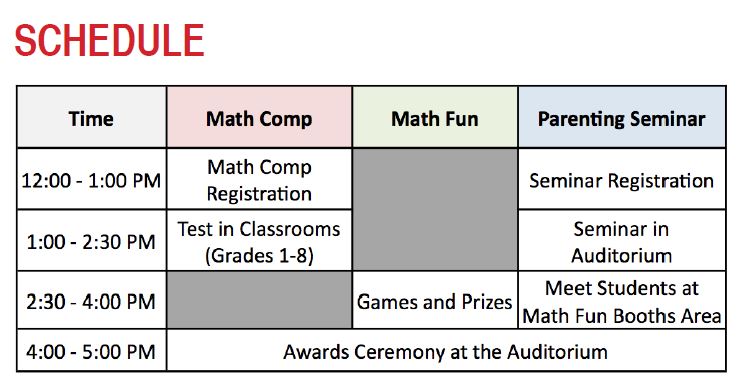 2019 Speakers and Panelists:
Dr. Jianzhong Su
Dr. Jianzhong Su received his B.S. in Applied Mathematics from Shanghai Jiaotong University and earned his PhD in mathematics from University of Minnesota. He is a professor of Mathematics and the chairman of the Department of Mathematics, University of Texas at Arlington.
Jett Wang (Student)
Jett Wang is incoming 2019 MIT freshman. He has been active in high school math contests, and qualified for the 2019 USA Mathematical Olympiad (USAMO). He is also 2018 USA Physics Olympiad Bronze Medalist.
Richard Luo (Student)
Richard is a senior student from Highland Park high school. An avid STEM enthusiast, he gained his first exposure to competition math at the CIE Math Competition. He competed in many years, and continued his involvement by volunteering at many CIE events. Richard will attend Harvard in the Fall 2019.