2019 CIE/USA-DFW and AAEOY International Technology & Leadership Conference
Description
*Registration will close on Wednesday August 14th, 2019, 11:30PM(CDT)**
CIE/USA-DFW Chapter cordially invites you to 2019 International Technology and Leadership Conference (ITLC) on Saturday August 17, 2019 in Plano, Texas. Target audiences are professionals, young professionals, university students/researchers, and high-school students.
Hosted by CIE/USA-DFW Chapter, this event is part of DFW Chapter's 30th Anniversary Annual Convention and 18th Asian American Engineer of the Year (AAEOY) Award and Conference. Featuring 15 experts and executives from industry, academia, and research institutions including Boeing, TI, Oncor, DuPont, AT&T, Altair, UC Berkeley, NTUST, UTA, UTD, NTU, INL, and ITRI. Talk topics include Artificial Intelligence, AIoT, Energy, and Leadership & Career Development. Scroll down to see the full speaker list and talk titles.
Admission is free but advance registration is required. Parking is also free at the nearby public parking garages. Seats are limited - Click "Register" button at the right to reserve your seat. Visit CIE website for more info or click here to download the event flyer including talk titles as shown below.
WHERE: Renaissance Dallas at Plano Legacy West Hotel (6007 Legacy Drive, Plano, TX 75024)
WHEN: Saturday August 17, 2019, 12:45 PM - 4:45 PM
DRESS CODE: Business Casual
For questions please contact 2019convention@cie-dfw.org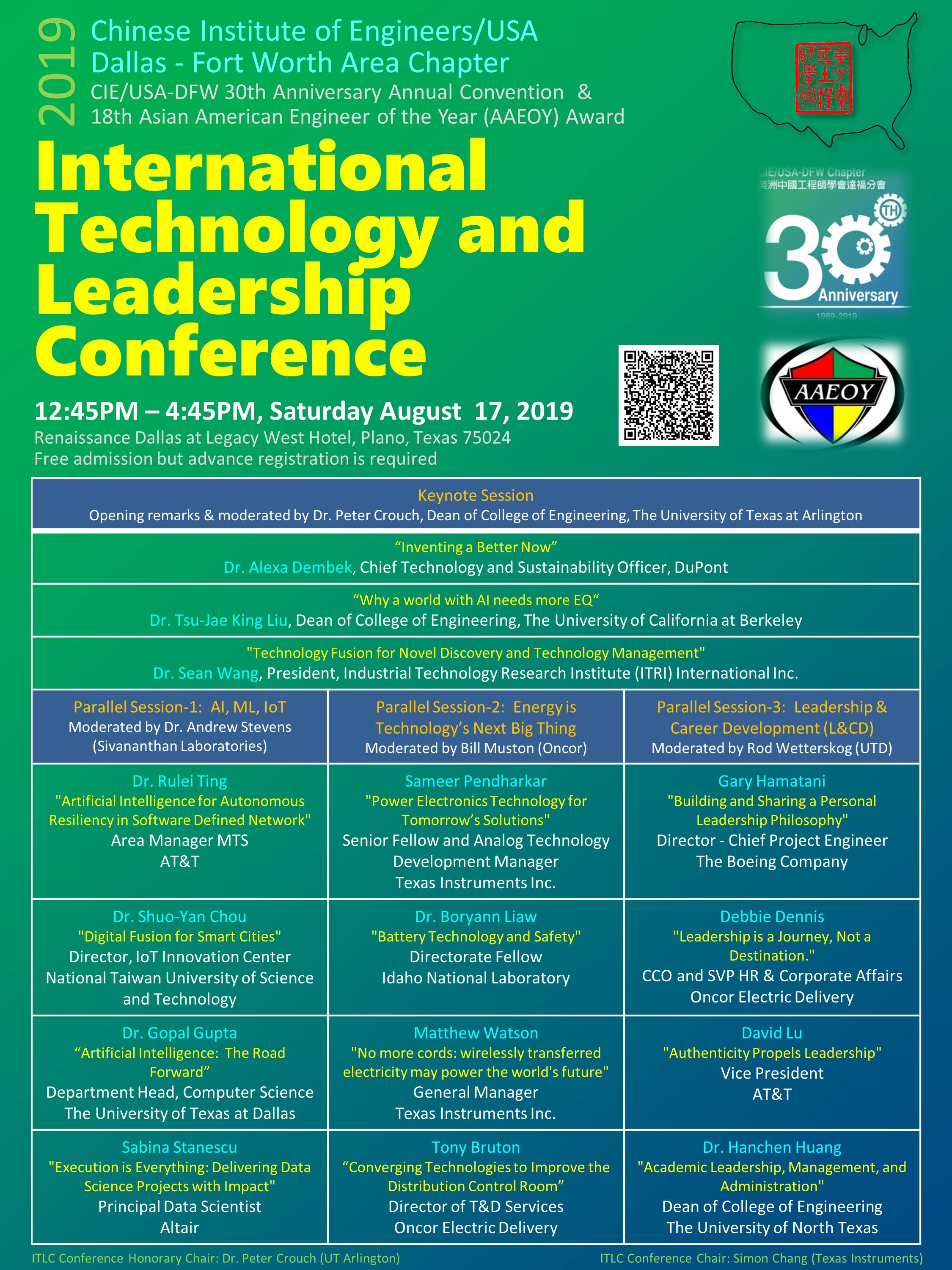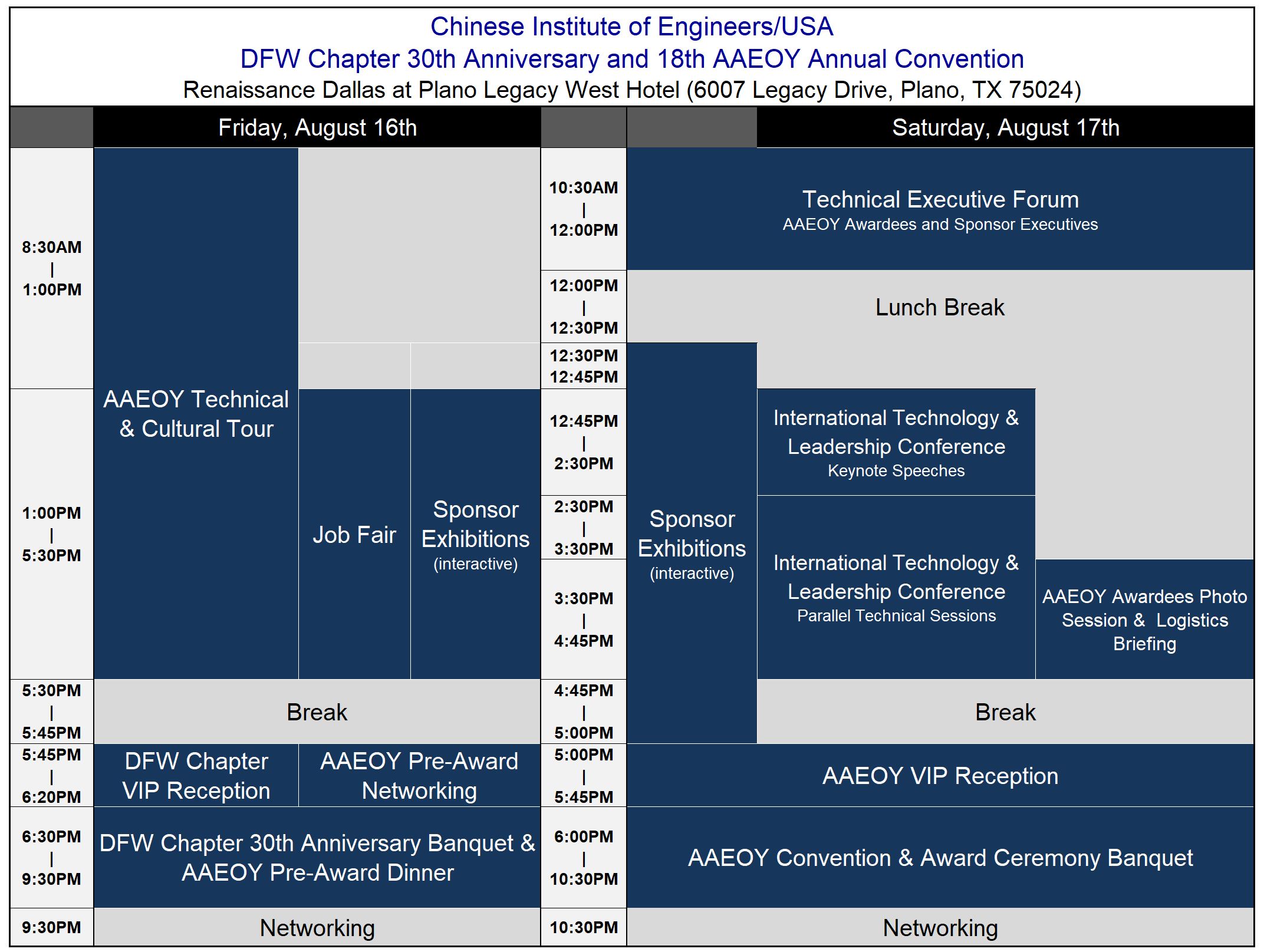 Speaker List:
Keynote Session:
Moderator: Dr. Peter Crouch, Dean of College of Engineering, The University of Texas at Arlington
Dr. Alexa Dembek, Chief Technology and Sustainability Officer, DuPont, "Inventing a Better Now"
Dr. Tsu-Jae King Liu, Dean of College of Engineering, The University of California at Berkeley, "Why a world with AI needs more EQ"
Dr. Sean Wang, President, Industrial Technology Research Institute (ITRI) International Inc., "Technology Fusion for Novel Discovery and Technology Management"


Parallel Session-1: Artificial Intelligence, Machine Learning, and IoT
Moderator: Dr. Andrew Stevens, Machine Learning Scientist, Sivananthan Laboratories
Dr. Rulei Ting, Area Manager MTS, AT&T, "Artificial Intelligence for Autonomous Resiliency in Software Defined Network"
Dr. Shuo-Yan Chou, Professor and Director of IoT Innovation Center, National Taiwan University of Science and Technology, "Digital Fusion for Smart Cities"
Dr. Gopal Gupta, Department Head, Department of Computer Science, The University of Texas at Dallas, "Artificial Intelligence: The Road Forward"
Sabina Stanescu, Principal Data Scientist, Altair, "Execution is Everything: Delivering Data Science Projects with Impact"


Parallel Session-2: Energy is Technology's Next Big Thing
Moderator: Bill Muston, R&D Manager, Oncor Electric Delivery
Sameer Pendharkar, Senior Fellow and Analog Technology Development Manager, Texas Instruments Inc., "Power Electronics Technology for Tomorrow's Solutions"
Dr. Boryann Liaw, Directorate Fellow, Idaho National Laboratory, "Battery Technology and Safety"
Matthew Watson, General Manager, Texas Instruments Inc., "No more cords: wirelessly transferred electricity may power the world's future"
Tony Bruton, Director of T&D Services, Oncor Electric Delivery, "Converging Technologies to Improve the Distribution Control Room"


Parallel Session-3: Career & Leadership Development
Moderator: Rod Wetterskog, Assistant Dean of School of Engineering, The University of Texas at Dallas
Gary Hamatani, Director - Chief Project Engineer, The Boeing Company, "Building and Sharing a Personal Leadership Philosophy"
Debbie Dennis, Chief Customer Officer and SVP Human Resources & Corporate Affairs, Oncor Electric Delivery, "Leadership: Leadership is a Journey, Not a Destination."
David Lu, Vice President, AT&T, "Authenticity Propels Leadership"
Dr. Hanchen Huang, Dean of College of Engineering, The University of North Texas (UNT), "Academic Leadership, Management, and Administration"