About this Event
Since the recent reform of China's drug approval process, clinical trials and new drug approval in China has speeded up. In 2017 alone, 34 pharma products and 5 biotech products were approved, making a record high in the history. It opened door for drug development companies around the world to the Chinese market and also ignited license-in interest from Chinese public pharma companies.
China Focus@BWB is bringing together investors and pharma leaders from China and healthcare innovators for an exclusive event designed to inspire, educate and foster cross-border investment and collaboration in leading biopharma innovations from around the world. The forum features premier 1-to-1 meeting opportunities prior and during the forum.
Feel free to call (832) 497-2220 or email info@mybiogate.com to get in touch with us.
Why attending?
Learn: Learn about the rising healthcare market opportunity, innovation and investment trend in China from industrial leaders from China
Present : Present in front of 50+ Chinese investors who are actively seeking investment and in-licensing opportunities
Connect: Connect with investors prior to and during the Forum through online pitch and 1-to-1 partnering meetings
Inspire: Sharpen your vision for 2019 with additional opportunity from across the pacific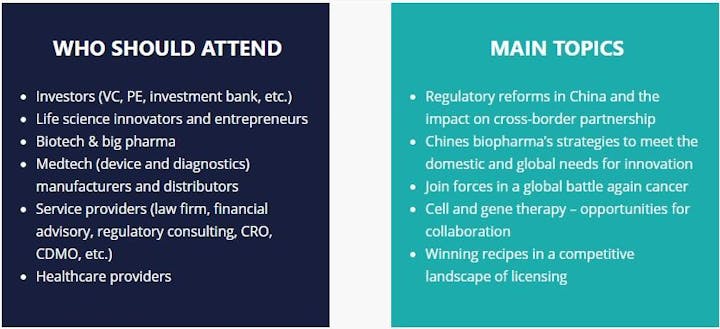 Agenda