Description
Chicago get ready to ignite your future at the 2019 Chicago LIT College Tour "The Premiere Career, Leadership & Networking Event" for students hosted at UIC, Student Center East, Room 302, on Thursday, April 4, 5pm-9pm. This year's event is presented in association with Blue Cross & Blue Shield of IL, Baird, Echo Global Logistics, Columbia Sportswear, New York Life & Cobian Marketing Group.

For STUDENTS, connect with over 30 recruiters, professionals, entrepreneurs and mentors while enjoying free headshots, speed networking/mentoring, hors d'oeuvres, and a live DJ keeping the positives vibes flowing all evening!

For RECRUITERS, Professionals, Educators and Mentors, connect with student leaders from Chicagoland Universities and Colleges.

What is LIT? Leadership, Innovation, Transformation. LIT College Tour is a national career and leadership initiative designed to support students' academic success, career exploration, internship and job search, as well as personal and professional development. Students get a chance to build their leadership skills, meet face-to-face with recruiters, network with potential mentors and gain actionable insights from speakers.

Our half-day conference offers students of all majors the opportunity to learn the latest industry informed career readiness and leadership skills from professionals from diverse industries including Arts, Business, Communications, Government, Medicine, Non-profit, STEM and other fields.
Who speaks at LIT?
Executive's of Fortune 500's and industry leading companies, Emmy-award winning journalists, rising tech stars, entrepreneurial innovators, recruiters and other thought leaders. Which companies have participated at LIT? Federal Reserve Bank of New York, SpaceX, Facebook, Goldman Sachs, Chevron, NBC/Telemundo, ABC, Deloitte, Google, EY, Chase, State Farm, Techstars, Sony Pictures Entertainment, Boost Mobile, Blue Cross & Blue Shield of IL, Columbia Sportswear and Edelman PR, Saatchi & Saatchi, and CBRE, among others. LIT College Tour is hosted in several top 10 markets including NYC, LA, Miami, Houston, Chicago and Silicon Valley.
Agenda: (Subject to change)

4:30 p.m. - 6:30 p.m: Conference
6:30 p.m. - 8:30 pm: Meet the Firms

4:30 p.m. Registration opens
4:45 p.m. Opening remarks - LIT Team
5:00 p.m. Keynote - Igniting Your Future
5:25 p.m. Panel 1 - Leading from Within
6:10 p.m. Workshop - Personal Branding by Lan Nguyen, Ph.D., Marketing Professor, UIC & Poets Quants Top 50 Undergraduate Business Professors
6:30 p.m. Meet the Firms Mixer, free headshots, speed mentoring, hours d'oeuvres and live DJ
8:30 p.m. Closing remarks

Attire: Business, Business Casual
Parking: We do not cover parking. All guests should use parking directly across from UIC, Student Center East.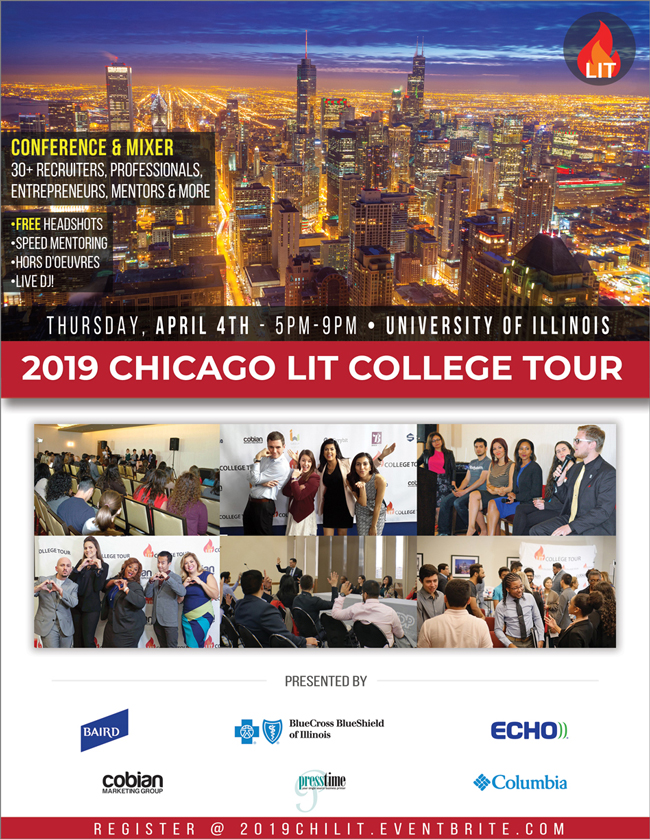 Check out highlights from last years event at the following link and flyer below: https://www.youtube.com/watch?v=Jz6SepfGEn8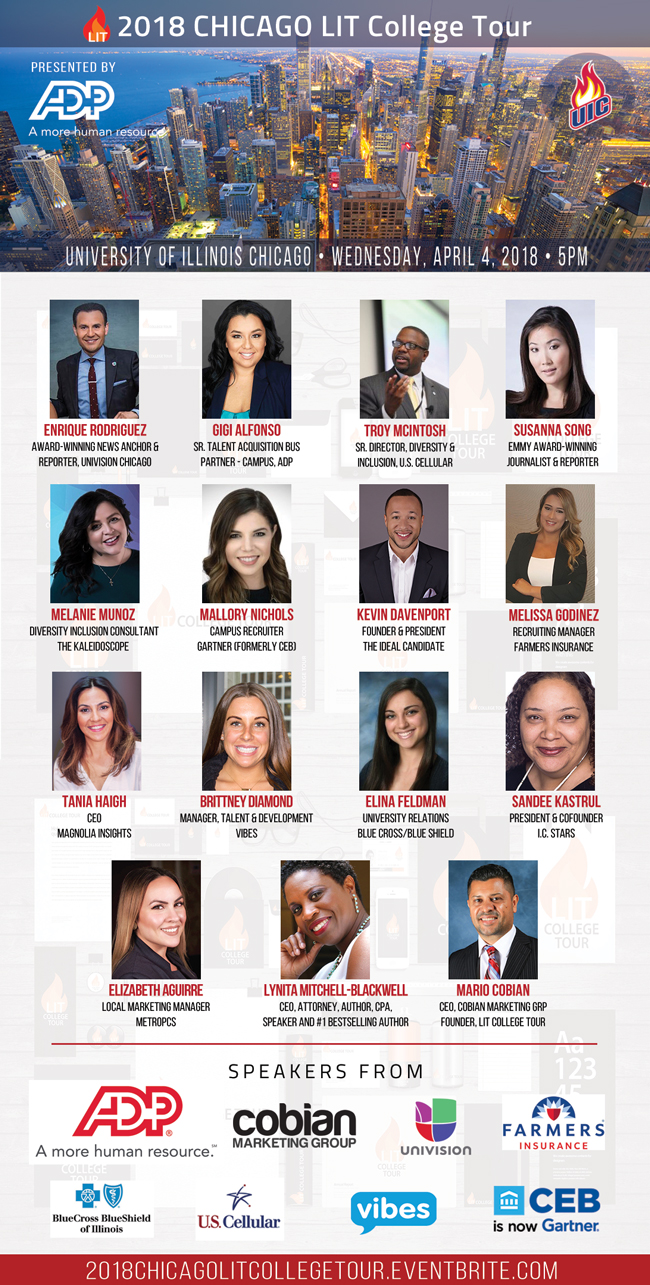 Highlights from other LIT College Tour events: