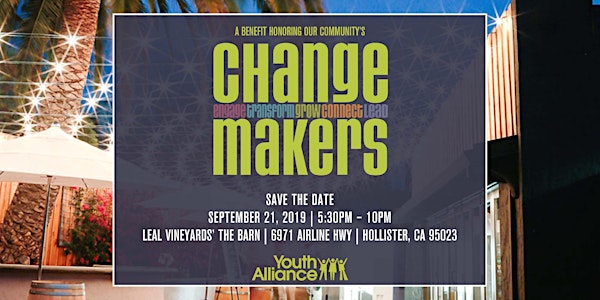 2019 Change Makers
When and where
Location
Leal Vineyards The Barn 6971 Airline Hwy Hollister, CA 95023
Description
YOU ARE INVITED TO CELEBRATE AND BE A CATALYST OF CHANGE!
Our annual marquee fundraising event, Change Makers, is set to take place in Leal Vineyards' The Barn on September 21st, 2019 from 5:30pm to 10pm. This year, YA is thrilled to announce that we have set ourselves a $250,000 fundraising goal in preparation for our 25 Year Anniversary in 2020. Dubbed the #YA25 Campaign, our vision is to give each of you the opportunity to participate in bringing to life much-needed community youth impact centers. These centers will be equipped with multiple counseling rooms and youth-training spaces complete with computer stations. Using restorative justice principles, our aim is to create spaces designed for youth empowerment, positive expression, education and most importantly, life success.
This year's event is not to be missed and will include entertainment by Funky Sound Experience, raffles, auctions, celebration of Change Makers (like yourself), and a special recognition of a nominated community member for their outstanding and exemplary work. Your continued generosity through sponsorship, partnership, volunteer work and donations ensures that YA is able to continue its mission to effect change and create a more aspiring and engaging community for our youth. Your sponsorship in our #YA25 campaign looks forward to building out our youth impact centers, awarding scholarships / fellowships to local youth, as well as expanding our highly needed outreach support services in Gilroy, Morgan Hill and San Benito County.
Simply put, we need your help to buildmomentum. If your employer has matching funds available, we would be happy to work with you to secure a matching sponsorship. Sponsorships can be committed to a one-time gift or a payment schedule on an annual, quarterly, or monthly basis. We are excited to welcome you into our #YA25 community of sponsors, and thank you sincerely for your support in reaching our goal.
We are proud to honor Monica and Raymond Rodriguez as the 2019 Change Makers and Aphrodite Ayala as the 2019 Youth Inspiration Recipient!
For more information, contact eddy@youthall.org
THANK YOU to our current sponsors: