About this Event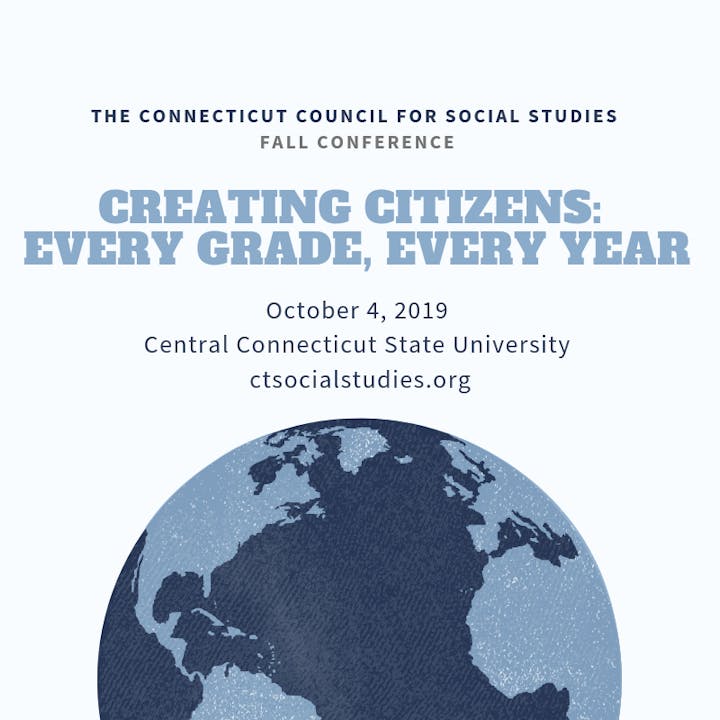 The Connecticut Council for the Social Studies (CCSS), a Gold Star affiliate of the National Council for the Social Studies, is the professional state organization for social studies educators. Our mission is to advocate for and advance the teaching of social studies at all grade levels. Our board is comprised of volunteer K-12 teachers and administrators, college professors, and personnel from museums and historical/cultural organizations.
The CCSS Annual Fall Conference brings together educators and administrators from elementary, middle and high schools, along with university social studies education students and instructors, and professionals from museums and historical/cultural organizations. The variety of workshops, panel discussions and exhibitors provides ample opportunities for professional development, networking, and inspiration. We also look forward to recognizing this past year's CCSS award winners and their accomplishments.
Conference Schedule:
7:30-8:30 Check-in, networking, and exhibitors
8:30-9:45 Opening Remarks & Panel Discussion: A Century of Progress: From The 19th Amendment to #MeToo
10:00-10:50 Concurrent Sessions A
11:00 - 11:50 Concurrent Sessions B
12:00 - 12:45 CCSS awardee recognition / lunch (provided)
1:00 - 1:50 Concurrent Sessions C
2:00 - 3:30 Leadership Sessions & Unconferences
Sample Session Topics:
EDTPA Session, Shifting to Inquiry, Civic Engagement, Addressing Climate Change in the Classroom, Student Voice/Choice, Life During the Holocaust, Engaging K-5 in the Excitement of Election Season, Colonial Connecticut, Communicating Across Political Divide , and more.
Opening Panel Discussion: A Century of Progress: From The 19th Amendment to #MeToo
Panel participants: Megan Torrey (WAC) - Moderator, Denise Merrill (CT Secretary of State), Sarah Lubarsky (Connecticut Women's Hall of Fame), Nancy Steenburg (UCONN & ASCH), Carol Reimers (League of Women Voters)