2019 California Water Data Science Symposium: Community Water Science Works...
Description
The Surface Water Ambient Monitoring Program (SWAMP), the California Water Quality Monitoring Council, and the San Francisco Estuary Institute (SFEI) are hosting the Fourth Annual California Water Data Science Symposium on July 1-2, 2019 in Sacramento, CA. This annual event aims to enhance how water quality monitoring generates meaningful data that informs water quality management decisions. This year's Symposium will revolve around the theme of Open Water California- Innovating Through Integrating and Expanding the Water Data Community. Water data is being collected by a more diverse group of citizens and organizations than ever. Presentations and posters are expected to inform water resource issues for the following subject areas:
Open Science

Data Visualization

Freshwater Harmful Algal Blooms

Data Innovations

Trash and Microplastics

Remote Sensing

Ecological Flows

Community Science Monitoring
Community Water Science Concurrent Session- This year's symposium will have a concurrent session on Day 2, July 2nd, where the theme is about better civic engagement to increase collaboration with community water scientists, academia, and other non-agency data collectors in our water data and ecosystem health programs. This session will provide training and information on a variety of topics that are important to community water science organizations, such as developing a monitoring and quality assurance plan, working with laboratories, and multiple sessions on working with data.
Agenda - Coming Soon to the Symposium webpage.
Financial Hardships: While the event is free to attend, a limited amount of funding is available to help support those who would not be able to attend due to financial hardship. Our California Water Datathon co-organizers from the West Big Data Innovation Hub are excited to help support your participation in Sacramento. This travel grant may only be used to cover transportation and lodging: up to $200 for travel within 200 miles; $500 for more than 200 miles. To set up reimbursement for your travel, please fill out the West Hub Participant Support Application. If you are in need of flight accommodations and prefer to have the West Hub book for you (so you don't have to wait for reimbursement), please contact the West Hub Director Meredith Lee at mmlee@berkeley.edu.
Science Symposium- Main Session- If you wish to attend just the Community Water Science Concurrent Session, please register using the green 'Register' button above. If you ALSO wish to attend the Symposium, please also register for the symposium at this Eventbrite Registration webpage.

For more information, please contact Randy Turner: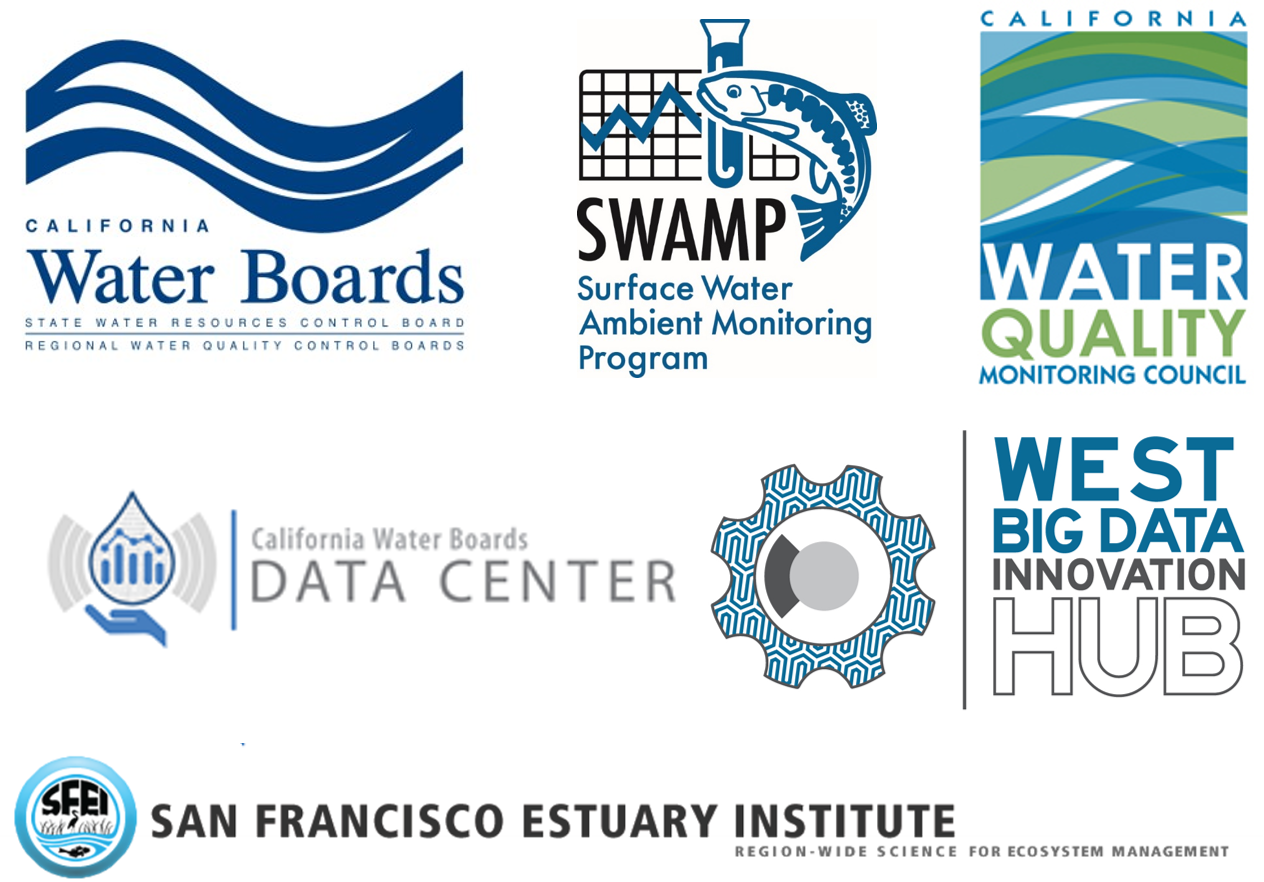 #cawaterdatadive
#caswamp
#waterdata
#cawater
@cawaterdatadive
@swamp_water_ca
@sfei_asc