2019 Calgary Stampede Parade Seats - Supporting 31st St Cyprian's Scouts
Description
The Calgary Stampede Parade — which began in 1912 and opens "The Greatest Outdoor Show on Earth", is bigger and better than ever this year! Yahoooooooo!!!
Our annual Stampede Parade Seats fundraiser supports scouting adventures for members of the 31st St Cyprian's Scout Group - girls, boys, teens and young adults, 5 to 26.
Scouts Canada is a registered not-for-profit organization. Charitable Registration Number: 107761694RR0028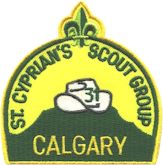 FAQs
What's the best way to get there on Parade Day?
Parking in the downtown core is not terribly convenient since many downtown roads will be closed by 7:30 AM on parade day and do not open until after the parade is complete.
We recommend using the C-train on Parade Day and you should plan to get off at the 4th Street West station. The C-train will run continuously during the parade and is the best way downtown.
If you do decide to drive down, probably the best place to park is Gulf Canada Square parkade as it is only a few blocks from our bleachers and can be accessed from 10th Ave SW which is open through-out the day.
How do I find my seats?
We will have ushers on hand to help seat you.
What time do I have to be there?
Since the route has been reversed, our seats are now very close to the beginning of the parade. So please bear this in mind when planning your arrival time, so you don't miss anything.
I would expect that we should be prepared to seat people as early as 7 -7:30 AM. The actual Parade starts at 9 AM and will reach our seats quickly.
I just ordered bleacher tickets for the Stampede Parade for myself and 2 guests. Do I need to do anything to show our names?
No, just have your tickets with you (printed or on your phone), and our ushers will be able to assist you to your seats.
Once I purchase tickets through Eventbrite can they printed from home? We are traveling from out of province and I don't want to have to worry about going somewhere to pick them up.
When you purchase tickets through Eventbrite, you'll receive a confirmation email that will have your tickets attached to it in a PDF. You should be able to print your tickets right from your email.
https://www.eventbrite.ca/support/articles/en_US/Troubleshooting/where-are-my-tickets?lg=en_CA
I just ordered 6 Stampede parade tickets for my friends who will come to visit me from out of town. Is it ok that the six tickets are all under my name?
​It is okay that the tickets are all in your name. You have 6 tickets with reserved seating and you can bring whomever you wish. All they need to do is show up at our venue on the day of the parade with their tickets and our volunteers will show them to their seats.
We are very tall family and need good leg room.
There are some very tall members of the 31st Scout Group family as well, and I think you will find the seating adequate.
What are the options for wheelchair accessible seating? Would that count as a ticket that needs to be purchased?
We do have wheelchair accessible seating available. It is located the first two rows of most section by the exits. Please purchase two seats, then we can accommodate the wheelchair in the gap between the bleachers and leave the one seat vacant.
If I buy the lower seat bleachers is there anyone allowed to stand in front of us.
We do ask all our patrons to remain seated while the parade is underway. We do also understand that during the parade you may feel the need to stretch your legs. To the left side of the bleachers we will have an area where you will be able to stand without obstructing the view for others.
I love to take pictures of the parade
We love taking pictures too. If you need to stand up and get a closer angle of the parade, please move to the far left of the bleacher seats, you will find an area there where you can take as many photos as you like without obstructing the view for others.
Do you have porta-potties on your site?
Yes, we will have a few porta-potties available to use throughout the morning. They will be located at the rear of the parking lot.
Do I need to purchase a ticket for a 1 year old if he is going to sit on my lap?
No. If your child will be sitting on your lap for the parade, you only need to purchase one seat for yourself.
Is there a cut off time when you won't be allowed access?
Though we don't have a 'cut-off', we do recommend you arrive by 7:30am as it get's quite congested and streets get blocked off.
Please refer to the links below for more information.
https://www.calgarystampede.com/stampede/attractions/parade/watch-parade
https://31st.ca/stampede-seats/
I am planning on taking the C-train. Will we be able to cross 9th Ave to get to our seats after the parade starts?
There are always breaks in the parade for people to cross 9th Ave to get to our seats. We expect the official parade to get to our seats between 8:30 and 9 AM.
Can I trade my tickets for seats on 6th Ave.
I'm afraid we don't have any affiliation with other parade seats suppliers.
I would like to request a refund.
We are not able to offer refunds; we are a not-for-profit youth organization and have limited resources for managing this event. Like other sporting events or shows/performances it is up to the customer to make other arrangements if they have a conflict.