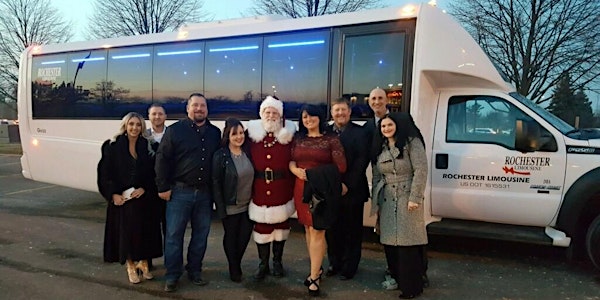 2019 BYOB HOLIDAY LIGHTS TOUR ON WHEELS
When and where
Location
Red Ox Tavern 3773 East Walton Boulevard Auburn Hills, MI 48326
Description
** NOTE- THIS IS A 21 AND OLDER EVENT**
Join us at
Rochester Limousine LLC
for our
2019 BYOB Holiday Lights Tour!!!
Enjoy the
Magical Experience
of the holiday season on wheels … Come join Santa as he chauffeurs you around Metro Detroit spreading his holiday cheer! Enjoy the warmth and comfort of our brand new luxury shuttle bus while traveling to each location. Holiday music will be playing and the spirit of the holidays will be flowing, all while viewing The
BEST Holiday Lighting Spectaculars!!!
This is a treat your group will never forget! We will capture The Spirit of the Holidays by visiting Detroit's Campus Martius Park and the Michigan-grown, 60-foot Norwegian Spruce Light Up, Wild Lights at The Detroit Zoo and ending the tour with the Big, Bright Light Show in Beautiful Downtown Rochester, Michigan.
Our meeting place will be The Red Ox Tavern parking lot in Auburn Hills, Michigan. Boarding will begin at 5:15pm and the shuttle will leave promptly at 5:30pm for Campus Martius Park. Feel Free to bring your own compact cooler and BYOB! Once we arrive at Campus Martius Park, you may enjoy a Holiday Carriage Ride (Not included with ticket.) Rides are $10 per person or $40 for a private group and will run about 15 to 20 minutes per ride. Carriage rides will be purchased on-site. No advance reservations will be accepted), or ice skate at The Rink! Be sure to dress warm!
The shuttle bus will depart from Campus Martius Park at 7:15pm sharp! Then we will travel to The Detroit Zoo "Wild Lights" display. Here, you will experience more than five million LED lights illuminating trees, buildings and 280 sculptures (more than 230 of which are animals) throughout the front half of the Zoo. Return back to the shuttle bus at 9:00pm for our final departure to beautiful Downtown Rochester. Here you will enjoy Rochester's Downtown buildings covered with more than 1 million points of glimmering holiday lights.
Event Timeline:
5:15pm Check-in location at the Red Ox Tavern parking lot in Auburn Hills, Michigan
5:30pm Tour bus departs for Campus Martius Park
5:30pm-6:15pm Travel Time to Detroit
6:15pm-7:15pm Experience The Beautifully Lit Campus Martius Park.
7:15pm Tour bus departs for The Detroit Zoo's "Wild Lights" Tour
7:15pm-7:45pm Travel time to the Detroit Zoo
7:45pm-9pm Enjoy the Detroit Zoo's Spectacular Light Display
9:05pm Tour bus departs for Downtown Rochester
9:05pm-9:35pm Travel time to Beautiful Downtown Rochester
9:35pm-10:15p View the stunning lights of Downtown Rochester
10:15p-10:30p Travel time back to The Red Ox Tavern
10:30p Tour ends back at the Red Ox Tavern in Auburn Hills, where you can enjoy food and drinks to cap off the night! (not included with your ticket.)
Does the price include the Detroit Zoo" wild lights" ticket?
Yes, we provide a ticket to get in the zoo.
Do I need my tickets printed out to board the bus?
No, as long as the person who purchased the tickets is part of the group and has identification.
Can I also bring food on the bus?
Yes, you may bring food and drinks as long and you can store them in a small cooler bag that can fit under your seat. Note, all drinks have to stay on the bus.
Are children allowed to attend this event?
**This is a 21 years or older event. Please be sure to have your i/d with you at check-in.
What if I miss the departure in Auburn Hills, can I join at the next location?
Yes, if you miss our departure from Auburn Hills, you can meet us at the next stop. Just understand that the tour ends in Auburn Hills, so you will be responsible for your own transportation back to your personal vehicle.
What if I miss the time that is given at each stop, then what?
If you are not back at the given time and the bus leaves, you will have to either taxi, Uber or hire a Lyft to the next stop on the tour. Please note that we are on a tight schedule in order for our guests to have adequate time at each of our stops.
Are there bathrooms on the tour bus?
No, but each stop will have restrooms.
Can you leave items on the bus when you get off the bus?
Yes, you can leave personal items on the shuttle bus but we are not responsible for lost or stolen items. Only people from the shuttle will be allowed on the bus but it is not the chauffeur's responsibility to keep track of personal items.
If you are unable to attend the event can you receive a refund?
Unfortunately no, all sales are final unless we have to cancel the event on our end.
Will the tour be cancelled due to inclement weather?
We will continue through rain or snow. Be sure to dress accordingly. If the weather becomes extremely hazardous and we feel it is unsafe to chauffeur the tour then you will be notified by email and provided with an alternate date or solution. No refunds will be given.
Do guests need to tip Chaffeur Santa?
The driver may accept gratuity from the guests which is greatly appreciated but not expected. Please note the chauffeur recieves a small portion of the ticket sale.
**PLEASE NOTE**
We have the authorization to remove anyone from the bus that is not being respectful to others.This means if an individual is too intoxicated or if there is any other reason our chauffeur feels that the individual should end their tour, then that individual will be asked to leave the tour and exit the bus.
**PLEASE NOTE**
There is minimum clean up fee of $175 for any individual who gets sick on the bus.
**PLEASE NOTE**
The pick up location and/or vehicle are subject to change and we will notify you ahead of time if so.
At Rochester Limousine LLC, we offer luxury party busing, corporate shuttle busing and 56 passenger group charter busing. We are available for private tours accommodating small and large groups. Please call (248)289-6665 for more information.