Description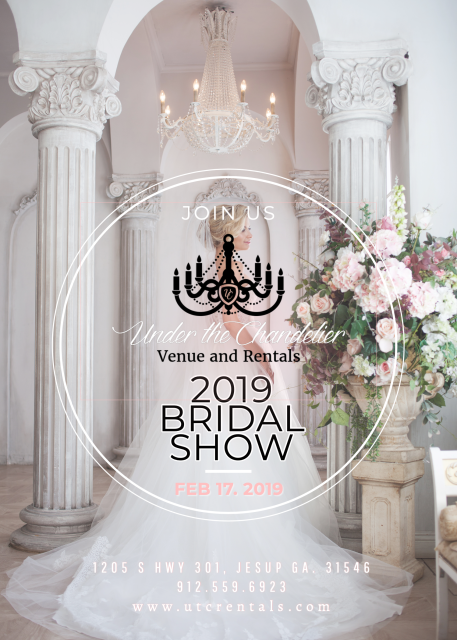 ---
Hi there, Beautiful Bride!
Planning The Wedding of Your Dreams?
Then you must attend the 2019 Bridal Expo hosted by Under The Chandelier Venue and Rentals. Come check out our chić, classy and fun venue while meeting vendors who are here to make your wedding planning easier. Complimentary refreshments will be provided. You will enjoy hors d'oeuvres and music while receiving door prizes! Who says wedding planning has to be stressful? This event will be fun and your one stop shop!
Tickets are $15 at the door or purchase discounted tickets online for $12 on Evenbrite

There is no charge for children 5 years old and younger
We hope to see you then!
If you are a vendor interested in participating in this event, please e-mail us at utcrentals2@gmail.com. You may also pay for your booth package here if directed by Under The Chandelier. Please select Vendor Package. Please be aware that the 90$ package is the standard package, and $110 is for the standard package with electric. Please call for details. (912) 559-6923
Thank you!


**This ad is for general admission only.**