Description
Your confirmation and any updates will be sent to the email address used during registration.For this reason, it is recommended to use a PERSONAL EMAIL when registering. Many servers will block/junk large emails, especially ones coming from outside the company.
Confirmations are sent instantly, if you do not receive verify that you typed your email address correctly and check your email junk folder.
TARGET AUDIENCE
This conference is designed for surgeons who specialize in breast surgery, medical oncologists, pathologists, genetic counselors, rehabilitation physicians, physical therapists, plastic/reconstructive surgeons, registered nurses, healing coaches, radiologists, radiology technologists and any other interested allied health care professional in the areas of primary care, internal medicine, family practice and OB/Gyn.

CONFERENCE OVERVIEW
The Virginia Piper Cancer Institute Breast Center in conjunction with Consulting Radiologists Ltd. plan each year this one-day conference with specialists from multiple fields who will present information about breast health and the care of patients: an area that is rapidly changing as a result of advances in prevention, screening, and detection. Topics this year include integrative medicine including acupuncture and aromatherapy, historic perspective of advancement in surgical, medical and radiation treatments for breast cancer, genetic updates, and MQSA requirement updates.

COURSE MATERIALS
In an effort to Go Green, a link will be emailed to those registered 7 business days prior to the conference to give you an opportunity to download/print the presentations of your choice. You will be provided with a handout that contains note sheets and the Wi-Fi detail during sign-in.

TUTION FEE'S INCLUDE
Conference educational credits, continental breakfast and lunch. To ensure a comfortable environment, attendance may be capped; early registration is recommended.
SPEAKERS
Laura E. Willson, MD, Radiation Oncologist, Abbott Northwestern Hospital
Angie Ogren RT(R)(M)(BD)(BS), Breast Imager at The Piper Breast Center-Minneapolis
Ashley V Daley, MS, CGC, Certified Genetic Counselor, Virginia Piper Cancer Institute, Allina Health
Cynthia P. Miller, RN, LAc, Piper Breast Center, Penny George Institute for Health and Healing, Allina Health
Heather Flannigan, RT(R)(M), Mammography Technical Consultant, Allina Health
Julie Streeter, BSN, RN, HNB-BC, BCTMB, Clinical Aromatherapist, Allina Health
Mara H. Rendi, MD, PhD, Pathologist, Hospital Pathology Associates
Natasha M. Rueth, MD, Surgical Oncologist, Alina Health Surgical Specialists and Piper Breast Center/VPCI
Sarah Jax, MA, APRN, AOCNP, Minnesota Oncology - Plymouth West Health Clinic
Stuart Bloom, MD, MSc, Oncologist, Minnesota Oncology - Minneapolis & Plymouth WestHealth Clinic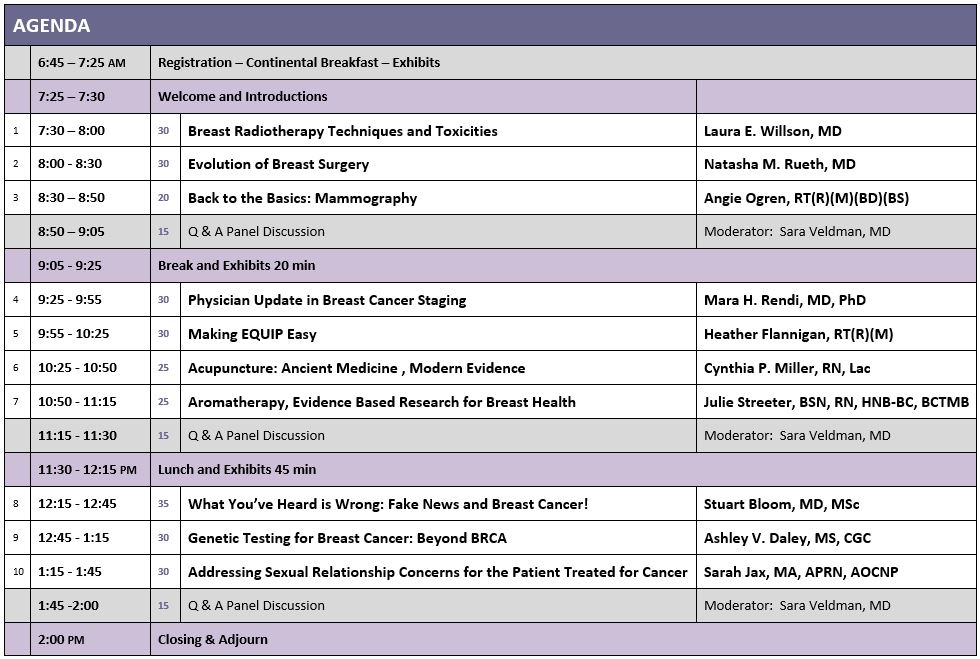 ACCREDITATION
ACCME (Physician) - Allina Health is accredited by the Accreditation Council for Continuing Medical Education (ACCME) to provide continuing medical education for physicians. Allina Health designates this live activity for a maximum of 5.50 AMA PRA Category 1 Credits™. Physicians should claim only the credit commensurate with the extent of their participation in the activity.
ASRT (Tech) - This activity has been reviewed and accepted to meet the American Society of Radiologic Technologists (ASRT) continuing education requirements for 6.0 hours of Category A credit. (50 min clock hour)
MNBN (Nurse) - This activity has been designed to meet the Minnesota Board of Nursing continuing education requirements for 5.50 hours of credit. However, the nurse is responsible for determining whether this activity meets the requirements for acceptable continuing education.

ONCC (Oncology Certified Nurse) – The program content has been reviewed by the Oncology Nursing Certification Corporation (ONCC) and is acceptable for a TOTAL of 5.50 ILNA Points. Areas of Coordination of Care-1*, Diagnosis and Staging-0.5* Health Promotion/Screening and Early Detection-0.5*, Professional Practice-0.5*, Psychosocial-0.5*, Survivorship-1*, Symptom Management-1.5*, Treatment-2*
ONCC recently revised the process for ILNA coding to streamline the process and provide consistency across credentials as much as possible. Rather than coding courses for each credential, we are now coding content that may apply across credentials and allow nurses to earn CE credit in broader categories. Any course or program that has been accredited for 4 CE or less can be applied in full, or split in any category that reasonably fits the content for which the nurse needs ILNA points.
Other - Individuals representing other professional disciplines may submit conference materials to their respective professional associations for 5.50 hours of continuing education credit if the content is applicable to the area of license renewal. In addition, you may be required to provide proof of attendance to the board upon request.

ALLINA HEALTH EMPLOYEE REIMBURSEMENT
Questions regarding reimbursement call HR at 612-262-4688, press #2.

ALLINA HEALTH PLANNING COMMITTEE
Christina (Tinna) Braatz, MSN, RN, CNP, CBCN
Family Nurse Practitioner, Certified Breast Care Nurse
Consulting Radiologists, Ltd.
Lisa Entleutner, MSN, RN
Patient Care Supervisor, Piper Breast Center
Abbott Northwestern Hospital, WestHealth and Virginia Piper Cancer Institute Cancer Clinic
Dawn Johnson, MD
Medical Director, Piper Breast Center
Abbott Northwestern Hospital and WestHealth
Krista Lee, BS
Program Specialist, Clinical Development
Allina Health
Becky Merrick, RT(R)(M)
Breast Imaging Supervisor, Piper Breast Center
Abbott Northwestern Hospital
Chantelle Owens
Administrative Assistant, Piper Breast Center
Abbott Northwestern Hospital
Trudi Parker, MD
Radiologist, Medical Director of Imaging
WestHealth
Sara Veldman, MD
Radiologist, Medical Director of Imaging, Piper Breast Center, Abbott Northwestern Hospital;
Consulting Radiologists, Ltd.
Pat Vitale, LICSW
VPCI Manager
Piper Breast Center
Abbott Northwestern Hospital & West Health

Exhibiting Opportunities are available, if interested please contact Krista.Lee@allina.com