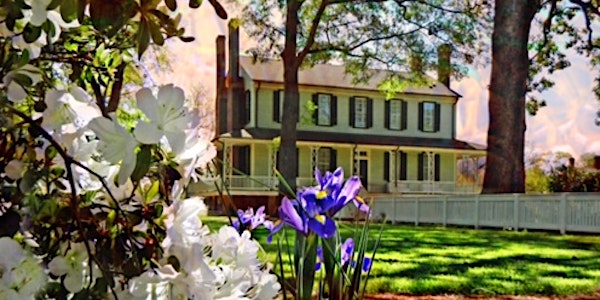 2019 Blount~Bridgers Arboretum Spring Symposium
When and where
Location
Tarboro Calvary Episcopal Church, c. 1833 411 E. Church St. Tarboro, NC 27886
Refund Policy
Refunds up to 7 days before event
Description
Friday, May 31st will open the festivities with a book signing by our speakers, Brie Arthur, and Mark Weathington at the Tarboro Brewing Company, where you can enjoy one of the many craft beers and meet our esteemed speakers and distinguished local artist, H. Marie Easley. This is free to the public and will commence at 6:30 pm.

Brie Arthur, a garden industry communicator, is leading the national suburban Foodscape movement; a model of community development that incorporates sustainable, local food production. She speaks internationally on a variety of horticulture topics and has appeared as a correspondent on the PBS television show Growing A Greener World. As Vice President of Horticulture at Gardenuity, a direct to consumer online gardening company, Brie is able to use her plant knowledge and extensive grower network to reach consumers nationally. Mark Weathington is director of the JC Raulston Arboretum at NCSU. His more than 20 years of experience gardening in the South includes serving as a horticulturist for the Atlanta Botanical Garden and director of horticulture for the Norfolk Botanical Garden. Mark understands the very real impact that plants and gardening have on people's lives. He serves on several national and international boards and lives with his wife and two children in Raleigh where he tries to garden despite the interference of two plant-eating boxers. His book Gardening in the South —The Complete Homeowner's GUIDE offers plant picks, growing advice and style tips. H. Marie Easley is a Tarboro resident who believes the garden is a naturally versatile space for creating works of art. Having spent a month painting in Monet's garden in Giverny, Easley developed a deep appreciation for the brilliant display of artistic principles found in gardens - such as composition, color, contrast, balance, rhythm, line and unity. "My garden is my most beautiful masterpiece", said Claude Monet. Easley finds the landscape and gardens in and around Tarboro equally inspiring and is delighted to share some of her paintings to celebrate the 2019 Garden Symposium.
Saturday will begin with registration, coffee, and light breakfast sweets in Clark Hall at Calvary Episcopal Church/Arboretum beginning at 8:30 am.

Artfully decorated tables in the National Register Churchyard/Arboretum will welcome guests to a luncheon catered by Joe White from Myrtle Grove Plantation. This will be a time to meet garden enthusiasts, share ideas, enjoy a delicious lunch, and do a little shopping.

Attendees will also have the opportunity to shop with numerous specialty garden vendors. These vendors will locate along the outside west wall of historic Calvary Episcopal Church/Arboretum, offering unique plants, birdhouses, garden decorative items, plant containers, and other items of interest. This will be a great opportunity to purchase that item on your "wish list," or shop for that special birthday, housewarming, thank-you, or early Christmas gift! All vendors will be open to the public.

Another special part of this day will be the garden tour of selected sites in Tarboro and Edgecombe County. Not only will the Churchyard/Arboretum be open, but also many private gardens, and the gardens at the Blount-Bridgers Arboretum and the Old Town Cemetery at 303 E. St. James Street. A tour at the evolving gardens at the Blount-Bridgers Arboretum (c.1808) at 130 Bridgers Street. The Blount-Bridgers Arboretum, once known as "The Grove," was built by Thomas Blount, an important local merchant, shipper, and U.S. congressman. The House marked its bicentennial in 2008. This Federal-style National Historic landmark is surrounded by a spectacular Italianate shed porch that allows visitors to view the grounds. Also on the property is the Pender Museum (c. 1810) a coastal plain cottage, with decoratively painted interior paneling and mantels, and local hand-made furniture. The Philips Dependency (c.1840's) was moved to this property in the 1980s. The grounds exhibit a central perennial garden with gravel paths and English benches inside a gated and arched wooden fence. The Edgecombe Garden Club maintains a shade garden near the Pender Museum. The dedicated "Weekly Weeders" faithfully maintain the grounds, which includes a kitchen garden nestled between the Pender Museum and the Philips Dependency.