Description
Do you love bourbon? Do you consider yourself a "Bourbon Aficionado?" Would you like to win $2,000, a custom barrel head, and bragging rights for having the best bourbon palate in the world? Hell yeah you do!
Join us for the inaugural Big Blind Bourbon Taste-Off on January 19th, 2019, at The Barn at The Summit at Fritz Farm in Lexington, KY, where bourbon enthusiasts from around the world will compete in a series of blind bourbon taste tests where they will be not only be required to name the bourbon they are tasting, but also answer a number of questions pertaining to its tasting notes. The winner of the Big Blind Bourbon Taste-Off will take home $2,000 in cold, hard cash, an epic bourbon barrel head trophy, and perhaps most importantly, bragging rights to the best bourbon palate in the world!
*2nd and 3rd places prizes will be announced at a later date.

An entry fee of $50 includes:

2 Bourbon Tastings (a total of 4 if you advance to the Finals)
Big Blind Bourbon Taste-Off T-shirt
Collectors Whiskey Tasting Glass
A chance to win the grand prize of $2,000, an epic trophy, and eternal bragging rights.

The top 25 scores in the preliminaries will advance to the final on January 19, 2019, at 6 pm. We are capping the event at 200 contestants, so be sure to sign up by Friday, January 18th at midnight to reserve your spot!
---

*** 01/11/19 - EVENT UPDATES ***
We have made the Big Blind Bourbon Taste-Off event better based on feedback we've received from folks who are interested in participating in the BBBTO but don't know if they trust their palate quite enough to jump in and participate... We want this event to be fun and inclusive to all bourbon lovers, so we went back to the drawing board to see how we might be able to make the event a little less intimidating without changing the test to just be a bunch of softball questions.... and that's when it hit us! What's better than tasting bourbon? Tasting bourbon with friends! To that purpose, we are now allowing teams of up to 4 people to participate. The updated rules will be as follow:

Teams can consist of 1-4 people.
The cost is still $50 per contestant and the number of total contestants will still be limited to a maximum of 200 people.
Each team turns in only one test, no matter the size of the team.
Contestants are not allowed to participate on more than one team.
No substitutions. If a team advances to the final, the same players must participate in the final. If a contestant from the team cannot, for whatever reason, compete in the final, the team must compete without them in the final. They cannot replace them with someone else.
The final will still be limited to the top 25 people. (Example: Say 5 teams of four contestants are the top 5 scores, and the next best score is a team of 1, then a team of 3, that equals 24 contestants. If the next best score comes from a team of 3, they would not advance to the final, as that would make the final larger than 25 people.)
---

ORGANIZERS:

---

SPONSORS: Big thanks to our sponsors!


---

WHERE:
The Barn @ The Summit at Fritz Farm
119 Marion, Lexington, KY 40517
[ Directions to The Barn ]
---

WHEN:
Preliminaries: Saturday, January 19, 2019 @ 1:30 pm and 3:00 pm
Finals: Saturday, January 19, 2019 @ 6 pm hosted by KY Bourbon Hall-of-Famer, Freddie Johnson from Buffalo Trace
---
BIG BLIND BOURBON TASTE-OFF - SCORECARD: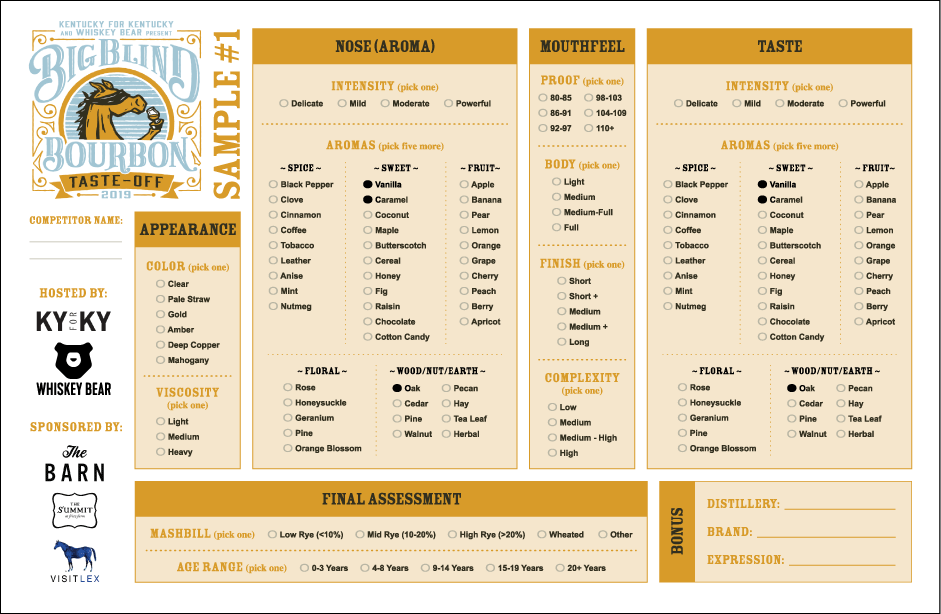 ---

RULES & GUIDELINES:
All contestants must be 21 years of age or older at the time of competition and are required to present a VALID state, federal, or military photo ID upon check-in. Expired ID's will not be accepted.
Any contestant who is visibly inebriated at the time of the event will not be allowed to participate and will forfeit their entry without refund.
All contestants must be fully clothed. (This includes, shirt, shoes, AND pants.)
All ticket sales are final, non-transferrable, and non-refundable.
Contestants are required to check-in at least 20 minutes prior to their designated heat time.
If a contestant is not checked in and in The Barn at their scheduled start time, they will forfeit their seat and will be disqualified.
Contestants will be allotted 40 minutes to complete their tasting.
Any contestant caught cheating will automatically be disqualified from the competition and will forfeit their entry fee without refund.
A grand prize of $2,000 cash and a custom barrel head will be presented to the 1st place winner, in addition to prizes 2nd and 3rd place.
---

FAQs:
"Should I train for the Big Blind Bourbon Taste-Off?" Hell yes, you should! Especially if you want to win. Think about how much Rocky trained prior to fighting Drago. He trained his ass off and in the end, he won. We recommend training as much as possible over the Holiday. Keep an eye out for tasting events at Whiskey Bear leading up to the event. You're gonna want to participate.
What type of test is this? This is a deductive tasting test, similar in style to those taken by Sommeliers for wine.
Are we only tasting Bourbons? Yes, all spirits used in this event will be Bourbons.
What should I bring? Clear eyes, full heart, can't lose.
How much bourbon will I be drinking? No more than 2 total ounces during any individual heat.
I'm new to bourbon but think I have a good palate - can I still participate? That question had better be rhetorical. Why in the name of Adolph Rupp would anyone in their right mind pass up the opportunity to win $2,000 cold hard cash and maybe the best bragging rights in the heart of bourbon country? Seriously, though, with a decent palate for flavors and just a little bit of research into how bourbons are made and what they're made of, you could absolutely have a chance at taking home the title.
Can I bring friends? Cheer squad? You betcha! Just make sure none of them are trying to cheat on your behalf. The powers that be don't take too kindly to that.
Can I pregame? You are welcome to have drinks beforehand or afterward. The same rules apply as they would if you were out drinking at a bar. If you get too intoxicated, you will be cut off. As long as you are not too inebriated to be served, you are okay to participate in the event. Do know that this is a judgment call by the bartenders serving you, so please don't give them any reasons to question your level of intoxication.
How exactly will the tasting work? Contestants will be given 2 pours of bourbon with a corresponding tasting sheet test for each. They will then go through the test and fill out the test for each bourbon.
Bourbon tasting is subjective. Who am I being graded against? Each bourbon used in the test will have an answer key provided by the master distiller or master taster from that particular distillery. If that is not an option for that Bourbon, then an answer key will be created by a group of experienced industry tasting professionals.
How will cheating be prevented? The eyes of God and all bourbon lovers who've passed over will be on you. Do not disappoint them. Seriously though, all pertinent information for this tasting will be under strict lock & key and only event administrators will have access to any of the sensitive information. Also, don't let Joe copy your work...

Organizer of 2019 Big Blind Bourbon Taste-Off
Kentucky for Kentucky is a small company located in the heart of the Bluegrass region in Lexington. We are believers, promoters and producers for the great Commonwealth of Kentucky. We are obsessed with Kentucky, the real Kentucky. We're all about highlighting the complex identity of our state and–with words, images and one-of-a-kind products–we want to spread the stories of this amazing place we call home. Kentucky has a lot to offer and even more to say. We're showing the world why they should listen up. Because make no mistake about it... Kentucky Kicks Ass.
Whiskey Bear is a full-service bar in Lexington, Kentucky. We take pride in who we are and what we do. We feature an extensive selection of bourbon, celebrating Kentucky's heritage, as well as other whiskeys from around the world. All our cocktails are crafted with fresh ingredients. We celebrate our American roots by showcasing classic cocktails that highlight the foundation of our trade. We express our creativity through our list of signature and seasonal cocktails. The heart of our business is our people. It is their hard work, passion, and dedication to their craft that allow us to stand out. We welcome you as family and look forward to serving you soon.