2019 Beale Street Music Festival - Presented by Bud Light, FedEx, Terminix...
Event Information
Performers
Everclear, Kevo Muney & Action Pack, Echosmith, The Killers, Dave Matthews Band, The Claypool Lennon Delirium, Riley Green, Khalid, Fast Cash Boyz, Cardi B, G-Eazy, Anthony Russo, Keith Sykes, Charlie Wilson, Shinedown, Gary Clark Jr., India.Arie, Rainbow Kitten Surprise, Lord Huron, Flogging Molly, 6lack, Chvrches, Trippie Redd, Lil Dicky, Big Boi, Good Charlotte, Dirty Heads, In this Moment, Simple Plan, Rodrigo Y Gabriela, St Paul & The Broken Bones, Blocboy JB, Ravyn Lenae, Lukas Nelson & Promise of the Real, Madison Beer, Bettye Lavette, Coin, Everlast, Williams Bell, The Suffers, Healy, Liz Brasher, Saving Abel, Joe Louis Walker, Southern Avenue, Ghost Town Blues Band, NLE Choppa, Muck Sticky, Guitar Shorty, Will Tucker, Hamish Anderson, Blind Mississippi Morris, Barbara Blue, Brandon Santini, Gracie Curran & The Hight Falutin Band, Super Chikan, OneRepublic
Description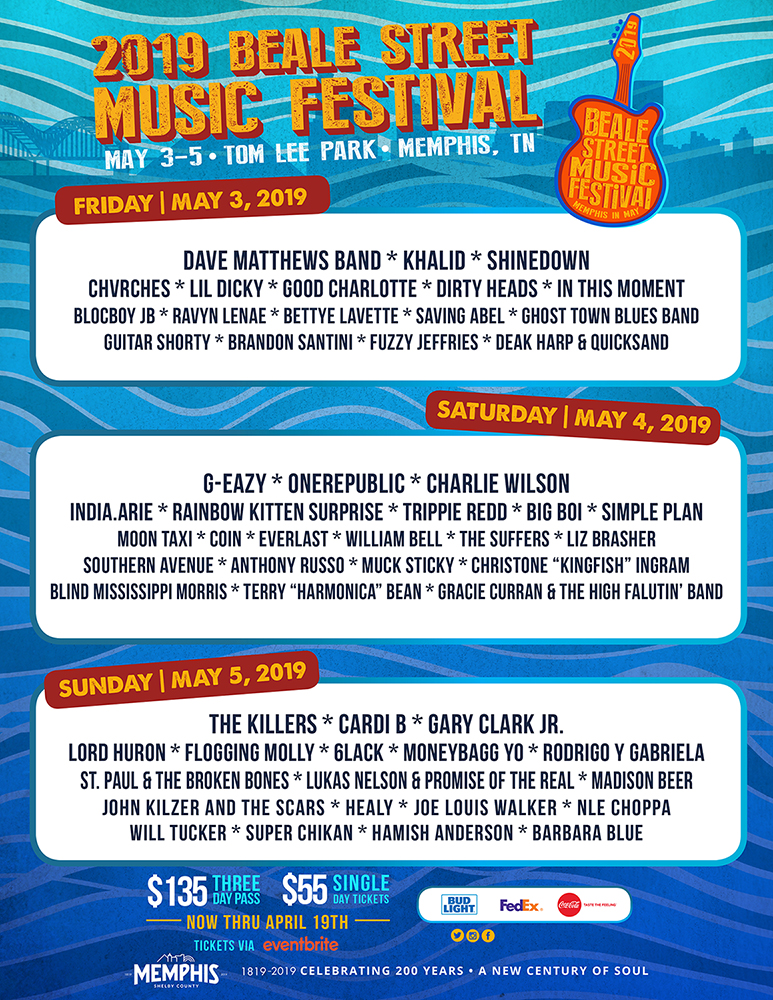 Recognized as one of America's premier heritage music festivals, the award-winning Beale Street Music Festival enters its 43rd year in 2019. The kick-off event to the annual month-long Memphis in May Festival, the Beale Street Music Festival is held in picturesque Tom Lee Park, a river bluff park overlooking the Mississippi River in downtown, Memphis, TN, at the foot of historic Beale Street.
Long known for its diverse line-up of top music stars both old and new, the annual event features 60+ artists on four stages over its three-day run.
The 2019 Beale Street Music Festival will include performances from Dave Matthews Band, The Killers, Cardi B, Khalid, G-Eazy, OneRepublic, Charlie Wilson, Shinedown, Gary Clark Jr., India.Arie, Rainbow Kitten Surprise, Lord Huron and MANY many more.
Come experience the legendary music capital where rock and roll and blues music were born, and learn why music lovers from all 50 states and over 20 foreign countries travel to Memphis each year to attend this legendary spring time music festival.
This event will take place rain or shine.
If you have questions about ticketing, prohibited items or general information, please visit our website. If you don't find the answer there, hit us up on our Facebook, Twitter and Instagram pages.
Performers
Everclear, Kevo Muney & Action Pack, Echosmith, The Killers, Dave Matthews Band, The Claypool Lennon Delirium, Riley Green, Khalid, Fast Cash Boyz, Cardi B, G-Eazy, Anthony Russo, Keith Sykes, Charlie Wilson, Shinedown, Gary Clark Jr., India.Arie, Rainbow Kitten Surprise, Lord Huron, Flogging Molly, 6lack, Chvrches, Trippie Redd, Lil Dicky, Big Boi, Good Charlotte, Dirty Heads, In this Moment, Simple Plan, Rodrigo Y Gabriela, St Paul & The Broken Bones, Blocboy JB, Ravyn Lenae, Lukas Nelson & Promise of the Real, Madison Beer, Bettye Lavette, Coin, Everlast, Williams Bell, The Suffers, Healy, Liz Brasher, Saving Abel, Joe Louis Walker, Southern Avenue, Ghost Town Blues Band, NLE Choppa, Muck Sticky, Guitar Shorty, Will Tucker, Hamish Anderson, Blind Mississippi Morris, Barbara Blue, Brandon Santini, Gracie Curran & The Hight Falutin Band, Super Chikan, OneRepublic
Date and Time
Location
Refund Policy