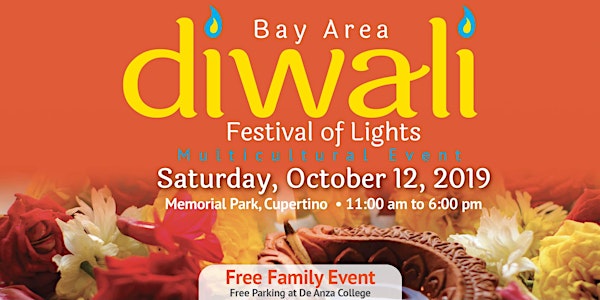 2019 Bay Area Diwali Festival (It's Free!)
When and where
Location
Memorial Park 10185 N. Stelling Road Cupertino, CA 95014
Description
The Seventeenth Annual Diwali-Festival of Lights will be held at Memorial Park in Cupertino on Saturday, October 12, 2019, from 11 am until 6 pm.
Festivities include a wonderful feast of food, music, and dance including a traditional Rangoli display, including art and craft booths. Admission and parking are free. The exciting Kids Zone is packed with fun throughout the day including the petting zoo, pony rides, jump houses, face painting, and much more.
Visitors to the festival enjoy the festive atmosphere of sari festooned trees, spectacular lanterns, and a cultural kaleidoscope of activities and performances. Beginning at 11 am with the popular Kids Zone art show and grand opening ceremony at 12:30 pm. The festival appeals to all the senses; delicious Indian food, music, and dancing featuring classical Kathak and Bharatanatyam to Bhangra and to popular Bollywood dances.
Diwali is a traditional Indian festival of thanksgiving. It celebrates the victory of light over darkness, knowledge over ignorance, hope over despair, and good over evil. Celebrated throughout the world, typical Diwali traditions include family and friends gathering to light lamps, exchanging gifts, new clothes, meeting new and old friends, and offering traditional sweets.
For more information about the festival visit http://www.cupertino-chamber.org/Diwali.