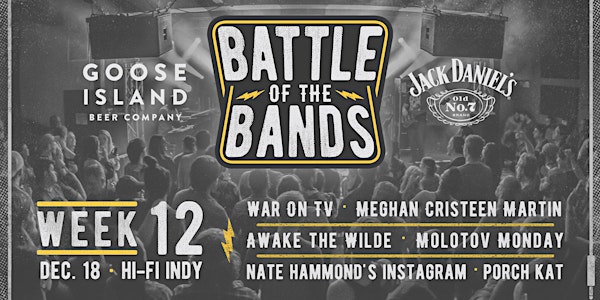 2019 Battle of the Bands: First Round - Week #12 @ HI-FI
Goose Island & Jack Daniels Present
Performers
War On TV, Meghan Cristeen Martin, Awake The Wilde, Porch Kat, Molotov Monday, The Failers
Location
HI-FI
1043 Virginia Ave Suite 217
Suite 4
Indianapolis, IN 46203
2019 Battle of the Bands Week #12: War On TV, Meghan Cristeen Martin, Awake The Wilde, Molotov Monday, Porch Kat, The Failers
About this event
DOORS: 7:00 PM, SHOW: 8:00 PM
AGE RESTRICTIONS: 21+
GENERAL ADMISSION, LIMITED SEATING
Important Notice: All tickets are nonrefundable and nontransferable with the exception of event cancellation. Support acts are subject to change
----------------------------
Tonight's set times for Battle of the Bands Week #12 are:
7:00 pm Doors
8:00-8:25 pm Meghan Cristeen Martin
8:40-9:05 pm The Failers
9:20-9:45 pm War On TV
10:00-10:25 pm Molotov Monday
10:40-11:05 pm Porch Kat
11:20-11:45 pm Awake The Wilde
----------------------------
The MOKB Presents Battle of the Bands takes place at the HI-FI every Wednesday night.  Each night features 6 local artists, across a broad spectrum of genres, competing to advance to the Semifinal Round.  Ultimately, one local band will take home the ultimate grand prize of $10,000 cash, a touring van, vinyl pressing, studio time and more. A mix of fan and judges votes will determine who advances each night. More information, official rules and band registration can be found here. Check back in mid September for the full first round schedule.
Week #12 w/ War On TV, Meghan Cristeen Martin, Awake The Wilde, Molotov Monday, Porch Kat, The Failers
Set order will be randomly drawn before soundcheck.
War On TV

Meghan Cristeen Martin

Awake The Wilde

Porch Kat

Molotov Monday

The Failers