Description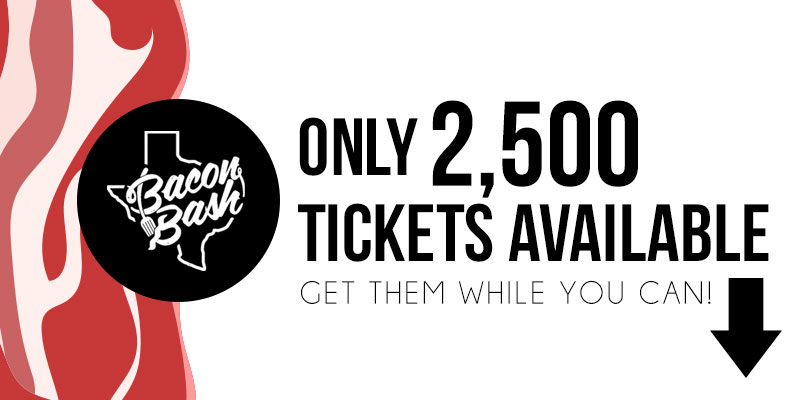 Get your ticket now for the biggest Bacon Fest in the nation, benefitting children with Type One Diabetes and Niki Warms the Cold! Bacon Bash Texas has been able to raise over $390,000 for our supported charities since 2012! Your Bacon Bash Texas ticket includes everything listed below, and the satisfaction that you partied for a cause!
For all the details about Bacon Bash Texas, see below or visit our website.
TICKET REFUNDS WILL NOT BE AVAILABLE AFTER SEPTEMBER 19.
What's included in my ticket? (YES, everything listed is included!!)
Bacon. Over 50 cook off teams battling it out to see who can make the best bacon dish! From professional chefs to backyard smokers, you'll be in for more amazing treats than you can eat! The Ryan Jackson Memorial Pork Butt Competition is on. Try samples from more than 10 teams' slow cooked beauties!
Beer. We'll have stacked bars with craft and domestic brews! Don't like beer? Don't worry! Stop by the infamous Bacon Bash Bloody Mary Bar mixed by the Bloody Mary Connoisseurs of Wenzel Lonestar Meats!
Bands. Listen to great Texas bands! Main Stage lineup to be released soon! The event also features some great up and coming local talent on our Acoustic Stage!
Wine. Taste Texas wines at our Wine Festival featuring bacon and wine pairings by several Texas wineries.
Corn Hole Tournament. Play America's favorite game in a tournament! Entry is $15/person; $30/team. Register by clicking the green TICKETS button! Additional entry fee and all participants must also be Bacon Bash Texas ticket holders.
Live Auction. Take home some great Bacon Bash merch, or one of a kind auction items!
Contests. Enter a Bacon Eating Contest or spin the Lucky Lucy Wheel to see if you can bring home the bacon!
Celebrity Judges. Mingle with a few members of our esteemed, bacon-loving judging panel.
Why We Bash!
Bacon Bash Texas proudly supports two charitable causes. Your tickets, auction and merchandise purchases, and donations help us provide warm winter gear for homeless people across Texas AND send Children with Type One Diabetes to specialized Diabetes camps, equip them with continuous glucose monitors, and raise awareness to turn Type One into Type None! More information about our involvement with each is listed below.
Niki Warms the Cold
Bring a coat, blanket, new socks, or other warm winter gear to the event for Niki Warms the Cold! Niki Warms the Cold is a charity born in memory of Cranfills Gap native, Niki Carlson, shortly after her unexpected death. Niki dreamed of keeping coats and blankets in her car to hand out to folks in need. This dream became reality as the seed Niki planted with her family began to grow. Niki Warms the Cold distributes coats and blankets to those in need across the state of Texas. For each item you donate at Bacon Bash Texas, you'll receive one entry into a raffle for an amazing prize! Event proceeds will also help Niki Warms the Cold purchase more coats and blankets to hand out this winter.
Children with Type One Diabetes
Bacon Bash Texas hosts two scholarship funds to equip and support children with Type One Diabetes and their families with knowlege, equipment, and community.
Diabetes Camp Scholarship: Sends kids with Type One Diabetes to specialized camps where they learn how to manage their Diabetes with other children just like them. These camps can make an incredible difference by instilling the importance of a healthy lifestyle; growing the confidence a child with Type One has in themselves; and helps build community and lifelong friendships among campers. Applications for 2020 will be available in late July 2019.
Dexcom Continuous Glucose Monitor Scholarship: Provides a Dexcom CGM for a child with Type One Diabetes for a year. This system continuously monitors blood levels and alerts a parent via smart phone app when their child's levels become dangerous. These systems bring freedom to children with Type One and peace of mind to parents, and ultimately allows children with Type One to live a more independent lifestyle. Applications for 2020 will be available in late July 2019.
Bacon Bash Texas is also dedicated to supporting research to end Type One Diabetes. A portion of event proceeds are also donated to the Juvenile Diabetes Research Foundation to help make Type One #typenone.