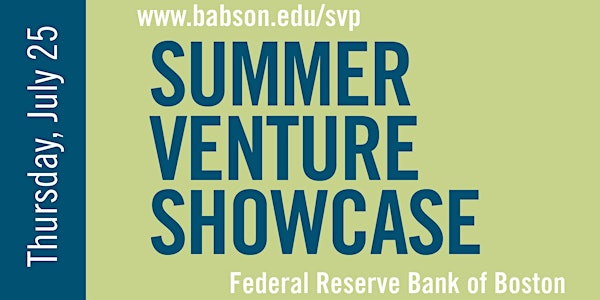 2019 Babson Summer Venture Showcase
When and where
Location
Federal Reserve Bank of Boston 600 Atlantic Avenue Boston, MA 02210
Refund Policy
Contact the organizer to request a refund.
Description
Walk-ins are welcome. Please note that when you arrive at The Federal Reserve Bank of Boston, you will need to check in with a photo ID at the security check point. Please allow extra time.

Meet 13 Babson College student startup teams at the Summer Venture Showcase and watch them share their stories and present their business ventures.

The Summer Venture Program is a 10-week intensive experience that builds entrepreneurial skills and accelerates the development of student ventures. This year, 13 teams, ranging from consumer products to services and tech, were chosen from among the most promising graduate and undergraduate entrepreneurs to take their businesses through the program.

Agenda:
1 p.m. Registration begins
2 p.m. Opening remarks and venture presentations
4 p.m. Networking

Please share this with others who might be interested. More information on the Summer Venture Program can be found here.

Click here for driving directions and parking information.

Please contact the Blank Center with any questions.

Follow the Blank Center on Twitter and Instagram, #babsonsvp

This event is free of charge. Please consider a donation to support bold new ventures in The Arthur M. Blank Center for Entrepreneurship, helping students create and launch innovative new ventures.
Sponsored by:
Marquee Sponsors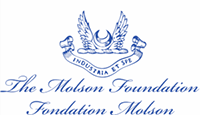 The Molson Family Foundation was created to make gifts, grants, contributions, and donations to hospitals, educational institutions or institutes for advancement of education, and charitable institutions or organizations within Canada.


WeWork provides more than 400,000 members around the world with space, community, and services through both physical and virtual offerings. WeWork's mission is to help create a world where people work to make a life, not just a living. Founded in New York City in 2010 by Adam Neumann and Miguel McKelvey, WeWork currently has more than 425 physical locations in over 100 cities and 27 countries around the world. Follow us @WeWork on Twitter, Instagram, and Facebook or visit www.wework.com to learn more.
Gold Sponsor


Citizens Financial Group, Inc. is one of the nation's oldest and largest financial institutions, with $158.6 billion in assets as of September 30, 2018. Headquartered in Providence, Rhode Island, Citizens offers a broad range of retail and commercial banking products and services to individuals, small businesses, middle-market companies, large corporations and institutions. Citizens helps its customers reach their potential by listening to them and by understanding their needs in order to offer tailored advice, ideas and solutions.
Bronze Sponsors

At Goodwin, we partner with our clients to practice law with integrity, ingenuity, agility and ambition. Our 1,000-plus lawyers across the United States, Europe and Asia excel at complex transactions, high-stakes litigation and world-class advisory services in the technology, life sciences, real estate, private equity, and financial industries. Our unique combination of deep experience serving both the innovators and investors in a rapidly-changing, technology-driven economy sets us apart. To learn more, visit us at www.goodwinlaw.com and follow us on Twitter, LinkedIn, and Instagram.


When we opened our first Chicken & Rice Guys food truck back in 2012, we had one goal: introduce you nomivores to the ridiculously delicious world of chicken and rice. With high quality ingredients, alluring aromas, and the seduction of self-saucing, we knew our halal grub would be a hit. So far, we've launched a fleet of trucks, multiple restaurants, and a thriving catering business. Our next step? World domination! Just kidding. But we are working hard to find the next eating experience that will take over your world. Burger-Pizza-Burrito, we're coming for you, buddy… And thanks to you, we're growing—so it's only fair that we return the favor. We focus on hiring locally, nurturing our employees, and giving back to our community through local organizations.