Description
Athletic Registration for the Houston Highland Games
April 13th, 2019
This is the athletic registration for the Houston Highland Games Scottish Festival. Registration will close on April 6th without exception. Classes are limited and Entries are entered in order received.
Competition will be held:
Saturday, April 13th
Sign-in from 8:30-9am at the athletic tent. Competition will begin at 9:30 am.
There will be 3 stations throwing simultaneously 2 trigs and height events.
Classes will be Men's Master A, B, C, Novice, Women and Women Masters. I will only have 3 throwing groups so classes will be limited to 12-15 per throwing group.
All 9 events will be contested in each class using the prescribed weights for that class. If you have any question about what class you should enter refer to the table below.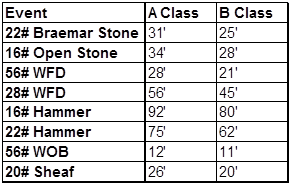 I hope that you will join us in 2019 as Houston Highland games makes its comeback.
Aaron Woods,
Athletic Director