2019 ASCE Tri-County Workshop - ASCE Miami-Dade, Broward, and Palm Beach Br...
Description
The American Society of Civil Engineers invites you to participate in a 3/4 day workshop with presentations by industry leaders from the public and private sectors involved in South Florida's infrastructure. This workshop provides an open forum for professionals, elected officials and the general public to discuss concerns in Miami-Dade, Broward and Palm Beach Counties. Proceeds will be shared equally by the Miami-Dade, Broward and Palm Beach Branches to fund student scholarships.
CE credits are anticipated.
Complimentary lunch will be provided to all attendees.
AGENDA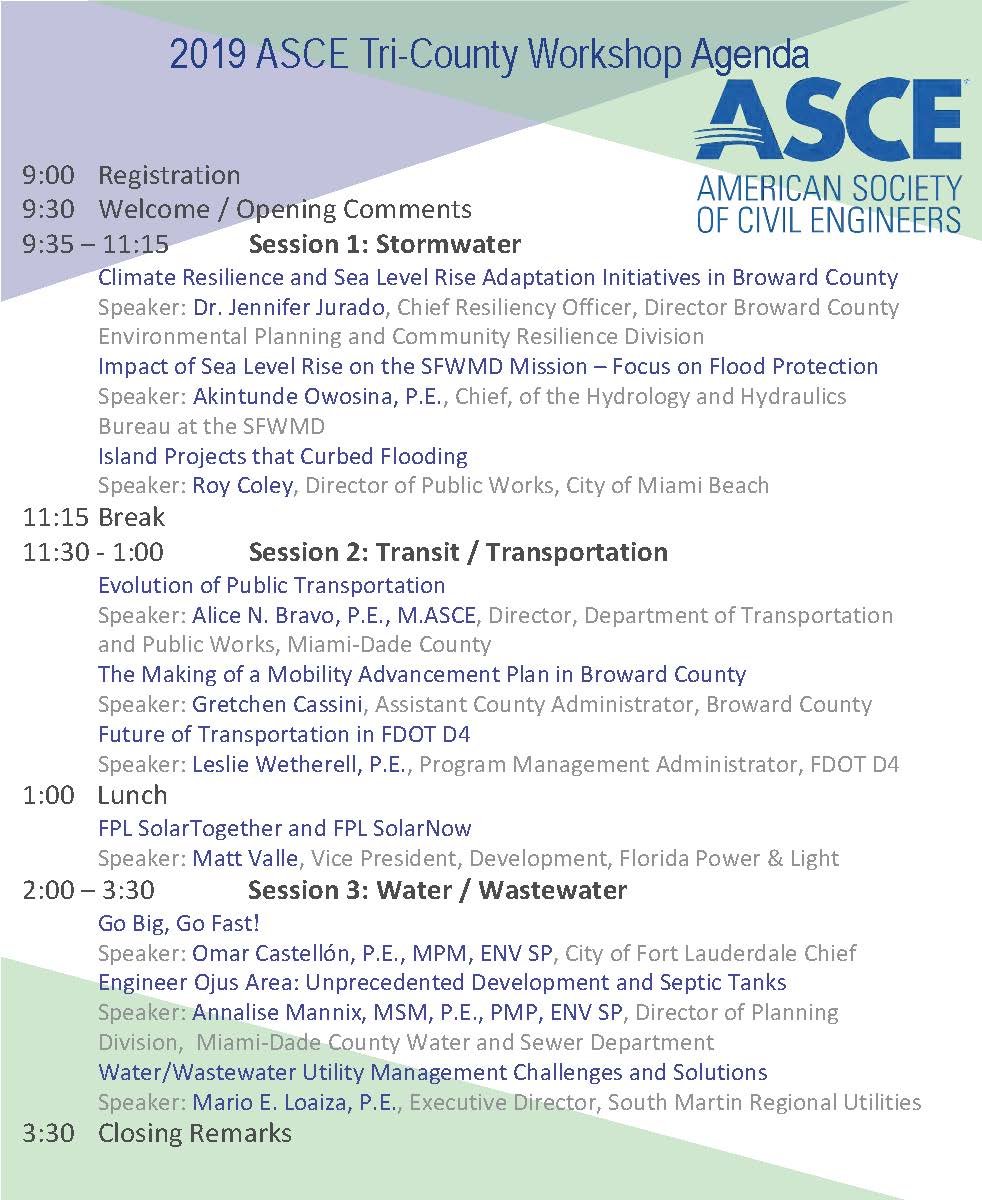 SPONSORSHIP
Sponsorships at the Title Sponsor ($3,000), Platinum ($1,000) and Gold ($500) and Silver ($250) and Exhibitor ($500) levels are available. Contact Michael Antinelli, PE, CFM (michael@brizaga.com) for details. If you wish to avoid the credit card fees please mail payment via check to ASCE Miami-Dade Branch, P.O. Box 226245, Miami, Florida 33222. Thank you!
Title Level $3,000
Exclusive title sponsor logo recognized prominently with

event title on all online and print materials

Opportunity to give opening remarks at the event

Display table for corporate materials
Eight (8) complimentary event tickets
Full page ad in event program
Opportunity to provide branded gift at event (pads, pens, etc.; to be approved by the committee)
Logo projection at event
Logo on welcome signs
Logo on step-and-repeat
Platinum Level $1,000 - (SOLD OUT)

Platinum sponsor logo displayed prominently on all online and print materials
Four (4) complimentary event tickets
Half page ad in event program
Opportunity to provide branded gift at event (pads, pens, etc.; to be approved by the committee)
Logo projection at event
Logo on welcome signs
Gold Level $500
Logo displayed on all online and print materials
Two (2) complimentary event tickets
Logo projection at event
Logo on welcome signs
Silver Level $250

Logo displayed on all online and print materials
One (1) complimentary event ticket
Logo projection at event
Logo on welcome signs
Exhibitor Level $500
Display table for corporate materials
Two (2) complimentary event tickets