2019 Arkansas Home Visiting Network Conference Nov 6-7, 2019
Description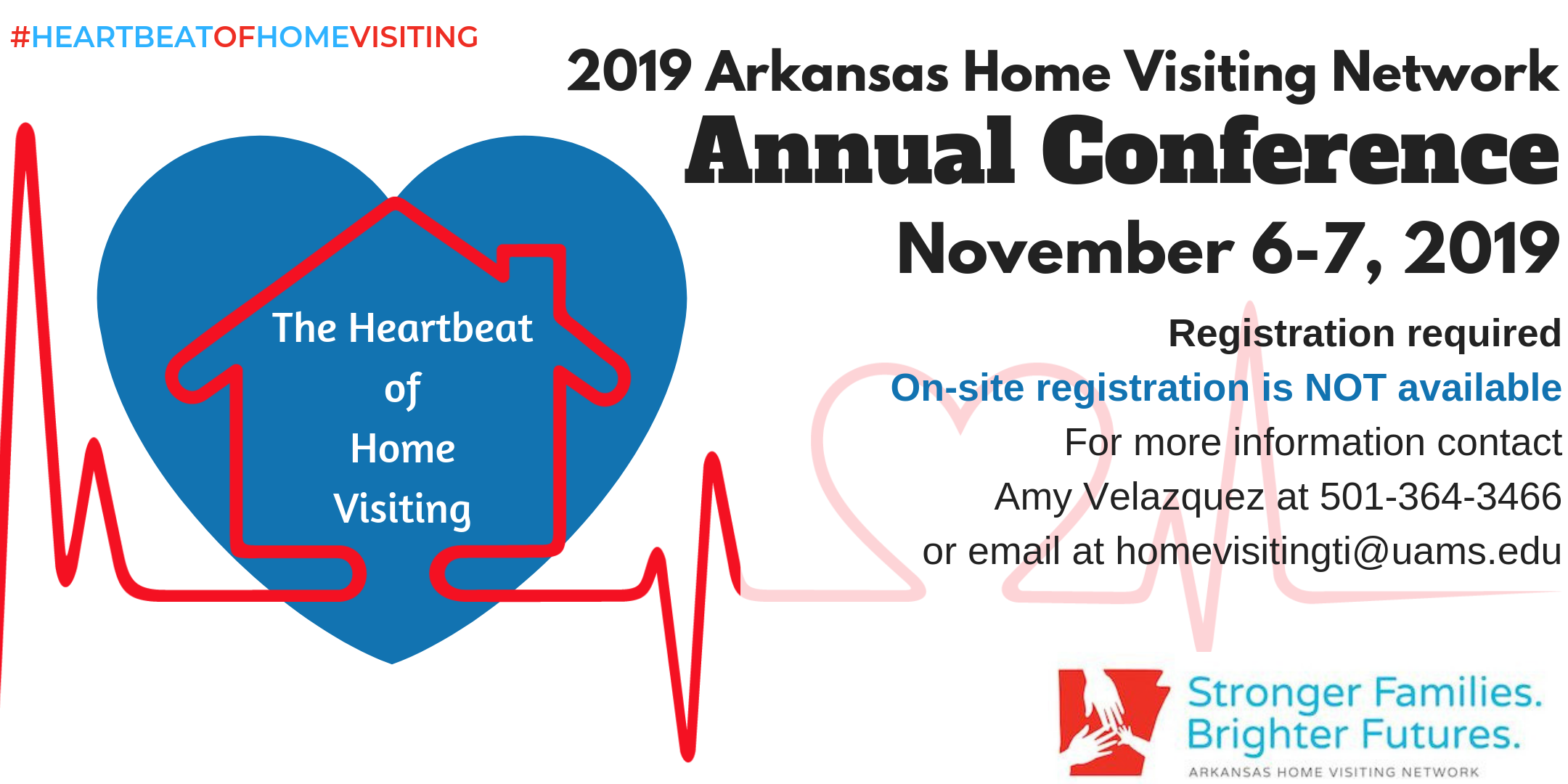 2019 Arkansas Home Visiting Network Conference
(FREE Conference for Home Visitors, Supervisors, and Coordinators)
WALK-IN REGISTRATION WILL NOT BE AVAILABLE
Avoid the lines and come Check-In at 9:30 am (Wednesday, November 6, 2019)
All participants must be registered through EVENTBRITE to attend
Bring your Eventbrite Ticket for proof of registration
This FREE conference is offered ONLY to Home Visiting Staff that serve families with young children (prenatal through age five). Staff of the following Arkansas Home Visiting Programs: Following Baby Back Home (FBBH), Healthy Families America (HFA), Home Instruction for Parents of Preschool Youngsters (HIPPY), Nurse-Family Partnership (NFP), Parents as Teachers (PAT) and SafeCare Arkansas are specifically encouraged to attend. Staff from other programs whose PRIMARY method of service delivery to families with children (prenatal - 5 years of age) is through home visiting are also eligible to attend.
A tentative agenda can be viewed at the following link: https://tinyurl.com/AHVN2019TentativeAgenda
For a detailed description of each of the workshops and a printable version click on the following link: https://tinyurl.com/AHVN2019workshopdescriptions. All registered participants will receive a link closer to the conference to access the digital version of this year's conference program.
************IMPORTANT INFORMATION - PLEASE READ************
PRE-REGISTRATION for the conference is required.
(No Walk-In Registrations will be accepted)
If you complete the registration process and find you cannot attend please cancel your reservation on or before Friday, October 25, 2019. Contact Amy Velazquez at 364-3466 or email homevisitingti@uams.edu to cancel your registration.
Due to limited space and for meal reservations your cancellation should be made as soon as possible.
Please provide individual email addresses if registering more than one person. Each person registered will receive an email confirmation that has his or her ticket as an ATTACHMENT. Click here to see an example of the ticket (this link will be updated asap).
For a more detailed explanation of what your ticket will look like or how to find it on your confirmation email select the following link:
https://tinyurl.com/AHVN2018ticketexample
(workshop selections will be listed on your ticket)
If you do not receive a confirmation email with a ticket attached please call Amy Velazquez (501)364-3466 or email homevisitingti@uams.edu as soon as possible.
Please be sure to scroll all the way down and read conference information below.
ATTENDANCE:
Because we are not charging a registration fee the expectation is that everyone who registers will attend all of these activities.

Conference events/participants may be photographed, videotaped and/or recorded. Arkansas Home Visiting Network (AHVN) reserves the right to use any photograph/video taken at the 2019 AHVN Conference without the expressed written permission of those included with the photograph/video.
CONTINUING EDUCATION:
All registered participants will receive a certificate of attendance.
Conference materials will include a PDR Training Document Form for participants to track their attendance and apply for additional credit.

The conference has been registered with ASU/Professional Development Registry. Please have your PDR number available at the time of registration. There is no fee to apply for PDR Credit.

Approval for ADE Hours (pending)
CONFERENCE ATTIRE:
Please wear business casual for the conference.
We have limited control over the temperature at HSCC so plan ahead and layer clothing, including a light jacket or sweater.
SPECIAL ACCOMODATIONS:
Every effort will be made to accomodate special needs and requests.
Please contact Amy Velazquez by phone 501-364-3466 or email homevisitingti@uams.edu.
OVERNIGHT ACCOMODATIONS:
A block of rooms has been reserved for November 6-7, 2019. The special room rate will be available until October 7, 2019 or until the group block is sold-out, whichever comes first.
Guest Room Charges: Please be prepared to present a credit card at the time of check-in at Embassy Suites. Individuals are responsible for payment at departure. A $30 "hold" will be placed upon your credit card at time of check-in to access ancillary services. If no charges are made during your time of stay, this deposit will be taken off "hold" automatically.
ROOM RESERVATION:
https://embassysuites.hilton.com/en/es/groups/personalized/H/HOTESES-HVN-20191106/index.jhtml?WT.mc_id=POG
Group Name: AR Home Visiting Network
Group Code: HVN
Check-in: 06-NOV-2019
Check-out: 07-NOV-2019
Hotel Name: Embassy Suites by Hilton Hot Springs Hotel Spa
Hotel Address: 400 Convention Boulevard Hot Springs, Arkansas 71901
Phone Number: 501-321-4402
Hilton Guests: Contact host hotel sales representative directly for any issues concerning your HiltonLink.
This conference is supported in part, by the Health Resources and Services Administration (HRSA) of the U.S. Department of Health and Human Services (HHS) under grant X10MC29461, Maternal, Infant, and Early Childhood Home Visiting Program (MIECHV) awarded to the Arkansas Department of Health. Approximately 33% of the conference is supported with these MIECHV funds. Additional funding for the conference was made possible through the Arkansas Department of Human Services.
FAQs
Do I have to bring my printed ticket to the event?
Yes. We require a printed copy of your ticket for event check-in.
Can I keep my ticket with my breakout selection printed on there?
Yes, we will return part of your ticket to you.

Can I check-In with my cell phone?
Yes, if you have the barcode information available on your cell phone.
Is it ok if the name on my ticket or registration doesn't match the person who attends?
No. If you need to cancel your registration contact Amy Velazquez 501-364-3466 or email homevisitingti@uams.edu