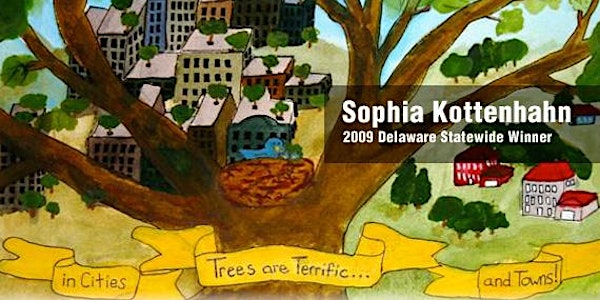 2019 Arbor Day Poster Contest and Annual Free Seedling Giveaway
When and where
Location
Statewide State-wide contest for all k-5 public and private schools, youth groups, scout groups, church groups
Description
Trees are Terrific..in Cities and Towns!
The Delaware Forest Service invites all public and private schools, grades K-5 to participate in the 2019 Arbor Day Poster Contest and Annual Free Seedling Giveway.
The annual Arbor Day Poster Contest is designed to increase knowledge about forests and forest resources. The poster contest is annual way for your students to learn more about the role of trees in our communities and their direct impact on Delawarians's health and well being. Your schoolyard is a perfect setting to incorporate the role of urban trees into your everyday curriculum. These trees not only provide beauty, shade our streets and schoolyards, create habitat and food for wildlife; they also improve air quality, muffle nosie, moderate air temperatures, filter runof into streams and rivers, and reduce energy consumption.
This year's theme, "Trees Are Terrific…in Cities and Towns!" is designed to increase knowledge about the benefits of trees in their community. Most people plant trees to provide fruit, beauty, or shade. But the benefits of trees – especially in cities and towns go far beyond those things. Trees are invaluable assets to our communities by providing social, environmental and economic benefits.

Access the shared google folder for the 2019 Poster Guidlelines and Rules: goo.gl/3cHWr9
All participating classes will receive free loblolly pine seedlings!
The Arbor Day Poster Contest and the oppurtunty to plant your own pine seedlings is a great extension of these lessons. Use this link to register your class for particpation in the contest and to reserve your seedlings for delivery in April.
Please register by classroom and only select ONE ticket to do so. Later in the registration process you will be asked for your student count for seedlings.
If you are interested in programs that are designed to increase TEACHER knowledge in trees and roles of community trees and for grant oppurtunities to make your school more "green," visit www.plt.org
Posters are due March 29, 2019!
Seedlings will be delivered in April.