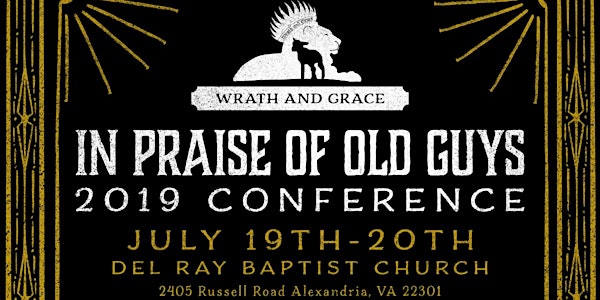 2019 Annual Wrath and Grace Conference "In Praise of Old Guys"
Join us July 19-20, 2019 as we learn, worship, and gather in Praise of Old Guys at #WG19.
When and where
Location
Del Ray Baptist Church 2405 Russell Road Alexandria, VA 22301
Refund Policy
Contact the organizer to request a refund.
About this event
About this Event
We can learn a lot about the Christian life by listening to sermons, reading books, studying theology, or going to seminary, but some things--important things--can only be learned with time and experience. Thankfully, God has designed His church so that even the newest believer can learn from the faithful men and women who have walked along the pilgrim's way before them.
In Praise of Old Guys is the theme of the 2019 Wrath and Grace conference. By considering what the Bible has to say about the wisdom that comes with age and the humility required in our youth, we will learn together that while the world applauds and clamors for new, fresh, innovative ideas and faces, the Lord places significant value on those who have walked the walk that they've talked for many years. As we come together this year, we will honor the men and women who have persevered by faith and have preserved a Christian heritage for the next generation of believers. You won't want to miss it!
Keynote speakers will include Voddie Baucham, Nicolas Alford, Nicholas Kennicott, and Luke Walker (other possible speakers pending). There will be at least six plenary sessions with the speakers preaching from the Bible, church history, and personal experience, as well as two hours of Q&A with all of the speakers. We will also have a concert on Friday evening featuring Wrath and Grace artists. All conference attendees will go home with exclusive W&G gear and gifts and will have the opportunity to participate in a live recording of Wrath and Grace Radio.
We hope you will join us at Del Ray Baptist Church in Alexandria, Virginia on July 19-20 for #WG19. Registration prices will increase on May 1, so be sure to register soon and save.
Conference Schedule:
Friday
1:00-2:15pm Registration
2:30-3:30pm Age is More Than a Number - Nick Kennicott
3:45-4:45pm From Start to Finish - Voddie Baucham
4:45-5:45pm Q&A Panel Discussion
7:30-8:30pm More Whips! More Scorpions! - Nicholas Alford
8:30pm Wrath and Grace Concert
Saturday
9:00-10:00am - Conference Topic- Nicolas Alford
10:30-11:30am In Praise of Really Old Guys - Luke Walker
11:30am-1:00pm Lunch
1:00-2:00pm Q&A Panel Discussion
2:15-3:15pm Like Father, Like Son - Nicholas Kennicott
3:30-4:30pm Hindsight - Voddie Baucham