Description
FDLA is hosting our 24 for 24 Annual First Defender Award Reception raising $24,000 for 24 years of service! At our award reception, we honor active individuals who embody FDLA's mission and values and continue to do the important work necessary to mobilize the communities in Chicago towards a future free of systemic injustice. This year's recipients are Attorney April Preyar for her leadership in Know Your Rights education and Judge Sheila Murphy for her leadership in restorative justice.
Come join us as we celebrate 24 years of FDLA's 24-hour hotline with food, drinks, and live entertainment at the PNC Centre!
We will also be having a silent auction going on throughout the night so bring your A-game for bidding!
Individual donations for attendance are only $100!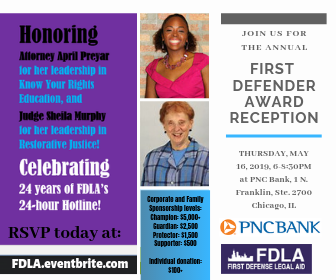 Please contact our Development and Partnerships Manager, Zoraima, at zoraima@first-defense.org if you are in need of an AmeriCorps, student, or other discount code.