Description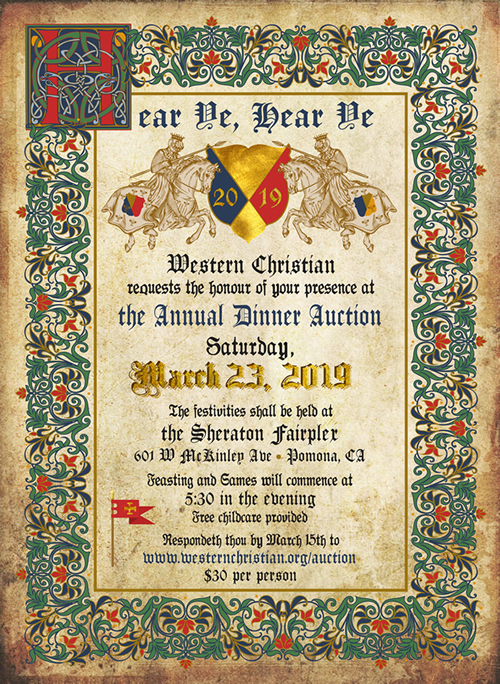 FREQUENTLY ASKED QUESTIONS
Where is the Auction taking place?
The Auction will take place at an off-campus venue, the Pomona Sheraton Fairplex Conference Center, 601 W McKinley Ave, Pomona, CA 91768.
Be sure to follow signs and park next to the Conference Center. Do not park near the hotel parking…or you will have a long walk :).
What's the agenda for the night?
Silent Auctions & Hors d' oeuvres

5:30 Check In Opens
6:30 Section 1 of the Silent Auction Closes
6:45 Section 2 of the Silent Auction Closes
7:00 Section 3 of the Silent Auction and all Opportunity Drawings Close

Dinner & Live Auction

7:00 Dinner
7:30 Live Auction
8:30 Check Out Opens
What is the attire for the night?
Dinner Party or Thematic (costume) attire
Does the school still need items for the auction?
Yes please! Donations for the auction are always welcome. The more auction items, the more fun, and the more money raised for students. Please email or call Kathy Scheenstra at auction@westernchristian.org or call her directly at (909) 291-4717 to coordinate your donation.
What can be expected in the auction?
Our evening will include a silent auction, opportunity drawing prizes, and a live auction. The auctions and prizes feature generous items or services donated from our community. Highlights in the auction include class and team created baskets, sport tickets, front row seating at graduations and special events, reserved campus parking, vacations, various luxury items, and other items and services you won't want to miss out on.
Is there assigned seating?
There is not assigned seating for this event. When we begin the dinner portion of the night you will be free to sit wherever you can find an available seat. There are certain tables that will be reserved for our table hosts and their guests. These tables will have signs to identify their hosts. If you'd like to avoid the hassle of finding a seat, you can save your seat early or take advantage of our table host opportunity.
I am hosting a table. Are there any special instructions for my guests?
If you are hosting a table, please inform your guests to register for a bid number at the WILL-CALL line.
Hey, I want to host a table too! How do I do that?
Those who wish to make a contribution of a thousand dollars or more to the Auction are offered the opportunity to host a table of up to ten guests. Please email or call Kathy Scheenstra at auction@westernchristian.org or call her directly at (909) 291-4717 if you are interested in this opportunity.
What are we raising money for?
Proceeds from the Auction will be used towards tuition assistance, creating opportunity for students to experience meaningful, transformational learning. Your support at this event will allow our youth to thrive because of the power found in faith in Christ. Nothing is more impactful than an education that connects students with their God-given purpose. Graduates leave WCS with hope, a quality education, and an informed faith in the Word of God. The bottom line is: The world needs more Western Christian Graduates.
Can my children attend the Auction with me?
This event is intended for adults. However, free child care will be provided on site.
How do I sign up for child care?
If you would like to take advantage of child care for the night, please complete the childcare section on your RSVP or send an email to Kathy Scheenstra, our Advancement Coordinator, with the names and ages of your children so that we can ensure proper supervision, age appropriate movies and food.
Who is working child care?
Child care will be supervised by our own Ms. Susan Moreno and two other daycare personnel along with two preschool teachers who will watch over the little ones. We have also handpicked student volunteers who will make sure all the kids have a blast.
Where will child care be taking place?
Childcare will take place in a room adjacent to the banquet hall where the auction will be taking place.
Will there be a check in/out procedure?
Of course. We are going to keep these kids as safe as possible. As you enter the event, bring your children into the event with you and you will be directed to the childcare room. You will be able to check them out from the same location.
Will my child be fed?
Pizza, snacks, and drinks will be provided.
What will they be doing?
There will be every opportunity for you children to have fun this night. We will be coordinating games, watching age appropriate movies and eating. There will be plenty of activities for your children to take advantage of.
Can my child bring anything with them?
Kids are welcome to bring any appropriate form of entertainment they wish including portable electronic devices. Please keep in mind that the school cannot be held responsible for any damages that may occur, so please use discretion in what you send with your child.