Description
The 2019 American Mosaic Summit in Nashville, TN, April 23 - 28, 2019!
---
The General Registration fee is required for all attendees who have not previously registered.
Pre-Registrants can add a Mosaic Art Salon participation reservation, Tours, Workshops & Seminars and Guest Tickets to your Conference registration without purchasing a General Registration. Visit SAMA Website to review what is included!
If you are anxious about not getting into a workshop or on a tour of choice, first and foremost, BREATHE! While there are several workshops with low admissions availability, the 2019 Education Series offers 44 workshop sessions, spread over THREE DAYS with an additional 2 tours. We do not expect sessions to sell out quickly, so if your internet connection is slow, or you are still undecided, chances are, you will be able to find availability in a course that will provide you great value and an incredible conference experience!
Instructions and Recommendations
Please pay CLOSE ATTENTION to the DAY and TIME of the workshops you are selecting. Make a list of workshops and times offered that you are interested in taking for each day so that you have your alternative choices right in front of you as you are completing the form.
If a workshop is sold out, you will see an opportunity appear to place yourself on the waitlist for that course. Waitlisted spots are free, but there is no guarantee of spots coming available.
Please keep in mind we have several sessions that are occurring on Tuesday, April 23, 2019. Do not register for a course on Tuesday if you already purchased your plane ticket for arrival in Nashville Tuesday afternoon!
The Workshop & Seminar Sessions are listed in Session Number Order.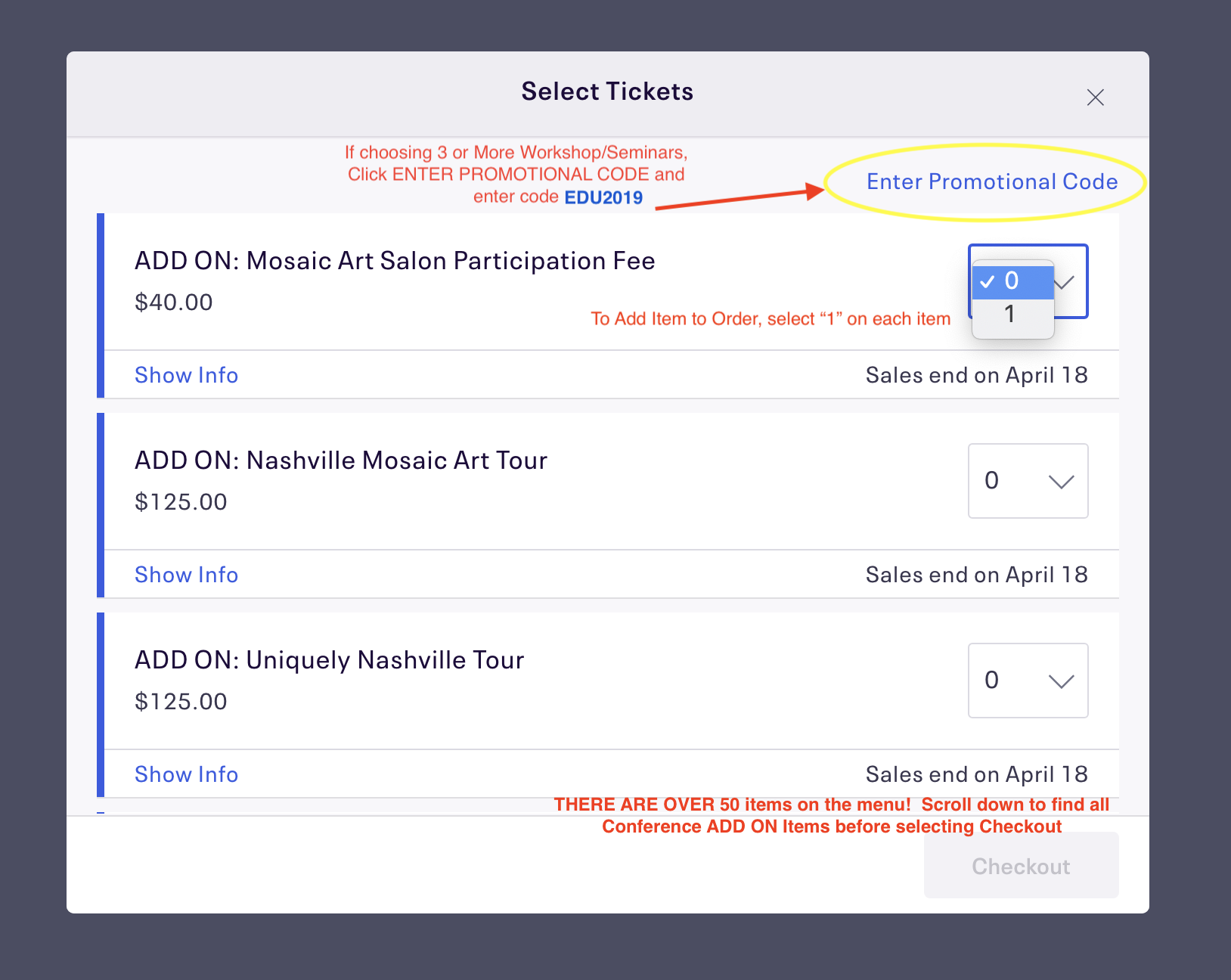 Please pay close attention to the date(s) and time(s) of your workshop session(s). A session with a session number ending in a letter like (3a, 3b), indicates the workshop is repeated, not continued, at each session time.
There is no limit to the number of workshops you can attend as long as the sessions are not scheduled at the same time. ONLY Registered Attendees may attend workshops.
Register for three or more seminars or workshops and get a 10% discount off your total education series fees. Use Promotional code: EDU2019 at the top right corner of Registration Order Form before clicking large "Register" button. Some workshops also involve a separate materials fee which is included in the course fee. You must ADD the session to your registration to register for a workshop or seminar.

Visit SAMA's website for more information on the complete program!

We look forward to seeing you in NASHVILLE!
Cheers,
Society of American Mosaic Artists (SAMA)