2019 All That Jazz Scholarship Fundraiser Event
Description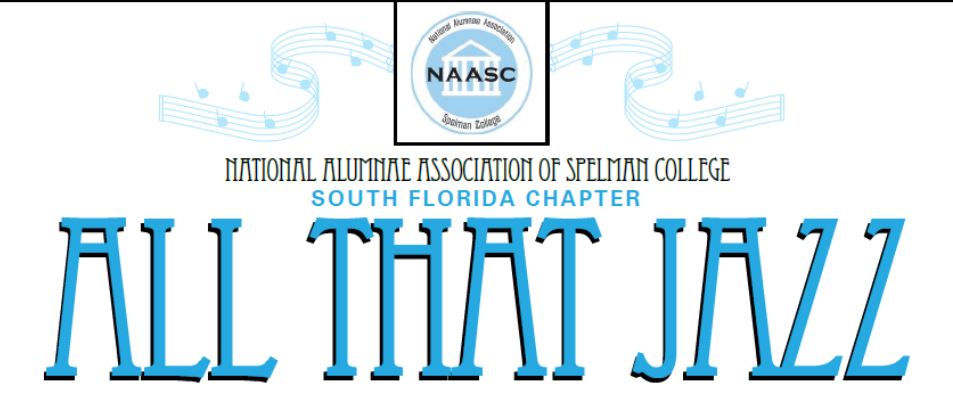 Join us for All That Jazz, the annual scholarship fundraiser of the South Florida Chapter of the National Alumnae Association of Spelman College (SFC-NAASC), a 501(c)(3) organization. This year, we will honor individuals and organizations with achievements in media and communications:
Alumnae Honorees:
Traci Cloyd
Betty Davis
Novice Johnson
Wanda Bland Randall
Community Honorees:
Rodney Baltimore
Dexter Bridgeman
This special event will include:
Live Entertainment
Full Buffet
Silent Auction
Presentation of Scholarship Recipients
Awards
and more...
---
FAQs
What is the attire?
Jazzy Attire
Here is a link to photos from our previous All That Jazz events https://www.facebook.com/pg/sfcnaascATJ/photos/?tab=albums.
Is there reserved seating?
We will have reserved seating for honorees and sponsors. This year, we will also provide reserved seating for tables of 10. Open seating will also be available, so come early to choose your seat.
If you are interested in seating for a table for more than 10 people, please contact us at spelman.allthatjazz@gmail.com.
What parking options are available?
Free self-parking is available next to the venue/facility.
Should I bring my printed ticket to the event?
It is helpful to bring your ticket to the event, but not required. We will have a RSVP list of paid attendees at the door.
Why is my ticket more than $75 dollars?
SFC-NAASC has historically utilized Eventbrite to process ticket purchases, sponsorships and donations. There are therefore additional fees incurred to process payments, which are passed on to the purchaser. SFC-NAASC has provided additional methods of payment to reduce the fees incurred by our guest:
PayPal: spelmangrads@att.net - OR -
Mail Payments to: SFC-NAASC, P.O. Box 012475, Miami, FL 33101
I am interested in being a Diamond, Platinum, or Gold sponsor for this event. Whom should I contact?
If you are interested in sponsorship opportunities, making a donation to the silent auction, placing an ad or being listed as a patron in our program booklet, please contact spelman.allthatjazz@gmail.com.
I don't live in South Florida but would like to attend the event. Do you have any suggestions on the airport to fly to and where to stay close by?
The nearest airport is Ft. Lauderdale/Hollywood International Airport (FTL) which is less than 10 miles away from the venue. There are several great hotel options available in Hallandale Beach, Aventura, Hollywood and Hollywood Beach areas, all less than a five mile radius of our event. If you are considering a weekend get-away, look for hotels in Hallandale Beach and Hollywood Beach with rooms with ocean and intercoastal views.
Where can I contact the organizer with any questions?
If you need additional information about the SFC-NAASC All That Jazz event, please contact us at spelman.allthatjazz@gmail.com. Our mailing address is SFC-NAASC, P.O. Box 012475, Miami, FL 33101. Additional information will be posted at http://sfnaasc.org/all-that-jazz.html.
How can I learn more about SFC-NAASC?
Visit our website: www.sfnaasc.org