Description
2019 All About Girls Summit
https://www.allaboutgirlssummit.com
Hyatt Regency Orlando, March 7-8, 2019

---
The All About Girls Summit is a powerful event where thought leaders, and subject matter experts, youth development professionals, and partners come together to celebrate, empower, and inspire one another to find the great in every girl. For two uplifting days attendees come together to build each other up, challenge each other to dig deeper, and create effective ways to help all girls thrive.

---
Keynote Speakers


This year's keynote speaker is Piper Kerman, author of Orange is the New Black: My Year in a Women's Prison. Piper will share her experience, the issues with the criminal justice system in America, and what steps can be taken to help improve the outcomes for women.

An expert on the ways in which schools are influenced by social and economic conditions, as well as by demographic trends, Noguera appears as a regular commentator on educational issues on several national media outlets. His editorials on educational issues have appeared in the New York Times, Washington Post, Wall Street Journal, Dallas Morning News and Huffington Post. Noguera has served as a tenured professor and holder of endowed chairs at NYU, Harvard, and UC Berkeley.

---


Event Schedule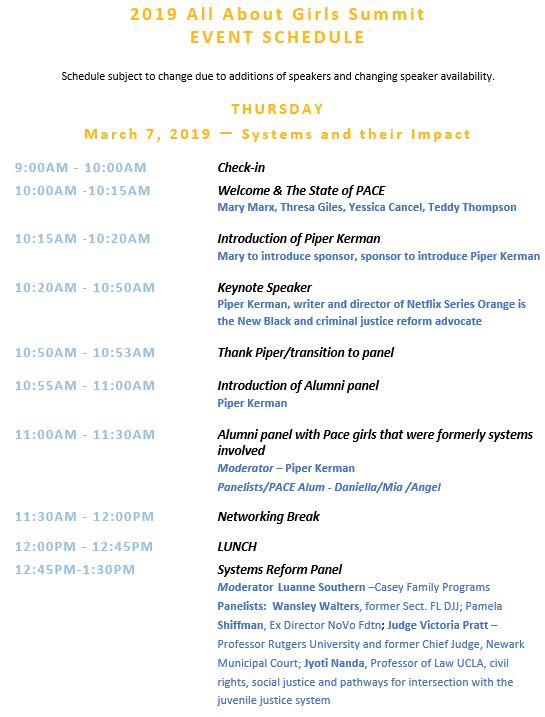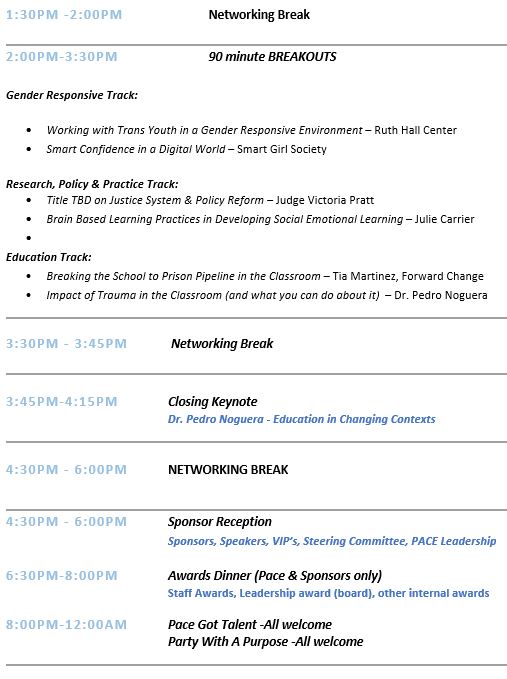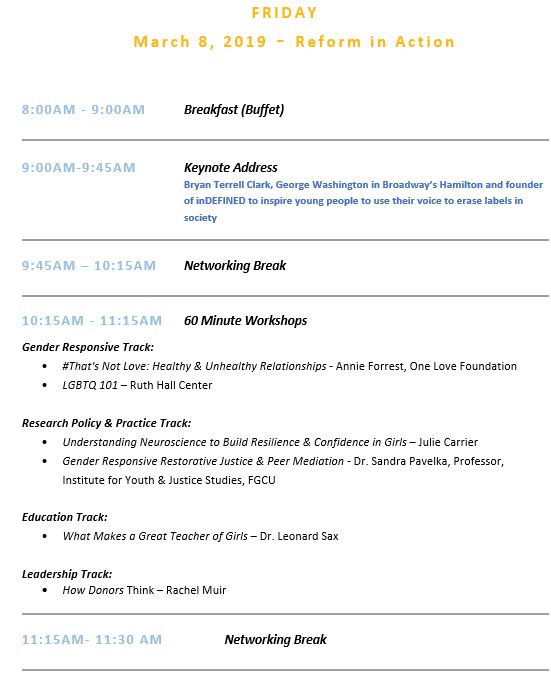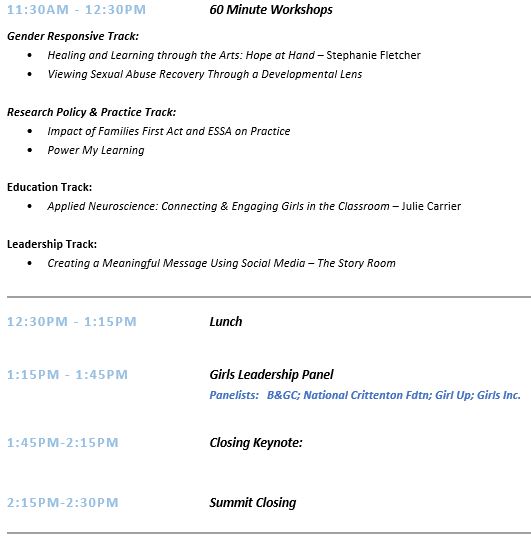 ---
FREQUENTLY ASKED QUESTIONS
Registration
When will registration open for the 2019 All Girls Summit Open? Registration will open on November 1, 2018.

How much does it cost to attend? Registration costs are $475.00 for early-bird for the general public and will vary by registrant type. Early- bird rates end on December 31, 2018, and as of January 1, 2019 registration rates will be $550.00. Workshops, plenaries, receptions, and meals are included in the registration fee.

Who would be the contact person in case of making a substitution? In order to process a substitution, the original registration must be paid in full and should not be canceled. Payment method changes will not be honored. Please contact aags@pacecenter.org to make a substitution.
Payment
Where can I get a completed W-9 form? For organizations that need a W-9 form to process payment, click here to download a completed W-9 form.


I'd like to pay my balance by check. Where do I send the check? All payments by check or purchase order must be postmarked by March 1, 2019. If you are registering after March, you will be required to pay during the onsite registration process unless you pay with a credit card online.

There is a $50 fee for all returned checks. Your attendee status will be considered "pending" until payment is received and processed.

Please make your check payable to Pace Center for Girls, Inc. on the memo line to ensure accurate processing. Please mail checks to:
Pace Center for Girls
Attention: 2019 All About Girls Summit, One West Adams Street, Jacksonville FL 32202
Cancellation
What is your cancellation policy? All requests for cancellations and refunds must be made in writing and emailed to aags@pacecenter.org with "Cancellation Request" or "Refund Request" in the subject line. The date of the cancellation will be the date the email is sent. It is the responsibility of the registrant to confirm receipt of cancellation. There is a $100 processing fee for all cancellations. No refunds will be issued for registrations canceled or created after 11:59 p.m. ET on March 1, 2019. Credit card refunds will be issued at the time of cancellation approval by the planning team. Check refunds will be issued within 60 days of the cancellation request.

I have already registered, but I can no longer attend. Can one of my colleagues attend in my place? Substitutions will be honored until 5 p.m. ET March 5, 2019. In order to process a substitution, the original registration must be paid in full and should not be canceled. Payment method changes will not be honored. Please contact aags@pacecenter.orgto make a substitution.
Travel and Transportation
What airport should I fly into? Attendees can fly into Orlando International Airport. The airport is approximately 12 miles from the Hyatt Regency Orlando, 9301 International Drive, Orlando, Florida 32819.


What is the discounted hotel rate for the public? "The All Girls Summit" has reserved room blocks at the Hyatt Regency Orlando, 9301 International Drive, Orlando, Florida 32819. Discounted rates for this hotel will be available through our registration website, which attendees can access once they have completed the registration process. Discounted rates are as follows:

Single/Double Occupancy $219 per night plus taxes

Triple Occupancy $244 per night plus taxes

Quadruple Occupancy $269 per night plus taxes