About this Event
With the rapid advancement of AI technology and commercial breakthroughs, building a strong and diverse AI team becomes increasingly critical for business success in the high-tech era. AI talent is scarce, costly and in high demand. It is challenging for all companies to gain an edge in the intense talent environment.
This event aims to help tech and talent leaders better understand the AI talent market and best practices for building, nurturing, and retaining strong and diverse teams to accelerate their business growth.
Time: September 19, 2019 1:00-5:30 pm
Venue: Computer History Museum, Mountain View, CA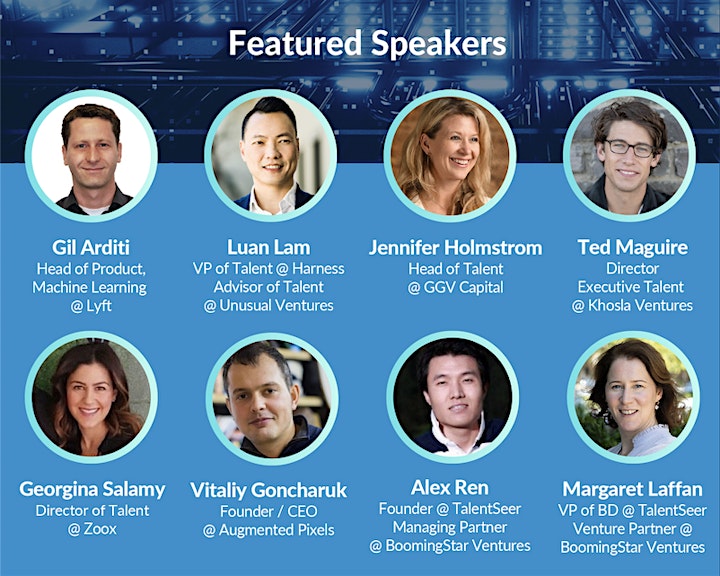 Agenda:
1:00pm - 1:30pm Check-in & Networking
1:30pm - 1:40pm Welcome Message
Margaret Laffan: VP of Business Development @ TalentSeer; Venture Partner @ BoomingStar Ventures
1:40pm - 2:10pm AI Transformation: Progress & Future Trends
Gil Arditi: Head of Product, Machine Learning @ Lyft
2:10pm - 2:40pm AI Talent Evolution & Best Practice for Building A Strong AI Team
Alex Ren: Founder @ TalentSeer & Robin.ly; Managing Partner @ BoomingStar Ventures
Margaret Laffan: VP of Business Development @ TalentSeer; Venture Partner @ BoomingStar Ventures
2:40pm - 3:10pm Networking Break
3:10pm - 3:40pm Developing & Scaling Startup Teams From the Ground Up
‍Luan Lam: Global VP of Talent @ Harness; Advisor of Talent @ Unusual Ventures
3:40pm - 4:10pm Leveraging the Power of Investors to Grow & Nurture Teams
‍Jennifer Holmstolm: Head of Talent @ GGV Capital
4:10pm - 4:50pm Panel Discussion: Challenges in Building an AI Team and the Future of Work
Ted Maguire, Director of Executive Talent @ Khosla Ventures
Georgina Salamy, Director of Talent @ Zoox
Vitaliy Goncharuk, Founder & CEO @ Augmented Pixels
Margaret Laffan, VP of Business Development @ TalentSeer (Panel Moderator)
4:50pm - 5:30pm Summit Recap & Networking
Tickets:
Early Bird: Now-09/ 02/2019, $99
General Admission: 09/03/2019- 09/19/2019, $149
Click here to view more event details. Contact us at service@talentseer.com for any questions.
About TalentSeer:
TalentSeer is the fastest-growing AI talent platform in the United States providing integrated talent acquisition, market research, and employer branding services. Equipped with strong AI domain knowledge, an AI-powered software system, and an engaged community of AI professionals (known as Robin.ly), TalentSeer aims to be the go-to talent partner to help build and nurture teams for companies at various stages. TalentSeer has a database of 200,000+ AI talent and has partnered with 100+ high-tech companies worldwide. Visit our site to learn more about our AI recruiting service.