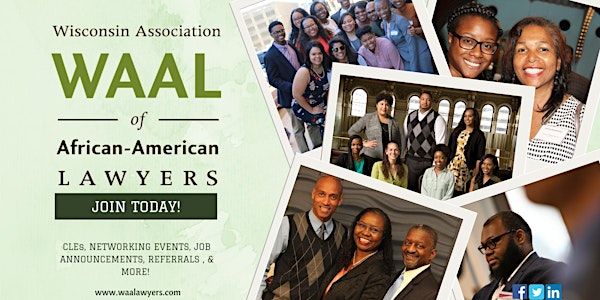 2019-2020 WAAL Membership Dues
Description
The 2019-2020 Membership is from October 1, 2019 - September 30, 2020.
WAAL is an association of African American Lawyers dedicated to ensuring diversity in Wisconsin's legal community.
Goals of WAAL:
To promote professional improvement of its members
To become and remain actively involved in and cooperate with creative forces in the community
To advocate needed legal and judicial reform to make justice available to all people
To assist the Black community in eliminating root causes of poverty and powerlessness
To defend against the denial of basic human and legal rights
To use legal tools and discipline for the advancement of education, housing, business, and economic development, health delivery systems and social institutions for Blacks.
WAAL welcomes partnerships with other community, state and national programs designed to ameliorate or eliminate racism, ignorance, poverty and powerlessness, the organized and non-organized Bar, the Bench, scholars and researchers, the private sector as well as governmental agencies.
Click here to learn more about the Wisconsin Association of African-American Lawyers.
WAAL is a 501(c)(6) organization.