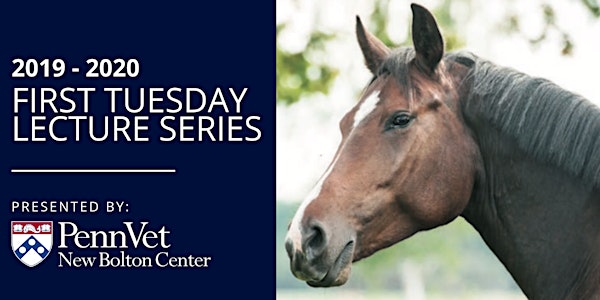 2019-2020 First Tuesday Lecture Series at New Bolton Center
Location
New Bolton Center
382 West Street Road
Kennett Square, PA 19348
Sales Have Ended
Registrations are closed
Thank you for registering to attend the 2019-2020 First Tuesday Lecture Series at New Bolton Center. An email confirming your registration will be sent to your designated email address shortly. As a reminder, this fulfills your registration for the event(s) - no physical tickets are required for admission. We look forward to seeing you at the lectures!
Description
Join us for our FREE series for horse owners and enthusiasts alike.
The First Tuesday Lectures take place in Alumni Hall from 6:30-7:30 pm the first Tuesday of the month. Seating is limited.
To ensure a spot at your preferred session, please register prior to the event.
---
2019 - 2020 Schedule:
FALL:

September 10, 2019 - "Global Worming Redux: An Update on Equine Parasite Control" presented by Dr. Rose Nolen-Walston
October 1, 2019 - "Forever Young: Exploring Regenerative Medicine" presented by Dr. Kyla Ortved
November 5, 2019 - "Robotic Imaging: Pioneering the Future" presented by Dr. Dean Richardson, Dr. Barbara Dallap Schaer, and Dr. Kate Wulster
December 3, 2019 - "Equine Neurologic Diseases: EHV, EPM, EDM, CVM - What's Behind the Initials?" presented by Dr. Amy Johnson
_____________________________________________________________

SPRING:
March 3, 2020 - "Aging Gracefully: Caring for Your Geriatric Horse" presented by Dr. Liz Arbittier
April 7, 2020 - "Laminitis Management: From Research Lab to the Barn" presented by Mr. Patrick Reilly, Chief of Farrier Services and Dr. Andrew van Eps
May 5, 2020 - "Emergency and Critical Care for the Colic Patient: It Takes a Village," a panel discussion led by Dr. Janet Johnston, Dr. Maia Aitken, and Dr. Sam Hurcombe
June 2, 2020 - "Don't Go Breaking My Heart: Innovations and Safety in Cardiology" presented by Dr. Virginia Reef and Dr. Cristobal Navas de Solis
---
About the First Tuesday Lecture Series
The First Tuesday Lectures are presented September through December, and March through June. During the series, faculty and clinicians at New Bolton Center share current information on topics of interest and relevance to horse owners and caregivers throughout the region. Many of the lectures highlight the advanced techniques performed by Penn Vet's team of leading clinicians and the state-of-the-art equipment and facilities available to ensure the best possible outcomes for patients.

---
About Penn Vet
The University of Pennsylvania School of Veterinary Medicine (Penn Vet) is a global leader in veterinary education, research, and clinical care. Founded in 1884, Penn Vet is the first veterinary school developed in association with a medical school. The school is a proud member of the One Health initiative, linking human, animal, and environmental health.

Penn Vet serves a diverse population of animals at its two campuses, which include extensive diagnostic and research laboratories. Ryan Hospital in Philadelphia provides care for dogs, cats, and other domestic/companion animals, handling more than 30,000 patient visits a year. New Bolton Center, Penn Vet's large-animal hospital on nearly 700 acres in rural Kennett Square, PA, cares for horses and livestock/farm animals. The hospital handles more than 4,000 patient visits a year, while the Field Service treats nearly 37,000 patients at local farms. In addition, New Bolton Center's campus includes a swine center, working dairy, and poultry unit that provide valuable research for the agriculture industry.