2019-2020 Economic Forecast & Credit Trends (October Membership Meeting)
About this Event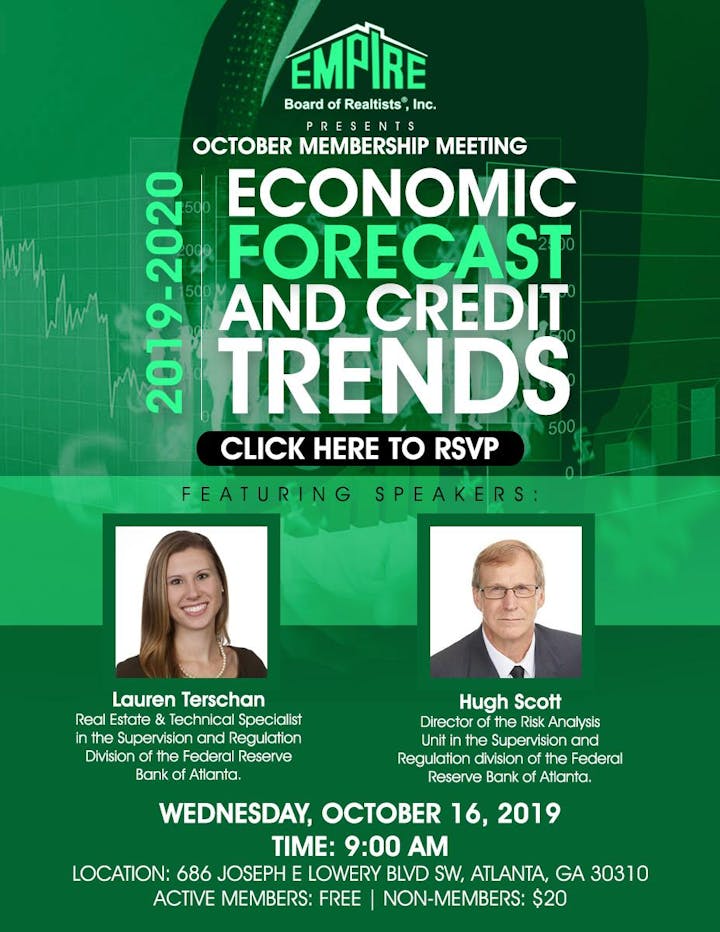 October Membership Meeting
2019-2020 Economic Forecast and Credit Trends
Members: FREE / Non-Members: $20
Featuring Our Speakers: Lauren Tershcan and Scott Hughes of the Federal Reserve Bank of Atlanta
Meet Lauren Terschan: Lauren Terschan is a Real Estate & Technical Specialist in the Supervision and Regulation Division of the Federal Reserve Bank of Atlanta. She is responsible for examining commercial and residential real estate risk in markets across the U.S. and developing thorough analyses to enhance supervisory examinations. Her real estate and economics knowledge as well as her data analysis skills are called upon by the Division's various portfolio teams and leadership to gain valuable insights in banking and real estate. She speaks at industry events on real estate and the economy to inform market participants of trends and risks in the market. She also contributes to the Federal Reserve Bank of Atlanta's public website, appearing in webcasts and writing articles.
Meet Scott Hughes: Scott Hughes is director of the Risk Analysis Unit in the Supervision and Regulation division of the Federal Reserve Bank of Atlanta. Prior to becoming director, he was a subject matter expert in the division and was responsible for monitoring emerging trends in the banking industry and residential and commercial real estate. In April 2007, Hughes came to the Federal Reserve Bank of Atlanta from the FDIC in Atlanta, where he had worked for 10 years as a regional economist. With field exam teams as an audience, he analyzed regional economic and banking trends for the FDIC's Atlanta Region. Before working for the FDIC, Hughes was an economist with two economic consulting firms. At these companies, his responsibilities included forecasting and analyzing economic trends in the Southeast.
Register on Eventbrite today! You don't want to miss this event.