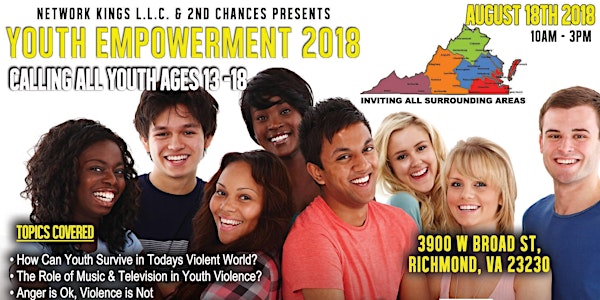 Location
United Methodist Family Services
3900 West Broad Street
Richmond, VA 23230
Description
I would like to formally invite your young people ages 13-18 to my upcoming Youth Empowerment Summit, which will be held on Saturday August 18, 2018.
The focus of the teen summit will be to educate and inform our teens on ways to deal with theses issuse on a daily basis, such as music, anger, substance abuse, STDs, and teen dating violence handle and cope with violence. We will have different speakers, ranging from ministers to specialists, addressing the youth in classes.
It's my hope that you and your youth will be able to join us for this informative, extraordinary event. I am asking all churches and organizations who will be able to attend to please RSVP to me by Monday, August 13th. Please RSVP to info2ndchances@gmail.com or via phone at (804) 424-0571. Please note, when you RSVP, please be sure to leave the name of your establishment and the number of youth that will be attending. Whether it's a few of your youth, or many, let's come together for a day where we can educate and inform our young people on becoming more productive individuals of society.
Thank you for your time. If you have any questions, comments, or concerns in regards to the summit, please feel free to call me at (804) 424-0571 or email me at info2ndchances@gmail.com.
Blessings and Peace,
David Robinson