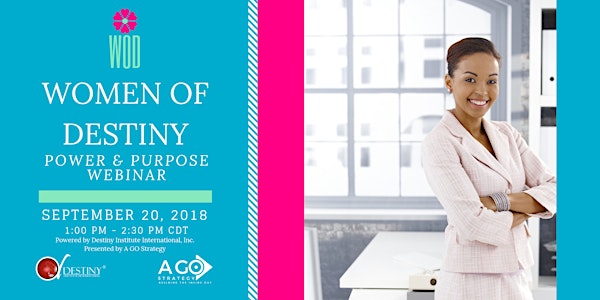 2018 Women of Destiny: Power & Purpose Branding Webinar
Description
ABOUT THE WEBINAR:
This is the first personal branding webinar that is being hosted by Women of Destiny and A GO STRATEGY.
Knowing your mission in life and your unique gifts and talents are essential to communicate your purpose and passion. Through a variety of tools during the webinar, you will learn how to build and promote your brand. You will also learn how to effectively pursue your personal brand in the marketplace.
In this workshop you will:
Build and know your brand - who you are

Create a mission statement for your life - your purpose

Cast a vision for your professional career and personal life - where you are going

Improve your social media skills to communicate your brand online and - engagement

Become more clear about the individual you were designed to be - new direction


Presenter: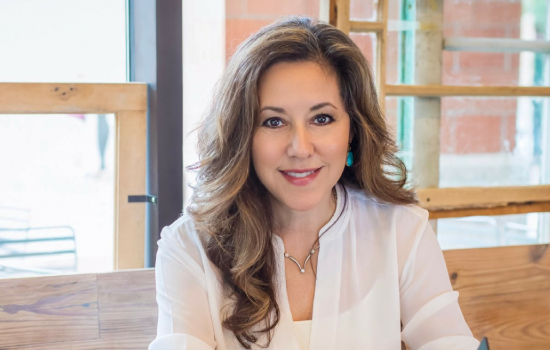 Aurora Ortega-Geis, is a Leadership Coach, founder and CEO of A GO STRATEGY a d.b.a. of AOG Global Strategy, LLC, a minority woman-owned business consulting firm with expertise in executive & performance coaching, business consulting and digital marketing.
She currently acts as the National Director of Strategic Partnerships and Head Coach for Digital Creative Institute, the nations first apprentice program for Digital Marketing. She has worked with national and local businesses in building their digital brand strategy, message and presence online and offline.
Her vision is to reach Millennials and Generation X marketplace leaders to clearly identify their passion and purpose -- their brand, by aligning their strengths and values accelerating their business knowledge, transforming the next generation of leaders who serve marketplace needs.
Aurora is a HubSpot Inbound Marketing Partner and holds ACC and PCC coaching certifications, and is an Energy Leadership Practioner (ELi), recognized by the ICF - International Coaching Federation. Aurora has her bachelors degree from LeTourneau University in Business Management.
-----------------------------------------------------------
FAQs
Who should attend?
College Graduates looking for a career
Business Professionals identifying their next move
Entreprenuers who want to grow but are stuck in a rut
Individuals looking for something better that is out there and need clarity on their next move - on purpose
How can I contact the organizer with any questions?
send an email to: tiffany@claimyourdestiny.org or ageis@agostrategy.com