Description
The ALPFA Orange County (OC) Chapter invites you and your friends to join us for an inspiring Women of ALPFA (WOA). Sponsored by KPMG LLC. and ALTRIA Group, Inc.
The session will focus on assisting Latina leaders by helping them in developing strategies for financial and leadership empowerment that enable them to seek more senior roles in organizations, advance their businesses and to build relationships that provide networks & sponsorship opportunities to propel them to the next position of power.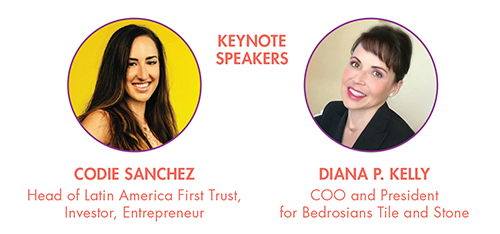 Gain the tools and road maps to strengthen your leadership skills, network with professionals from various industries and foster your professional and personal growth. The session will include a variety of speakers designed to empower Latina leaders to reach their full potential and become trailblazers in their industries.
This event is open to women and men of Latino and non-Latino descent as well as individuals at any career level (students, mid-level professionals and executives).
#ALPFAOC #WOA2018
Agenda
5:00 p.m. - 5:30 p.m. Registration & Hors d'oeuvre
5:30 p.m. - 5:45 p.m. Welcome Remarks: KPMG
5:45 p.m. - 6:15 p.m. Keynote Speaker 1: Codie Sanchez, Head of Latin America First Trust, Investor, Entrepreneur
6:15 p.m. - 6:45 p.m. Keynote Speaker 2: Diana P. Kelly, COO & President for Bedrosians Tile and Stone
6:45 p.m. - 8:00 p.m. Panel Discussion
8:00 p.m. - 9:00 p.m. Networking
(The program is subject change without notice.)
Parking
The parking will be in the KPMG Building located at 20 Pacifica. Parking will be available and free for Keynote Speakers, members of the panel and the first 40 guests who check in at registration. Fixed parking fee after 5:00 p.m. is $8. Free parking option is available at the Spectrum, you will have to walk two blocks to get to the KPMG office if you choose this option.
Sponsored by KPMG LLC. and ALTRIA Group, Inc.


Additional sponsorship opportunities available.
If any questions, please contact us:info@orangecounty.alpfa.org

Learn more about ALPFA OC, visit ALPFAOrangeCounty.org
Thank you
ALPFA Orange County Professional Chapter
Organizer of 2018 Women Of ALPFA Summit
ALPFA is the Association of Latino Professionals For America, whose mission is to empower and develop Latino men and women as leaders of character in every sector of the economy.  We strive to strengthen America by connecting over 1,000,000 purpose-driven Latino leaders by 2020... for exponential impact.
The ALPFA Orange County chapter engages with its members and friends in professional development activities, networking, and giving back to the community.  For more information, visit www.alpfa.org or email us at info@orangecounty.alpfa.org