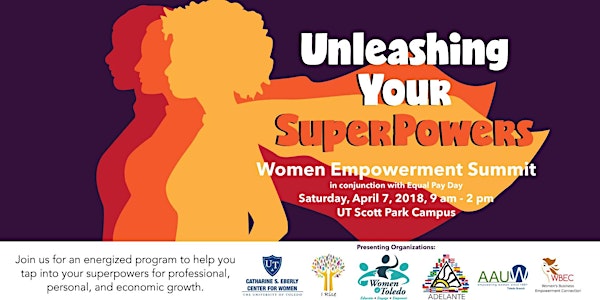 2018 Women Empowerment Summit
When and where
Location
Scott Park Campus Of The University Of Toledo 2225 Nebraska Avenue Toledo, OH 43607
Refund Policy
Contact the organizer to request a refund.
Description
In conjunction with Equal Pay Day 2018, Women of Toledo, AAUW, Adelante, IRise Coalition, and University of Toledo's Eberly Center have come together with a combined vision to organize the 2018 Women Empowerment Summit: Unleashing Your Superpowers to serve and engage a large, diverse group of women in Greater Toledo.
This half-day event will take place on Saturday April 7, 2018 from 9:00 am to 2:00 pm at University of Toledo's Scott Park Campus. Registration begins at 8:30am and programming begins promptly at 9:00am. The summit's goals are to empower women economically, and through self-advocacy while teaching attendees how to soar by unleashing her own personal and professional superpowers. In addition, the summit will create awareness and encourage supporters about the Equal Pay Day movement.
The Women Empowerment Summit will offer the following:
· Keynote Speaker
· Workshops and Breakout sessions in the following topics: Financial Wellness, Mothering While Working, Self-Esteem, Advocacy, Physical & Mental Wellness, Owning Your Own Story.
· Networking and relationship building within a diverse community.
· Opportunities to learn from and about others.
· Be encouraged by women who have defined and established their own success.
· Information and resources leading to economic and overall wellness from community representatives.
· Action steps in the form of journaling / to-do lists / self-evaluation.
· Defined action steps for how to unleash your superpowers and be the hero of your own life.
· Speed Mentoring Luncheon – including boxed lunch.
We hope to attract women who are seeking professional, personal, and economic growth to attend the event and take advantage of resources that will help them tap into their own superpowers by honing their mental, physical, and economic wellness. Attendees will spend the day learning and planning in order to leave the summit knowing the next step -desired outcomes to their own success.
The cost of the summit is $25. Scholarships are available for any participants with financial hardship through our 'No Women Left Behind'. Registration includes continental breakfast, box lunch from local women owned business as well as promotional items from our program partners and sponsors.
Email us at info@womenoftoledo.org for sponsorship opportunity or inquiry on 'No Women Left Behind'.