Description


---
Thank you for your interest in the 2018 WITESOL Annual Fall Conference!
Online registration is now closed. You can still attend by registering as a walk in on the day of the conference, Saturday, October 27, 2018.
This site is dedicated to registration for WITESOL's 2018 Fall Conference which will take place on Saturday, October 27, 2018 at Alverno College - Sister Joel Read Center in Milwaukee, WI. This year's conference theme is: Stand Up, Speak Out: Standing With Our Students.

2018 Fall Conference Registration & WITESOL Membership Fee Structure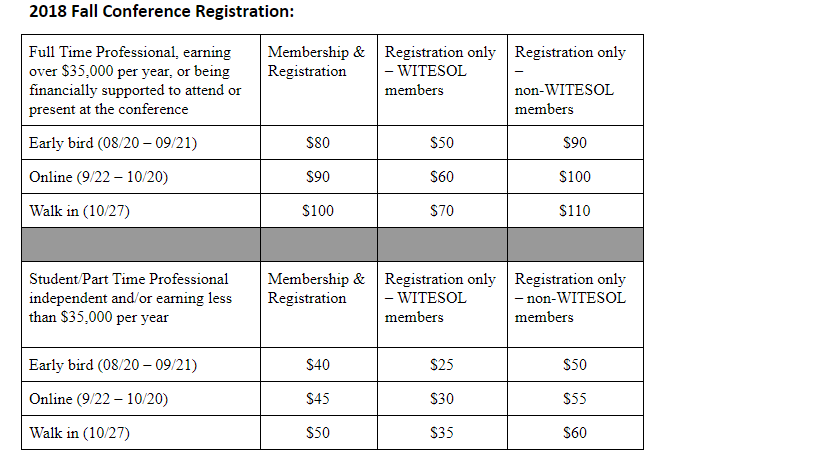 Purchasing Registration
You will be able to purchase multiple registration vouchers which will need to be assigned to registrants' names immediately. Please bear in mind that tickets are non-refundable and non-transferable. Once we have your details, you will be able to pay by credit card or by sending us a check. When paying by check, mail to Kathy Stamos, WITESOL Treasurer, 1319 Rose Marie St. #7, Wausau, WI 54401. Registration is not complete until we receive your details AND your payment.
Registration fee includes lunch.
Once we have both your details and payment, you will be sent a confirmation email. If you do not receive it within 24 hours of submitting, please contact Pam Dennis at WITESOLReg@gmail.com.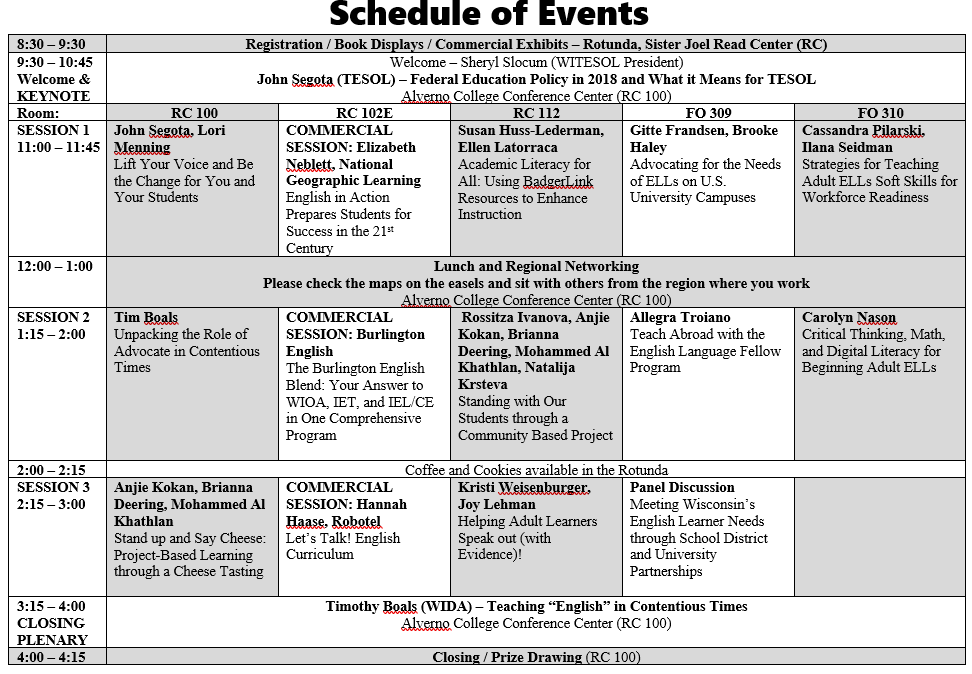 Opening Keynote Speaker
WITESOL is excited to have John Segota, the Associate Executive Director for Public Policy & Professional Relations at TESOL International Association (TESOL), as our opening plenary speaker!
John Segota, MPS, CAE, is Associate Executive Director for Public Policy & Professional Relations at TESOL International Association (TESOL). John's responsibilities at TESOL include government relations, policy analysis, media relations and communications, oversight of standards development, and management of TESOL's advocacy activities. John works closely with TESOL's senior leadership on policy management, strategic planning, public relations, and governance issues.
John has presented both nationally and internationally on public policy as it relates to English language education, and has written extensively on issues of education policy. John has a BA in Political Science with a concentration in International Studies from the College of the Holy Cross in Worcester, MA, a Master's of Professional Studies in Public Leadership from The George Washington University in Washington, DC, and has earned the Certified Association Executive (CAE) designation from the American Society of Association Executives (ASAE).
Closing Plenary Speaker
WITESOL is excited to have Tim Boals, the founder and director of WIDA, as our closing plenary speaker!
Teaching "English" in Contentious Times
It's a difficult time to be an educator, but even more so when the students and families we serve are multilingual learners, culturally diverse and often recent immigrants. While we may have signed on to "teach English," we now see our job as so much more than that. What is our role in educating and advocating for our students? What knowledge and skills are required to be effective advocates of multilingual learners? Who must we partner with in our efforts to advocate? And what will we do differently tomorrow to respond to our students' needs? We are tasked, not merely with teaching English, but with building bridges that lead to success for our students when too many around us seem intent on building walls.
Tim Boals is the founder and director of WIDA. He holds a Ph.D. in education from the University of Wisconsin-Madison with an emphasis in the education of multilingual learners. His background includes language education, curriculum and instruction, educational policy, and Spanish language and literature. At WIDA, Tim oversees the vision and operations, long range planning, research and development, and consortium outreach efforts.
Tim frequently presents at conferences in the USA and internationally on increasing the opportunity to learn for multilingual learners. WIDA projects he is particularly excited about include WIDA's Spanish Academic Language Standards and CAN DOs, WIDA's Early Years and International programs, a native Alaskan language proficiency assessment development grant project, and professional learning on formative assessment.
FAQs
Are there ID requirements or an age limit to enter the event?
Attendees must be over 18 to attend. Attendees paying the student rate will be required to show student ID. Attendees who fail to produce the necessary student ID will be required to pay the full conference price, or be refused admission without a refund.
What are my parking options?
Parking is free in the lot near the Sister Joel Read Center.
What are the recommended overnight accommodations for the event?
A block of rooms has been set aside at the Quality Suites Airport Milwaukee, 4488 S. 27th Street, Milwaukee. Please contact the hotel directly at 414-282-8800 and ask for the WITESOL group block. The rate is $88 plus tax for single occupancy. Conference attendees must show tax exempt documentation from their school/university upon check-in to have tax waived for lodging. Group block rate is available until October 19, 2018 (so register by October 18th) after which time the rates are no longer guaranteed and are subject to change based on availability.
Is my WITESOL membership still valid?
Membership must be renewed 1 (or 2) year(s) from the month of enrollment. If you have questions about your membership, please contact the President and Membership Secretary, Sheryl Slocum, at sheryl.slocum@alverno.edu.

What do I get with a WITESOL Membership?
*Reduced rate for the annual WITESOL Fall Conference
*WITESOL training sessions, workshops, or seminars offered exclusively for WITESOL members
*WITESOL updates about job openings, conferences, training sessions, workshops, and more
*Apply for travel awards to attend TESOL's International Annual Convention

For more, visit: http://witesol.com/memberships/
Where can I contact the organizer with any questions?
Please contact Sheryl Slocum, our President, at sheryl.slocum@alverno.edu
Is my registration/ticket transferrable?
No. Once you have purchased a ticket, you may not transfer it to another person.
Do I have to bring my printed ticket to the event?
Yes.
What is the refund policy?
There are no refunds.
The name on the registration/ticket doesn't match the attendee. Is that okay?
No. The name on the ticket must match the name of the attendee. Tickets may not be transferred.