2018 Williams-Dobson Offspring Family Reunion

Friday, July 20, 2018 at 4:00 PM

-

Sunday, July 22, 2018 at 11:00 AM (EDT)
Event Details
Hello family!!  We're thrilled to be taking the reunion to a new location this year! 
The 2018 Williams-Dobson Offspring Family Reunion will be held in Ft. Lauderdale, FL on July 20th - 22nd, 2018.  We are planning to have an awesome time and we hope you will join us!
Host Hotel:                GALLERYone - a DoubleTree Suites by Hilton Hotel
                                    2670 East Sunrise Boulevard
                                    Fort Lauderdale, Florida, 33304
 The room rate is $149 plus tax per night, and parking is $26 per day.  These one-bedroom suites include 1 king bed in the bedroom and a queen sleeper sofa in the living room – there's enough room for the whole family. The hotel also offers a 2-bedroom suite at an upgraded rate.
There are 3 ways you can reserve your 1 or 2 bedroom suite:
Family Fees:         $50 per adult (17 and older)
                                                *Fee includes meet & greet, and Saturday night's dinner.
                                                *T-shirts will be $10 per shirt per person, $12 for 2X or larger.
T-shirs: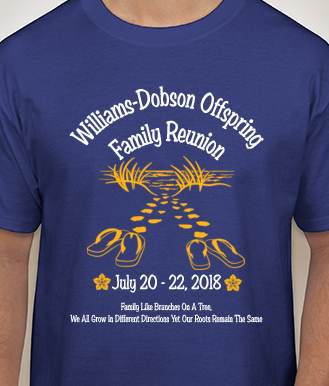 "Family - like branches on a tree, we all grow in different directions yet our roots remain the same."
To ensure we have proper commitment for the reunion, please make a deposit of $25 no later than April 15, 2018. You may pay reunion and t-shirt fees by check or money order made payable to Williams-Dobson Offspring Family Reunion.  ALL t-shirt and family fees should be paid by June 1, 2018.
-----------------------------------------------------------------------------------
Planned Events
Friday Evening, 7/20/2018: Meet & Greet Night (Location: Host Hotel, GalleryOne DoubleTree) – Hotel Pool Area: Pick-up Gift Bags, Casual Reception Foods.
Saturday Morning/Day, 7/21/2018, Explore the City.
Area attractions include: Ft. Lauderdale Beach (5-min walk), Galleria Mall (over 125 stores!), Ft. Lauderdale Water Taxi (stops behind the hotel), Las Olas Boulevard (home to boutique shopping, art galleries and a range of restaurants, bars and nightclubs), & The Everglades National Park
Saturday Evening/Night, 7/21/2018, Tropical Themed Family Banquet (Location: Host Hotel, GalleryOne DoubleTree) Attire: Semi-formal, tropical inspired clothing. We will discuss ideas for the next reunion after dinner.
Sunday: 7/22/2018, 8:00 a.m. – Family prayer/worship session (Location: Location: Host Hotel, GalleryOne DoubleTree, Pool Area)
11:00 a.m.  Hotel Check-out (note: you may reserve your room at the discounted rate up to 2 days after the reunion)
-----------------------------------------------------------------------
Other Nearby Attractions:
Fort Lauderdale International Airport - Airport Code (FLL)
Fort Lauderdale Aquatic Complex
International Swimming Hall of Fame
Men Friendly Anglins Fishing Pier (Open 24 Hours - Great for the Fisher's in the family) (Sightseeing $2, Fishing $7, Bait, Pole Rental)
Broward Center for the Performing Arts
The African-American Research Library & Cultural Center
Gulfstream Park Race Track & Casino (Near Aventura Mall, Miami) Win & Shop, Dine, Relax 
Kids Friendly - Fort Lauderdale Museum of Art and the Museum of Discovery & Science
Kids Friendly & Teenage Friendly - Dave & Buster's - Place has more state-of-the-art games than ever, more mouth-watering menu items. From wings to steaks, they got whatever suits your appetite and their premium bar for the grown-ups assures they are stocked to satisfy! Plus, you can watch your game on one of our massive HDTVs with epic stadium sound.
Getting Around Ft. Lauderdale (FLL):
Sun Trolley (Stop Close to Hotel) - All routes are free except for the Las Olas and Beach Link Route which costs $1.00 per ride or $3.00 for an all-day pass. Cash only. Can take you throughout Downtown FLL, Galleria Mall, Beach, Las Olas, Fat Tuesday's, Swimming Hall of Fame.

Water Taxi (Stops directly behind host hotel) - Normally, $26 (Adults), $12 (Children), $21 (Seniors & Military Personnel). Check vendor website for current rates during your visit period. 
Yellow Cab (Must Call 954-666-6666) - Metered rates will apply. Taxi Cabs can take you anywhere you desire to travel in the Tri-County Area, Miami, Ft. Lauderdale, West Palm Beach.
UBER (Recommend setting up an UBER Account & App prior to arrival to FLL). UBER can be helpful in commuting groups to places like Casinos, South Beach, Sawgrass Outlet Mall, and Swap Shop Outdoors Flea Market.
TRI-RAIL - The quickest and most stress-free way to travel into Miami-Dade, Broward, and Palm Beach Counties. Want to see more during your stay, hop on board the train, sit back, relax, and see the changing scenes as you ride through three counties. Get off, shop, dine, play, and hop back on board to your hotel city. Shuttle buses available at most stations. Connect to Miami's Metro-rail at the 79th Street Station stop. 
Shopping (FLL):
Swap Shop - Gigantic flea market features 2,000 vendors selling items at bargain prices. You'll find furniture, clothing, video games, antiques, toys, and much, much more.
Aventura Mall  (Miami - about 40 min) 
Staying a little longer? Try these adventures and destinations!
Jungle Queen Cruise - Sailing daily from downtown Fort Lauderdale. Imagine cruising on something extraordinary for a day or night. Where the sightseeing, dinner, and show are indescribable. Where you can enjoy things visitors have been enjoying since 1935. Where you can look up into the sky at night and hear the stars talking to you. No wonder over 18 million people from all over the world has discovered it. But then, there's always room for one more. 
One-Day Cruise - Discovery Cruise to Grand Bahama Island (Departs every day at 8:00 am except Wednesday)
Key West, Florida (Require Car Rental) - Quick Getaway (abour 3 hrs 30 min)
Naples/Marcos Island, Florida (Require Car Rental) - Quick Getaway (about 1 hr 40 min)
Disney Parks, Orland, Florida (Require Car Rental) (about 3 hrs)
Save This Event
When & Where

GALLERYone - a DoubleTree Suites by Hilton Hotel
2670 East Sunrise Boulevard
Fort Lauderdale, FL 33304


Friday, July 20, 2018 at 4:00 PM

-

Sunday, July 22, 2018 at 11:00 AM (EDT)
Add to my calendar
Organizer
Please contact Sherry, Theresa or Kaji at korr714@gmail.com.
2018 Williams-Dobson Offspring Family Reunion