Description
This will be a highly informative, action-packed day of speakers, poster sessions, software demos and roundtable discussion.
Be sure to reserve your spot now by clicking on the Register button, and tell your colleagues about it!
Featured Speakers Include:
Sean Wu, MD, PhD, Associate Professor of Medicine, Cardiovascular, Stanford University - 'Single Cell Approaches to Cardiac Development and Disease'

Daniel H. Kim, PhD, Assistant Professor, Biomolecular Engineering, University of California, Santa Cruz - 'Single cell analysis of noncoding RNA'

Matt Settles, PhD, Director, Bioinformatics Core, Genome Center, University of California, Davis - 'Towards Chromosome Scale Haplotype Assemblies'

Tomasz Nowakowski, PhD, Assistant Professor, University of California, San Francisco School of Medicine - 'Through the lens of single cell analysis: insights into human brain development'

Aaron Tward, MD, PhD, Assistant Professor, University of California, San Francisco - 'Cell Lineages in the Adult and Developing Ear'

Anushka Brownley, Product Manager, Informatics, 10x Genomics - '10x Genomics Software: Linking Data, Developers, and Discovery'

Giovanna Prout, Director, Strategic Marketing, 10x Genomics - 'Biology at True Resolution with the 10x Genomics Product Portfolio'
AGENDA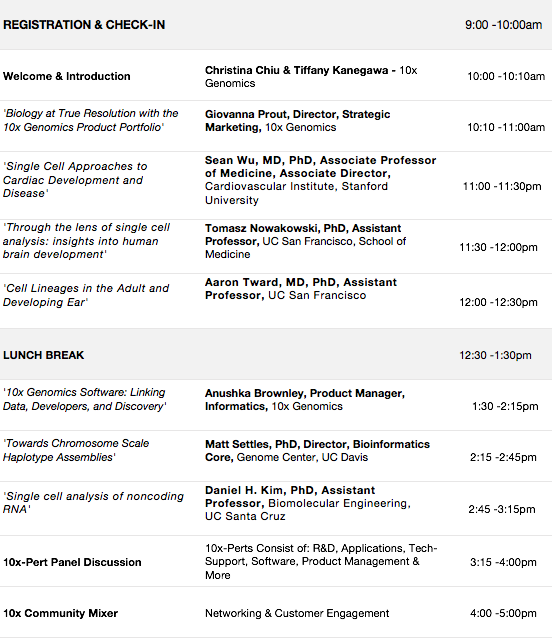 Parking onsite at the Convention Center is complimentary. Check-In will begin at 9am-10am, a light breakfast will be served during this time.
The meeting is free to attend, registration is required. Lunch and refreshments will also be provided to registered attendees. Join us for cocktails after the meeting at our 10x Community Mixer!
Invite your friends and colleagues! Register now, as space is limited.
We look forward to seeing you!
- The 10x Team