Description
UF/IFAS Caribbean Bee College is a three day event offering training for beekeepers and bee enthusiasts.
November 27th and 28th will be full days of training with lectures in the morning and and hands-on practice of beekeeping techniques in the afternoon. These days will be divided into two tracks: beginner (for new beekeepers) and advanced (for current beekeepers looking to improve their skills). On November 28th, you will also have the opportunity to test for the Apprentice Beekeeper certificate (University of Florida Master Beekeeper Program)
On November 29th, there will be an optional "Products of the Hive" workshop (spaces limited, registration required) or you can enjoy a fun and relaxing Bahamian beach day or another local excursion (details TBA, costs not included in registration fees).
All attendees MUST have protective beekeeping equipment (a veil at minimum). If you do not currently have your own protective gear, you may purchase some at checkout. Veils, suits, jackets, and gloves are available at a discounted rate!
EARLY BIRD DISCOUNTED TICKETS ARE AVAILABLE NOW THROUGH OCTOBER!
Schedule (tentative, subject to change)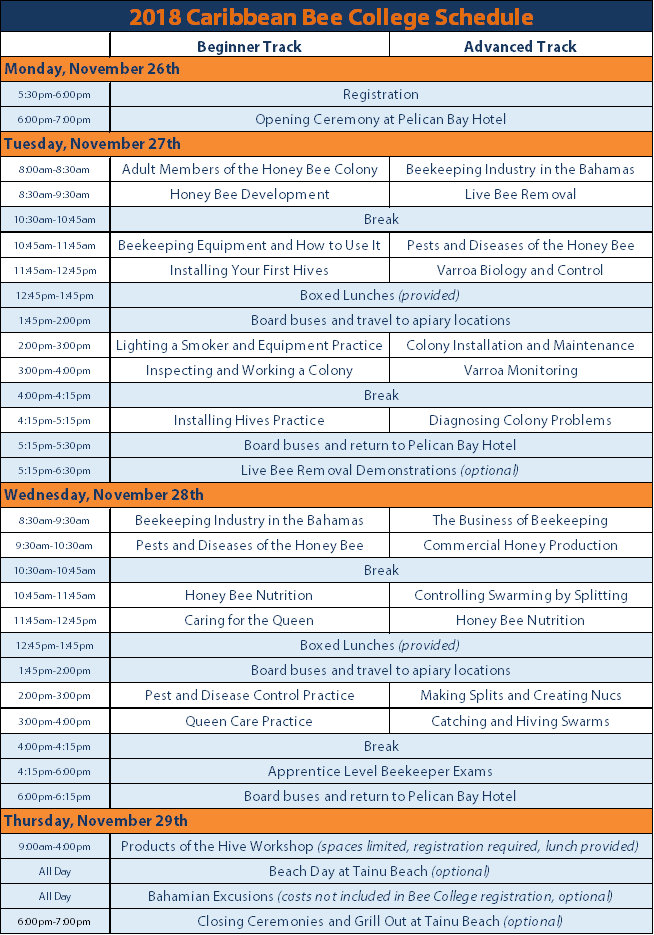 Refunds: Attendees can request refunds up to 30 days before the event.
Caribbean Bee College Honey Show
Bee College participants are encouraged to participate in the Caribbean Bee College Honey Show. Entry is free! Indicate while registering that you are interested in entering honey into the Honey Show and we will send you more information as the event date approaches.
Lodging
Caribbean Bee College activites will be based out of the Pelican Bay Hotel (https://www.pelicanbayhotel.com/). Lodging is availble at this hotel as well as many others in the area.
Food
Food included in registration includes, light refreshments at breaks as well as lunches on Tuesday and Wednesday and the closing ceremony dinner on Thursday. Separate registration for the opening cermony will include dinner (tickets are not yet available for this event). Separate registration for the "Products of the Hive" workshop will include a boxed lunch. No other meals are included in Bee College Registration.
OPENING CEREMONY TICKETS, COMING SOON!